Sci-Fi Novel, Origin Andromeda - Part 13 - Halfway there!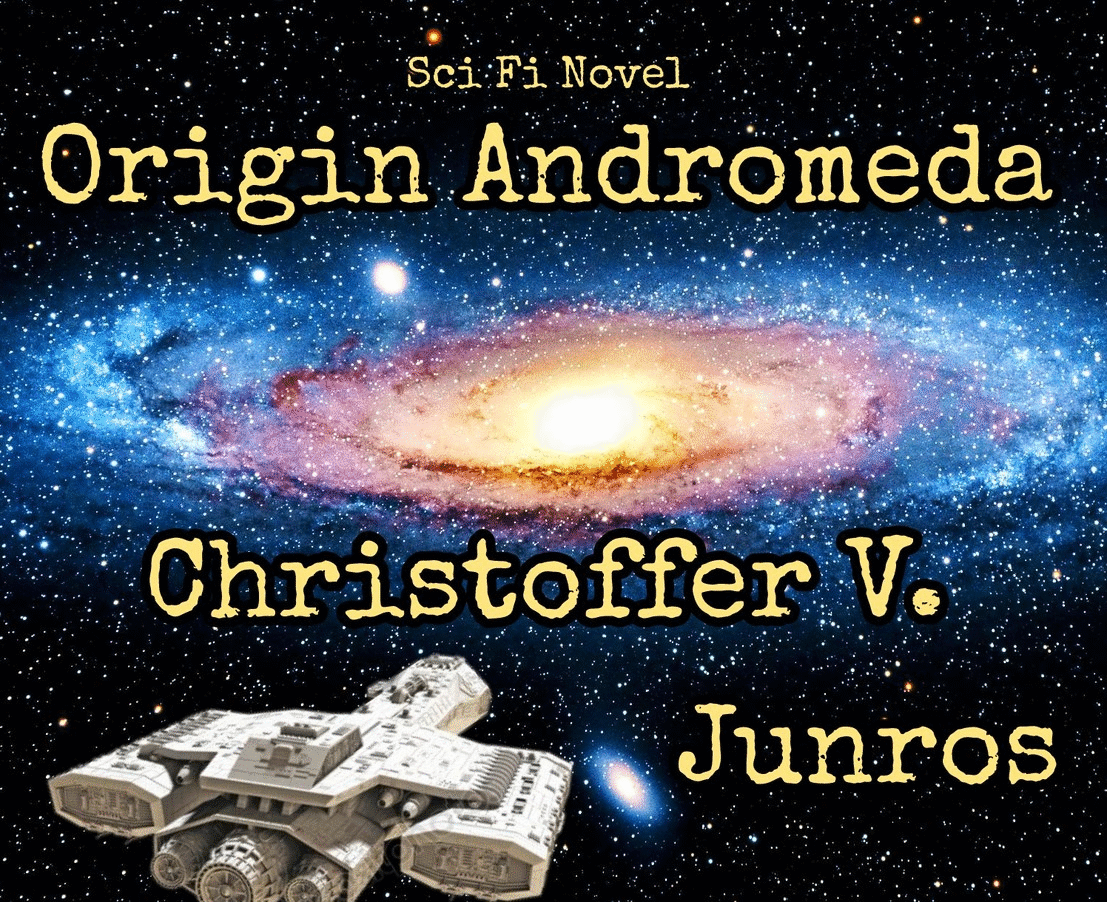 Part 13
The disappearance of Loukh left a lot of questions unanswered, his disappearance was noted the morning after the meeting in the lunch room when the guard was to take Loukh to the interrogation room for another sit down, the whole crew was involved in the search and every corner of the ship was covered until they found the damaged airlock wide opened, Bjorn declared Loukh as deceased and the work on repairing the hyperdrive and all other normal routines onboard could finally continue.
Later that day, Davood and Henrik are down in the engine room, working together to get the hyperdrive engine working again, they have together with M.E.R.E.S double and triple checked the system to make sure that Loukh didn't leave any unexpected surprises left on any module or in the software.
Henrik has started to enjoy working with his hands down in the engine room, he feels that the work gives him time to reflect and think about the topics he and Bjorn are going through every day, he is beginning to find at least one foot firmly landed on the mission to reunite the Zouud Alliance.
Davood sees that Henrik is a little stressed
"It was a rough day yesterday, hope that the next few weeks will be a little bit calmer, how is preparation for our arrival at Zouud going?"
"It's a lot to learn and a lot to think about, we are going through how the Alliance was formed and who the former leaders were, it's interesting and important that I understand the past to be able to make correct judgement for the future, but first we need to arrive to Zouud, how far have we come do you think?"
"Indeed, The past is very important to understand, especially if you are supposed to lead us into a brighter future young heir"
Henrik smiles and rolls with his eyes as he hear Davood calling him young heir, Davood notices and smiles back before he continues to talk.
"We should arrive in about two or two and a half weeks if nothing interrupts our journey, we have a stop on the way on one of the larger stations, but after that we are almost in Zouud's backyard"
"So we are about halfway there now, more or less? It's incredible how far away from earth we have travelled so far"
"You will get used to it, hand me that module if you are finished with it, let's get the hyperdrive operational again"
Henrik was finished with the module he had in on his desk, Davood takes it and slides it in to the final slot on the system, a beep is heard and the system awakens with a faint blue light that is shown through the distance between the different modules.
"Start the test procedure that I've prepared, just press the button shown on the screen"
As Henrik does that the different parts of the hyperdrive engine are shown on the screen in a wireframe view, one part or module is tested at the time at first, then the entire start up and a simulated test drive is done.
"Everything looks blue, nothing in the red zone, I think that we are finally good to go" Davood says as he inspects the results and exhales in relief before he continues.
"Report back to Bjorn and see if he has anything else for you, maybe we can be on our way now, I need to rest a while, not as much energy in me anymore these days, maybe I'm getting old" he says before he seats himself down on one of the chairs behind the workbench.
"I will, see you later Davood" Henrik says as he leaves the engine room and walks up to the bridge, on the way he goes through the events that has happened up to this.
"What a different life we live in today, hard to believe that we are in between two different galaxies right now" he thinks for himself as he walks with a smile on his face, they will finally continue on their journey.
When he enters the bridge he sees that Bjorn is standing near the holo screen together with Rob.
"Hey, we are good to go, the system is up and ready" Henrik says with a big smile on his face.
"Good work my friend, we need to talk, but first let us engage the hyperdrive so that we at least are on our way again"
"Captain to all crewmembers, prepare yourself for hyperdrive propulsion mode"Bjorn announces through the radio before he activates the hyperdrive.
Henrik asks Bjorn about what they heard from the captains vlog
"I've wanted to ask you before, but the opportunity never arrived, the fourth great war? What was that all about?"
Bjorn and Rob shares a quick glance at each other.
"That's actually what I wanted to talk about, this will probably sound bad, but as we understand it we believe that the ship was coming from an alternate dimension so the final story isn't really certain just yet"
Rob continues where Bjorn left.
"After going through the vlog content we have now have a tiny glimpse into a possible future, some parts are good for us, other are a bit.."
Bjorn jumps in again.
"Let's say that if this future as we saw through the vlog will come true, then the Alliance, with I assume your help was not only revived but was strong, we had kicked out the ZOP and for some years the rebuilding of the Andromeda Alliance, peace and prosperity was once again something to be sought after in the galaxy"
Henrik smiles astonished at the fact or possible fact that he was able to complete his mission says.
"Well that's great news so far but, what about the war?"
"Let me continue, we didn't see anything mentioning when they had joined the Alliance, but Earth was a small part of it, that is why the Man of war ship was heading towards the planet" Bjorn takes a deep breath and slowly exhales, letting the air slowly leave his lungs before he begins again.
"The Alliance thought that ZOP was history by now, sadly it wasn't, the ZOP backed down, but wasn't abolished as we understood it, Kloon, their leader finally took his last breath a couple of years after we took the power back and the ZOP was thought to have been permanently gone after that, but around one hundred and fifty years later a small group revived ZOP and in secret built a war fleet that was finalized after around fifty years, who now terrorized the Alliance planets, a long and drawn out war with losses on both sides was once again disturbing the peace in the galaxies"
"I see, so this could be seen as a lesson for us when or if we are able to take back power and control over Andromeda?"
"Could be, or it could just show us the reality from that dimension and it will playout differently for us, one thing we can be sure about, one thing that probably will be the same is that ZOP will not backdown easily, we have to work very hard to unity the Alliance and to finally take back the power"
Henrik nods with agreement, he has one more question in his mind.
"What was it that killed the crew? Have we been able to analyze the material?"
"Unfortunately not, everything was scrubbed clean during the procedure in the shuttles, let just hope we aren't affected in anyway" Rob answers.
"I understand…so what's next?"
"We will arrive in around two weeks, we need to make one stop on the way as I mentioned before to meet a friend"
"I've heard a lot about our planed stop, but I've never heard anyone mention what is there, or who we shall meet"
"We will visit the Odyssey station located on the outskirts of one of the super star clusters, not so far away from Zouuds star system, I think you will find it interesting my friend"
"One of our local agents who is deep undercover in ZOP government should meet us there and grant us clearance to travel closer to Zouud, if not then we can't disguise us as merchants, that's our way in, I hope"
"A fragile plan that could easily fail" Rob adds
"Fragile indeed, but it's probably our only way in at the moment that could work"
"we'll see, let's discuss this further at a later time, but now, let's get something to eat, I believe that my wife is waiting for me down in the lunchroom" Henrik says.
End of part 13
Next Part
Part 14, Odyssey station!
Prevoius parts:
Synopsis
Part 1, The Cube!
Part 2, Run!
Part 3, E.B.A.A.T!
Part 4, The Awakening
Part 5, Kionidoo
Part 6, The Tour
Part7, The Pick Up
Part 8, Lift off!
Part 9, Sabotage!
Part 10, Rescue mission
Part 11, Belly of the beast!
Part 12, Loukh!
---
Thank you for reading this, hope that you find my story interesting and exciting.
Unfortunately I have had a little bit less time to work on this novel these past week, but my aim is to release a part at least once a week or every 10 days, originally written in Swedish.
Dedicated to my lovely wife who gives me inspiration to write.
Hope that you like it.