Sci-Fi Novel, Origin Andromeda - Part 16 - Answers!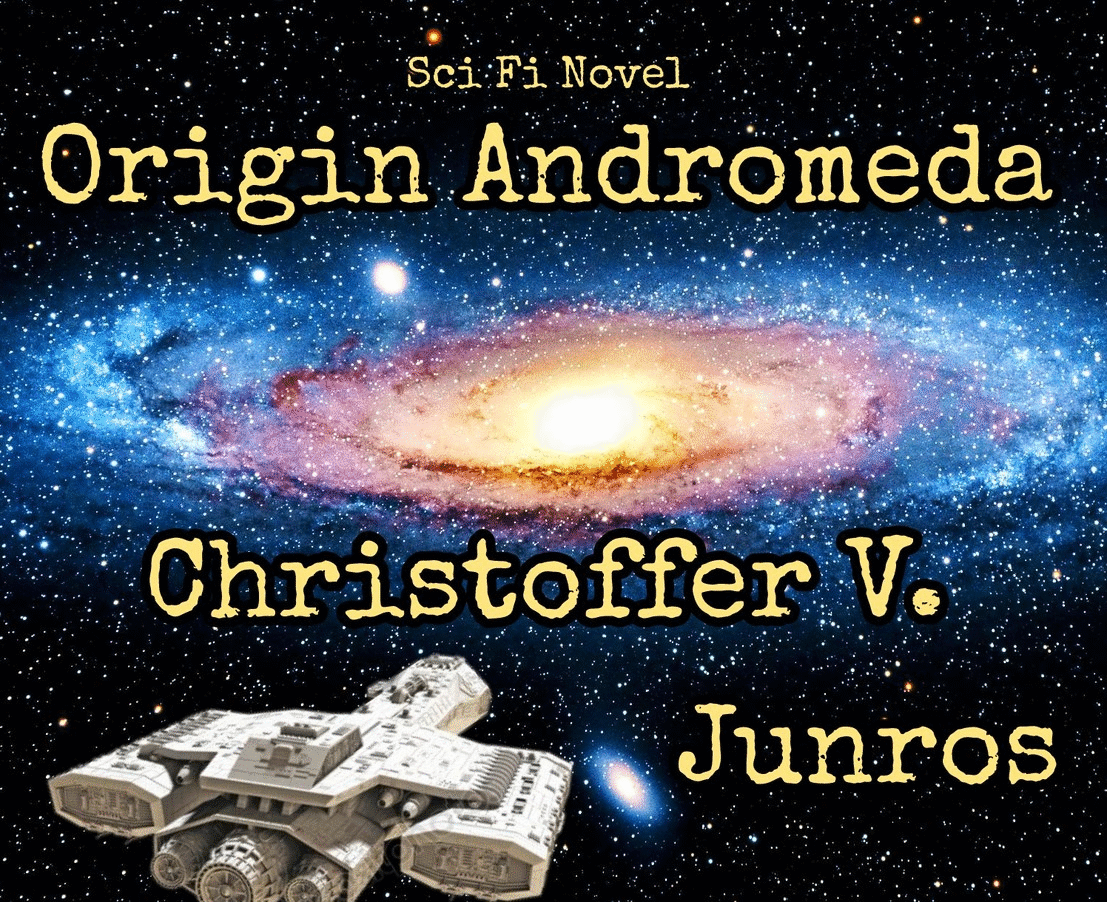 Part 16
Sofia and Joanna prepares themselves outside the bar, they have found a few different objects on the backside of the bar that they can use to attack and defend themselves with.
"You will definitely need something to knock the leader down with, he is called Hurol by the way" Hudseon comments as he sees them looking for anything that can be used as a blunt weapon.
They wait until their game is over, with a bit of luck they can ambush Hurol when he is alone and away from his gang for a second or two.
After a while, the Youllians are finished with their game and are on their way out, laughing and walking very unstable as they cheer the leader as their winner, she hears them calling "Number one Hurol, number one!"
Hurol is going to the bar to grab one last bottle before he too walks out to the gang, Sofia sees the opportunity and swiftly rushes in from the backdoor, Joanna is right behind her, she knocks Hurol very hard in the back of his head.
Hurol makes a grunting noise before collapsing on the floor.
"Great, now what?" Joanna asks, Sofia looks at her with cold eyes that could have been made of steel and iron.
"Now we make him talk, and record everything he says..."
They take him to the backside of the bar, Hudseon opens a door that leads further in and out to a storage area.
"We don't have much time, the gang will soon notice that something has happened to him, call the guards right now and tell them to control the area"
Sofia does as he says and calls the two guards they talked with a few hours ago.
At the same time, Joanna secures Hurol's hands and feet's with a rope as Sofia points a pulse gun against him, just in case.
It doesn't take long until he wakes up, his eyes have shifted from orange to a more velvet red hue, a stream of slow dripping blood is running down his neck from the hard bash from Sofia's hands.
He just stares at them for a while, not even trying to break loose from the ropes, he is calm on the outside and it is as if he hasn't taken a single sip from any kind of bottle.
A few second goes by without anyone saying anything, until Hurol opens his mouth and with a dry voice he says
"What have we here? Who are you and what do you think that you do. You know that you won't come out of this alive right? and no one would ever dare to ask me if I had anything to do with your early deaths"
"You don't scare us Hurol, we have some questions for you, and you will answer them" Sofia says, trying to sounds as bored and imperturbable by his attempt to threaten them.
"Alright young lady, I have to admit that you got some courage to speak to me in that way, I can respect that" he says as he lifts his thick and heavy eyebrows in an approving manner.
"But it won't change the inevitable end for you all, what do you seek?" he continues.
"Why did you kill Gox, Galdur á Gox?" Sofia asks.
Hurol looks amused and a bit surprised by the question.
"That fool?! He owed me a lot of credits and couldn't pay up when it was due, he had gambled away everything, even his own bar that I now own"
He chuckles to himself before he can continue.
"When I saw that he prepared to try an escape, I simple removed him from my stack of unwanted, I shot the coward in the back"
Sofia raises her arm and gives him a jaw breaking punch, so fast and so hard that Hurol's head turns all the way to the right.
"Just so you know, we have recorded everything you have said, and I will personally make sure that you get the correct sentence for what you have done, your days out in the wild are done" is the last thing she says to him before he passes out again.
"Joanna, please call the guards and tell them to collect one scumbag"
After the guards has placed him behind bar, Sofia says
"I will stay for a while, until his sentence is made, then I will join you once again on Zouud, thank you for helping me with this, I am forever grateful, couldn't have done it without you"
Joanna smiles
"But now we maybe should see where the others are, they must be worried, we should have been at the gate several hours ago"
They leave the bar area and walks towards the gate, exhausted and feeling ready to take a well-deserved rest.
A few hours earlier, Bjorn and Henrik meets up with the agent, they found him outside near the technological area, the man is as big as an ox, atleast double the size of Henrik, he has a long beard, trimmed and formed similar to a snow plow on an old earth locomotive.
They have moved up to the first torus ring to discuss in private and are now standing in one of the storage compartments, there are boxes stacked everywhere,
Bjorn instructed Rob to stay a bit behind them and follow them, so they have backup incase something happens.
"So finally we meet Henrik, Im Rahu and Ive heard a lot of rumours about you, luckily I don't really take rumors into such great dimensions"
Henrik isnt surprissed that rumours are roaming around about him.
"Hope it isnt to bad atleast" trying to sound funny
"Nah, don't listen to rumours, that's what Ive always thought.
"So we hope that you have finilized the details in our papers Rahu and that you can give it to us, your reward will be transferred automatically as soon as your side of the contract is fulfilled"
Suddenly Rahus voice and expression is getting darker.
"Well, Ive got papers for you, but not the ones you would like to receive, you see, Ive got a better offer elsewhere, and if you cant pay me thrice what they offered then I shall see to it that you will never leave this station, atleast not inside your ship"
Bjorns stares at Rahu with a face made of stone.
"what do you mean" Henrik asks.
a second later two guards appear behind rahu
"Do not move!"
Rob who has managed to stay hidden behind a couple of boxes hunches down to avoid being detected.
Rahus men pats Henrik and Bjorn down and handcuffs them.
"Where do you want us to take them?"
"bring them to the airlock, lets see how much we can squeese out of them"
Rob carefully follows them closely, hunching behind boxes along the way.
They stop next to one of the old airvents, it looks like it hasn't been used in ages.
The guards stands relatively relaxed now when they see that henrik and bjorn are not doing anything to fight back, they are armed, but Rob takes his upportunity and shots one of the guards in his legs with the pulse gun set on stun. He falls down on the floor and Rahus expression shows how greatly he is surprised by Robs appearance, the other guard backs down.
"Put down your weapons gentlemen" he shouts.
"Guard, release Bjorn and Henrik, move slowly...one bad move and I pull the trigger"
When henrik and bjorn is released, Rob handcuffs the guards and Rahu.
Rahu looks really uppgiven, Rob can almost hear Rahu's heartbeat stop when he realises that this was a really big failed attempt.
"Now, tell us why you betrayed us! And who did you betray us for?"
Rahu faces the floor and exhales loudly, his beard looks disfigured.
"It was a bluff, believe me or not, I needed the money, but now I only feel humiliated, let me show you the proof, In my left jacket pocket you will see a sheet with all the information you need"
Rob finds it and gives it to Bjorn.
"This contains the adress for your details, add it to your ships identity, its secured and verified to the ledger, now leave"
"Know that you are only spared because it's the most human thing to do"
Bjorn says as they start to leave the traitor behind.
When they have walked a bit they suddenly hear the slaming sound of a airlock door as it closes.
"Rahu most have entered, rush back before its to late"
As they reach the area again they see that Rahu has managed to free himself and is standing in the airlock, looking straight at them with empty eyes.
"No wait" Henrik shouts, but it's to late, Rahu presses the button and vanishes out into the dark space outside.
End of part 16
Next part
Part 17, One step closer
Prevoius parts:
Synopsis
Part 1, The Cube!
Part 2, Run!
Part 3, E.B.A.A.T!
Part 4, The Awakening
Part 5, Kionidoo
Part 6, The Tour
Part7, The Pick Up
Part 8, Lift off!
Part 9, Sabotage!
Part 10, Rescue mission
Part 11, Belly of the beast!
Part 12, Loukh!
Part 13, Halfway there!
Part 14, Odyssey station!
Part 15, Gox!
Thank you for reading this, hope that you find my story interesting and exciting.
Dedicated to my lovely wife who gives me inspiration to write.
Hope that you like it and will continue to read.
Any feedback or editing suggestions is very appreciated
---
Authors comment
The few weeks that has passed since I last submitted a part of the story has been a mix of lack of energy, some writers block and some other stuff that has taken time from my writing, life happens so to say, nothing bad at all since Its been a few good weeks that has given me re-newed inspiration and ideas and I hope that I have climbed out of the writers block trench.
Traveled, celebrated our one year anniversary as a married couple and getting into christmas spirit, looking for gifts and so on, started working on the next part now.