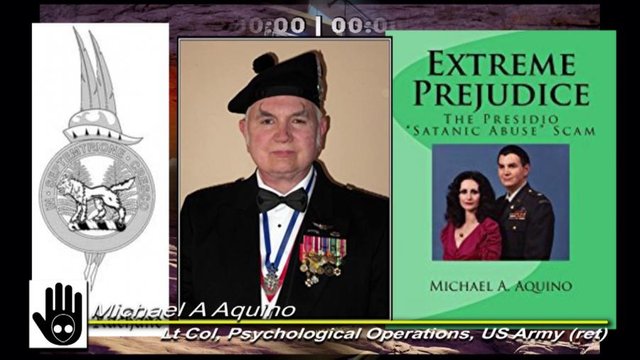 It is a rare thing for a high ranking US military figure to publicly state that 911 was a CIA / Mossad / MI6 'Inside Job', that JFK was killed by the CIA and that the moon landings were faked.. But that's exactly what retired US space command and psychological operations Colonel, Michael Aquino confirmed during his recent follow up interview with Miles Johnston from The Bases Project. If this were to spread globally, how much change would we see as a result?
Two years ago, I posted on Miles' initial interview with Acquino and I made very clear that I was skeptical of his intentions and the honesty of his words. While I have no doubt that he did indeed have the roles he describes within the US government/military, I also know that his role has largely been to distract and deceive. Why, then, would I think he were suddenly being honest now? I wouldn't! At that time I had a public 'debate' with Aquino in Youtube comments, calling him out on this and he didn't really achieve any kind of rebuttal except to say I should read his books. He seems to come from a perspective that he knows more than pretty much everyone about esoteric and metaphysical subjects and never really considers or enquires as to whether those he is speaking to might have also done deep research of their own already. In any case, I am still skeptical of his intentions for this latest interview as I know very well that the art of deception and propagation of false narratives is best performed when 90% truth is present to ensure that the lies get past our filters. What better to say to the community of conspiracy fact checkers than that the 911, JFK and other conspiracies are real in order to then plant a few incorrect seeds that are of an overall higher value?
Note: Aquino also features in post #8 of this whistleblower series as having potentially been sighted participated in ritual murder of children.
In any case - here's a brief summary of the points made by Aquino in the interviews below:
911 was a CIA/Mossad/M16 'false flag' event designed to get support for middle eastern war and power grabs. The planes didn't hit the towers or Pentagon, they were flown to a locked down airbase, where the people on board were forced to make phone calls to loved ones before being murdered on the ground by US forces. This is backed up by the fact that mobile phones don't tend to work in the air anyway! He says that the towers were brought down by controlled demolition using pre planted explosives. This is also the version of events explained by the remote viewing group 'The farsight institute' and many other independent researchers. The largest ever independent study into the collapse of the twin towers, undertaken at an Alaskan university over a number of years concluded that the official NIST report put out by the US government regarding the collapse of the towers was fraudulent and does not reflect the physics of the day.
JFK was assassinated by elements in the US government due to his rejection of the war in Vietnam. The military industrial complex and others was not about to allow him to stop that conflict.
The moon landings were faked as a propaganda coup against the Russians during the cold war years. Details regarding the technology of the cameras that were allegedly taken to the moon, as well as the radiation of the Van Allen belt give the game away. The cameras could not have functioned on the moon's surface and the film would not have produced visible images.
Remote Viewing 'doesn't work'. This I am fairly clear is a false claim, not least because I have seen the farsight institute correctly predict the prices of cryptocurrencies months in advance (correctly viewing the future). I will test this more precisely when they release their next (paid) prediction videos.
Religions, Kabbala and freemasonry that is inspired by Kabbala are all junk that are using incorrect information.
Regardless of what you think of Aquino and his involvement with Satanism, the fact remains that he is one of only a small number of high ranking military figures to have openly said that the US government was behind the 911 events - with General Albert Stubblebine (deceased - ex commanding general of the U.S. Army Intelligence and Security Command), being one who was vocal about this until his death. Anyone who blindly claims that pointing to the mountain of evidence that the US was behind the events of 911 is just the actions of a 'paranoid conspiracy theorist' needs to reckon with the reality that some of the USA's highest ranking and in some circles, most respected, people - close to the source of the events - have openly confirmed this as such.
Miles Johnston's interviews with Michael Aquino