Disco b..us
Hello Steemit! I'm still in Russia and winter here is continue to freezing me hard.. After 7 years of travel in direction of the sun, my body really forgot how to live with ice everywhere. I give up with that. I close all windows to don't see snow anymore, and watch my summer photos. Here is a little throw back of the summer walk with my friends. We found this abandoned disco ball.. sorry - bus, in the middle of Saint-P. And I want to share it in mr. @juliank vehiclephotography photocontest today.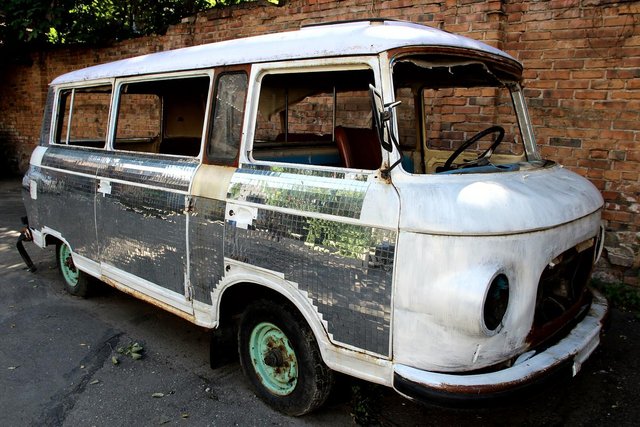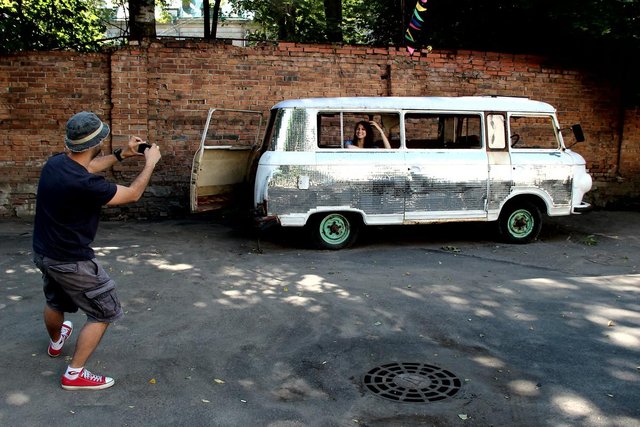 My name is Timon, and I am on the slowest worldwide cruise ever. In 2011 I left the country where I was born and since then I'm traveling supa slow. My plan is to go Around the world in 80 years..
What is the point? - I want Just look around, have a lot of fun and make things I'm interested on. It will take time.
Why so long? - Because I really want to see how people live and what this place is for me, so I stay some time in each spot, and it's so many.. 
How long I stay? - Not too long, not too short, it's really depends on many things.. 
Am I so rich to just travel..? - No not at all. It is what making this trip a bit more complicated but still awesome and interesting. 
Am I serious? - No, not really. But still on my road..
The Biggest part of my way so far was by Sea and Ocean, 7 years I spent on my boat, and last 3 of them on a little island in Atlantic Ocean. For the moment I'm back on the dry land, and I can find a lot of fun here as well.
Original photos / Canon 600D 18-135mm / Saint-Petersburg / Russia / summer 2017 /
If you like my works, please follow my photo blog Around the World in 80 years..
https://steemit.com/mypictureday/@ipumba/mypictureday-challenge-round-18-walking-on-the-frozen-river
https://steemit.com/travel/@ipumba/around-the-world-in-80-years-back-to-cccp
https://steemit.com/travel/@ipumba/railways-tattoo-collection
https://steemit.com/life/@ipumba/around-the-world-in-80-years-back-to-the-future 
https://steemit.com/travel/@ipumba/around-the-world-in-80-years-estonian-gambit
https://steemit.com/adventure/@ipumba/around-da-world-in-80-years-moviestar-heaven
https://steemit.com/introducemyself/@ipumba/around-the-world-in-80-years-introduction   
[//]:# (!steemitworldmap 59.926722 lat 30.283599 long disco b..us d3scr)