Hello Steemians I am as always on my never ending trip, and now I am unexpectedly back to Russia for the next few weeks. Because of the acclimatization, I am a bit out of every day steeming. Time for me to make some photos of the hidden corners of the city where I was born. Everybody can find photographs of famous palaces and other tourist spots, but I want to show other side of Saint-Petersburg what you will never see in tourist guide book. Officially over 5000 000 people have a residence in Saint-P, plus a lot of guests and unregistered people here, so I think real quantity is close to double of this number. It is a giant megalopolis, and I hope this time I will have enough time to make a deep research. I'm not often guest here anymore. Climate here is a hell for a person who dream about coconut palms and ocean as I do. And in winter this place became even more depressive than it is possible, maybe cause of this its so many musicians and artists live here. Depressive places often gives to the world some really bright stars. Here just the first shot I did after arrival. It is a bit creepy Soviet administration building. In next few days I'll make more detailed report about winter in Mother Russia. So stay tuned if you are interested..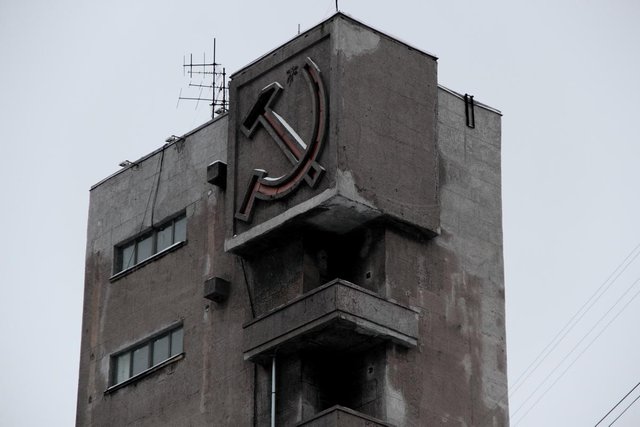 My name is Timon, and I am on the slowest worldwide cruise ever. In 2011, I left country where I was born and since then I'm traveling supa slow. My plan is to go Around the world in 80 years.. 
What is the point? - I want Just look around, have a lot of fun and make things I'm interested on. It will take time.
Why so long? - Because I really want to see how people live and what this place is for me, so I stay some time in each spot, and it's so many.. 
How long I stay? - Not too long, not too short, it's really depends on many things.. 
Am I so rich to just travel..? - No not at all. It is what making this trip a bit more complicated but still awesome and interesting. 
Am I serious? - No, not really. But still on my road..
The Biggest part of my way so far was by Sea and Ocean, 7 years I spent on my boat, and last 3 of them on a little island in Atlantic Ocean. But for the moment I'm back on the dry land, and I can find a lot of fun here as well. 
Original photo / Canon 600D 18-135mm / Saint-Petersburg / Russia / February 2018 /
If you like my works, please follow my photo blog Around the World in 80 years..
Here is some more stories
https://steemit.com/travel/@ipumba/railways-tattoo-collection
https://steemit.com/life/@ipumba/around-the-world-in-80-years-back-to-the-future 
https://steemit.com/travel/@ipumba/around-the-world-in-80-years-estonian-gambit
https://steemit.com/adventure/@ipumba/around-da-world-in-80-years-moviestar-heaven
https://steemit.com/introducemyself/@ipumba/around-the-world-in-80-years-introduction  
[//]:# (!steemitworldmap 59.895266 lat 30.276046 long creepy soviet building d3scr)