Railways tattoo collection.
Hello Steemians! I'm continue series of trip reports from my very long adventure. 
I always liked graffiti and trains, it was quite a chapter of my teenage life. At the moment my never ending trip bring me to Germany and I'm staying in North West part of it. For me Deutschland it is totally a country of trains and graffiti. Mix of Techno and Hip-Hop culture with anarchy and socialists activities. Graffiti of each city show you their real underground face, and can show you what is going on here actually, and what in the mind of people who live here. What the political situation at least. Graffiti it's a tattoo's of the city I guess. It can be ugly, but still tell you a lot. Today I show you what I found on a railway of Bochum..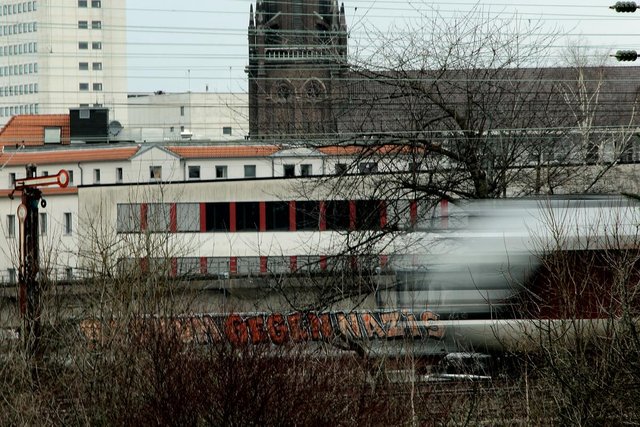 I really like this pic it contains 8 different plans. Bushes in front, train, graffiti and few streets with buildings higher in each next street. Here written- BOCHUM GEGEN NAZIS what means- BOCHUM AGAINST NAZI'S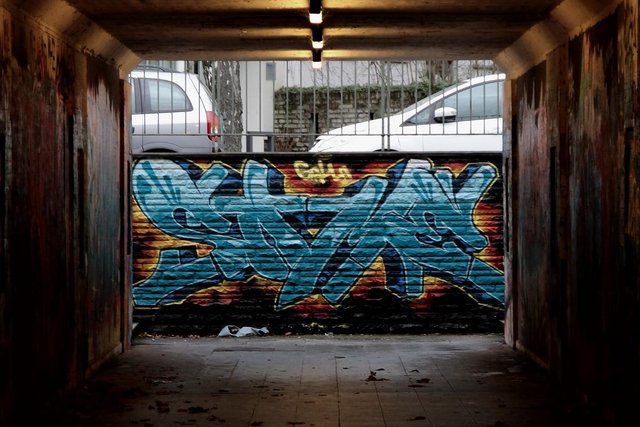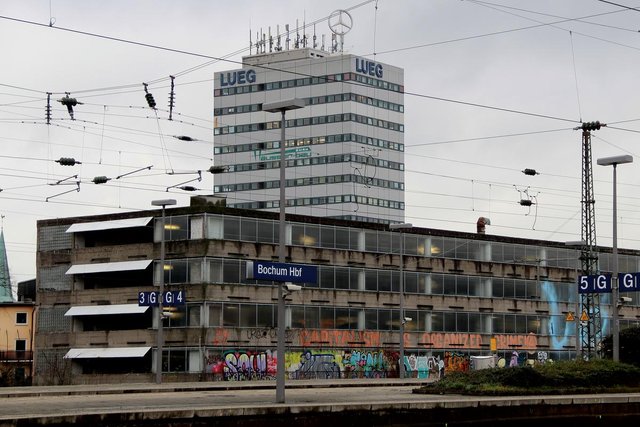 This one show you real level of anarchy in Germany. It's just on the main railway station of Bochum, right on a platform under cameras and on the eyes of security service and police of railway station. Here for the police graffiti it's a real crime, and constant pain in the ass to catch graffers. They make real investigations to catch them and make them pay for painting of the trains and buildings, haha I'm not surprised why half of paintings they make contains ACAB on it..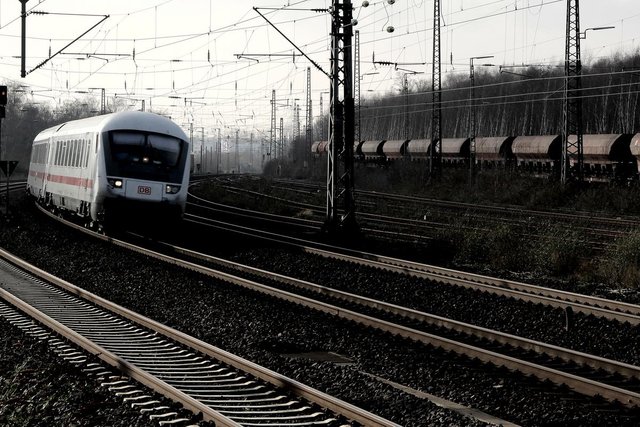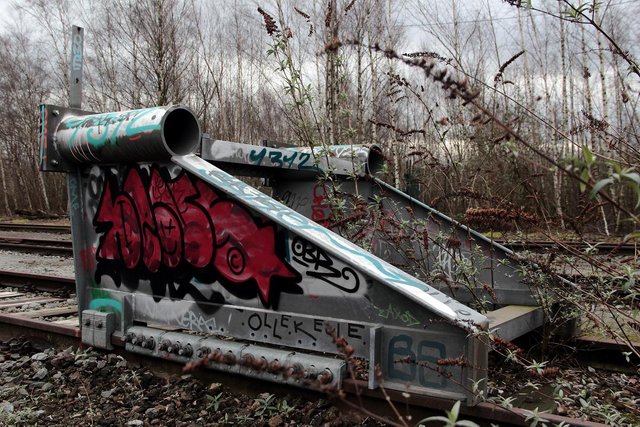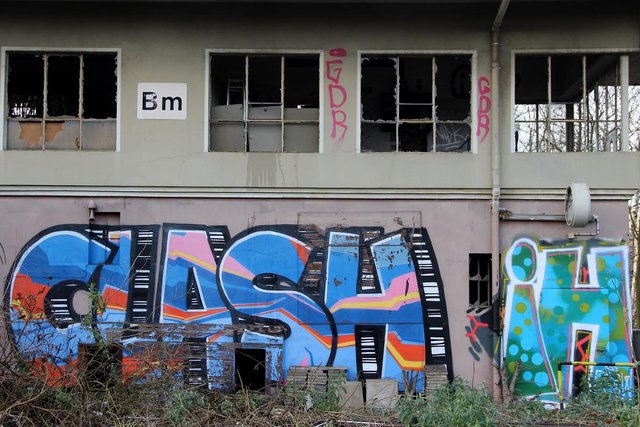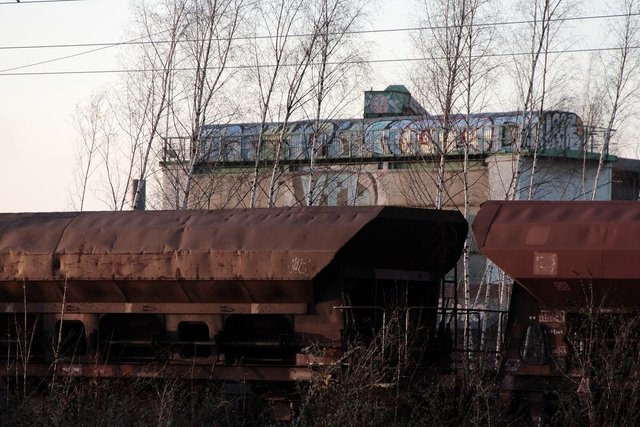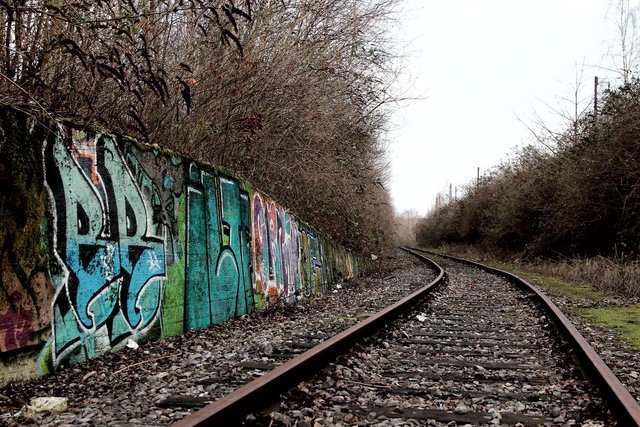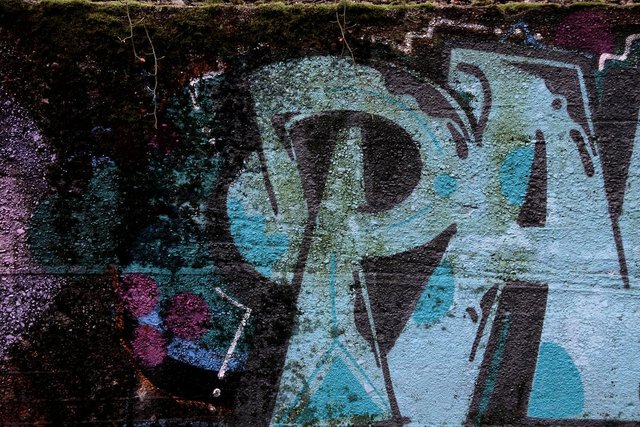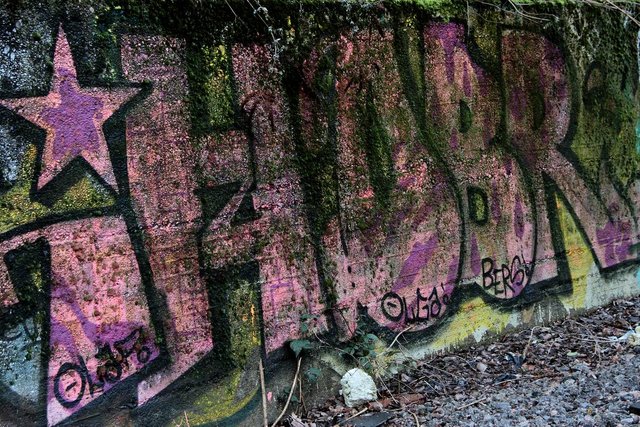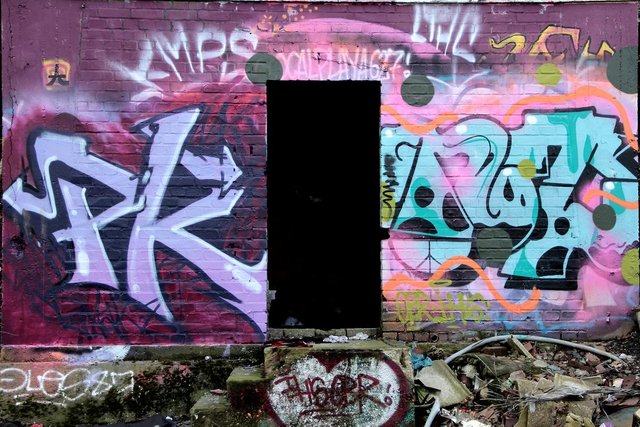 It wasn't a big research but any way I guess it is a good thing to picture some of this street art before it goes forever. Not a lot of graffiti live long life, so its good to save some of it in blockchain I believe. Its like a cave art of our time, and we should preserve it for the next generations.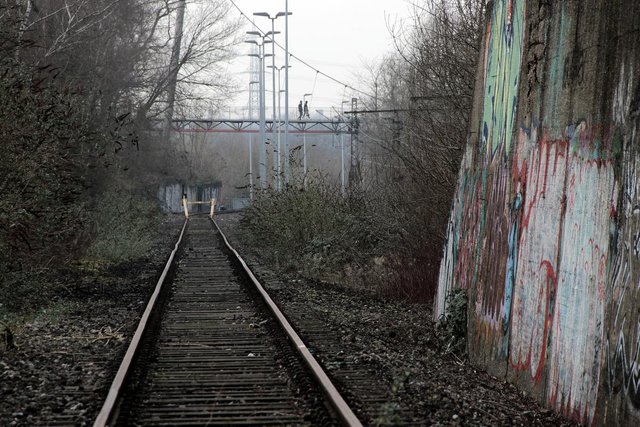 My name is Timon, and I am on the slowest worldwide cruise ever. In 2011, I left country where I was born and since then I'm traveling supa slow. My plan is to go Around the world in 80 years.. 
What is the point? - I want Just look around, have a lot of fun and make things I'm interested on. It will take time.
Why so long? - Because I really want to see how people live and what this place is for me, so I stay some time in each spot, and it's so many.. 
How long I stay? - Not too long, not too short, it's really depends on many things.. 
 Am I so rich to just travel..? - No not at all. It is what making this trip a bit more complicated but still awesome and interesting. 
Am I serious? - No, not really. But still on my road..
The Biggest part of my way so far was by Sea and Ocean, and last three years I spent on the boat on a little island. But for the moment I'm back on the dry land, and I can find a lot of fun here as well.   
Original photo's / Canon 600D 18-135mm / Bochum / Germany / january 2018 /  
If you like my works, please follow my photo blog Around the World in 80 years..
https://steemit.com/life/@ipumba/around-the-world-in-80-years-back-to-the-future 
https://steemit.com/travel/@ipumba/around-the-world-in-80-years-estonian-gambit
https://steemit.com/adventure/@ipumba/around-da-world-in-80-years-moviestar-heaven
https://steemit.com/introducemyself/@ipumba/around-the-world-in-80-years-introduction  
Thanks to all my followers for support!! Over 500 people! Should I celebrate now?!.
Thank You to read untill here!
 [//]:# (!steemitworldmap 51.484643 lat 7.197483 long old railway d3scr)