Deep in the desert: Meet the rusty monsters of steel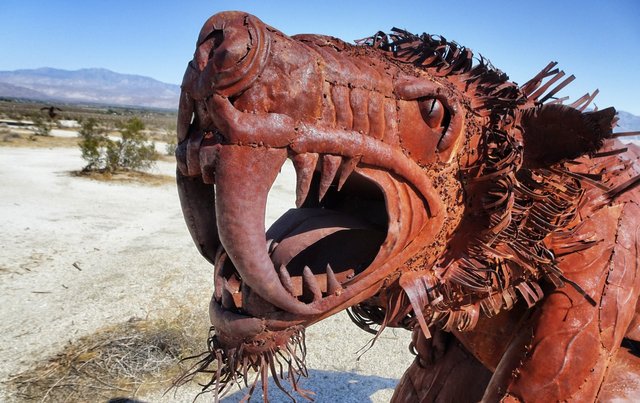 No, the S22 desert road is not of that kind you might think. Just nothing, zero, no people, no cattle, no cars? Wait a minute and look outside your window. No, you don't have a fata morgana. You might see a pale horse as it rears on the side of the road. It's huge! Drive slowly. Now in the middle of a flat desert landscape an giant elephant appears. Just a minute, slowly! Yes, now you can see a T-Rex and on the horizon a few wild saber-tooth tiger.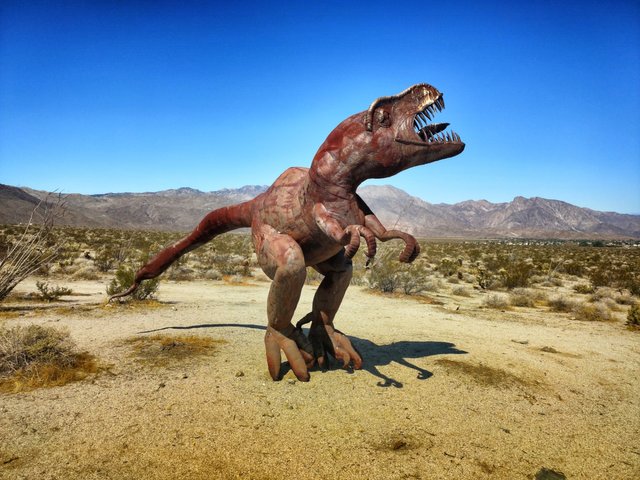 It is the heat? The sun? The lack of water? Oh, no. What you see is the work of artist Ricardo Breceda, who has made dozens of sculptures for the Anza-Borrego Desert two hours east of San Diego.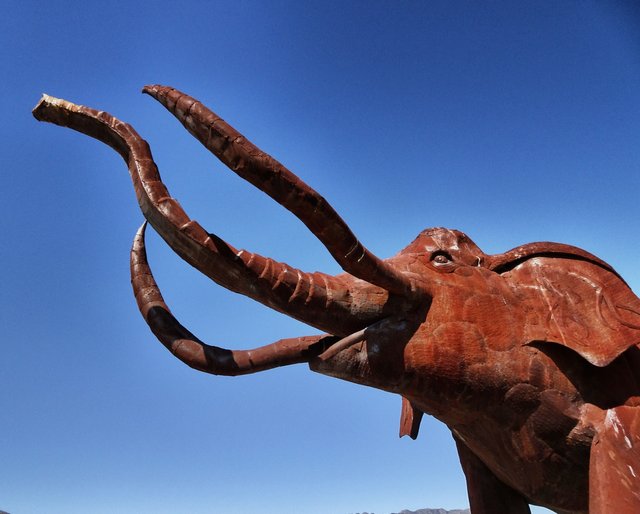 Dennis Avery, the owner of Galleta Meadows Estates in Borrego Springs, has had the idea of adding this kind of metal art to his property with original steel welded sculptures created by 'Perris Jurassic Park' owner Ricardo Breceda from in Perris, California. Since the first sculpture one was build there are over 130 errected and as you are driving along the S22 for ten miles they just seem to pop up out of nowhere.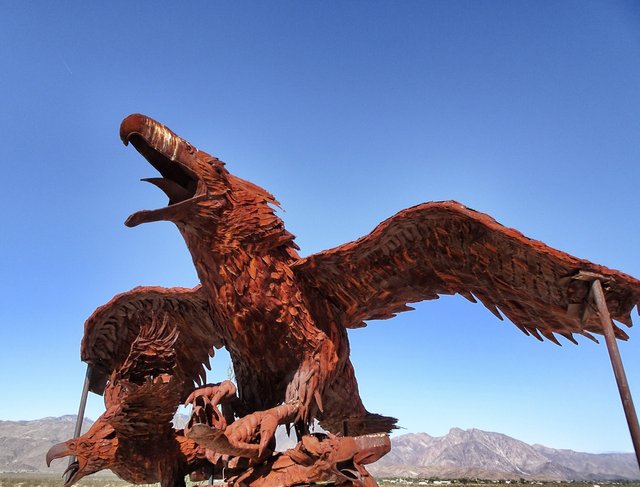 But the most of the sculptures are not directly on the highway. You have to do a little bit offroad work to spy them. Do it, because you will never see so much rusty steel in form of scorpions, horses, dinosaurs or eagles again.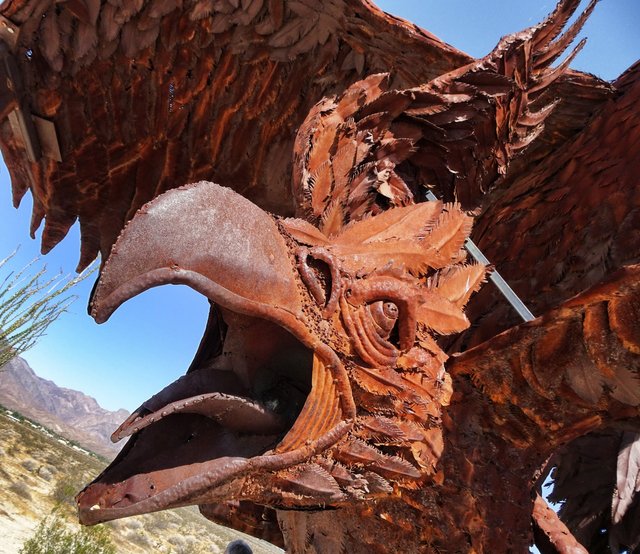 Every single piece is a brainchild of Ricardo Breceda, who showed no interest in the arts for the first half of his life. However, when one of his daughters asked for a large dinosaur after seeing the movie "Jurassic Park III", Ricardo built one: A 20-foot-tall T-Rex that ignited his passion to do more. After two came three, after three 30.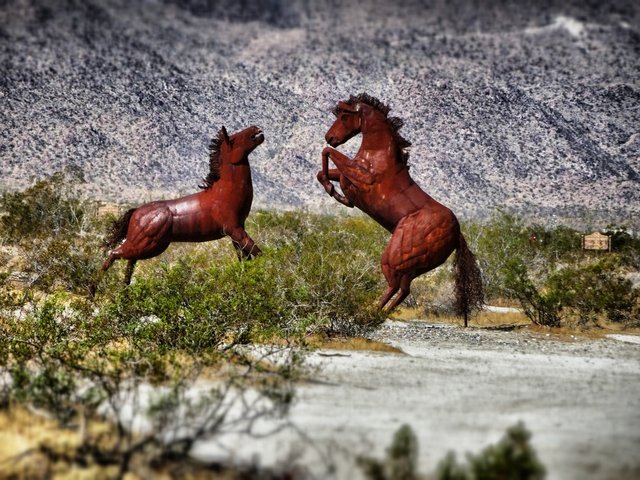 He was addicted now. Later he was showcasing his work at home in Perris, CA, where Dennis Avery spotted his craft. Avery was looking for something to show travellers on his Galleta Meadows estate in the Anza-Borrego desert and he think, art was a good choice.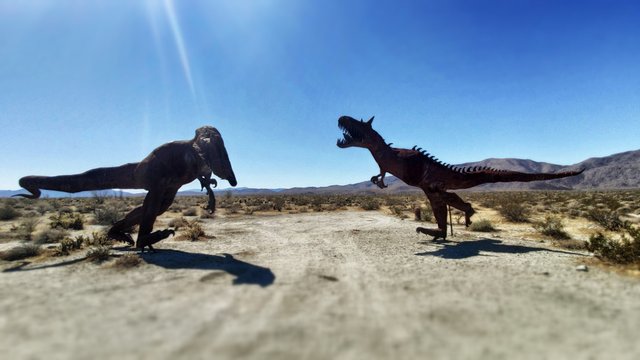 So it began. Avery commissioned Breceda to create extinct creatures that once roamed the desert, later they ran out of desert creatures, so they try it with mythical creatures and normal animals like horses, snakes and eagles.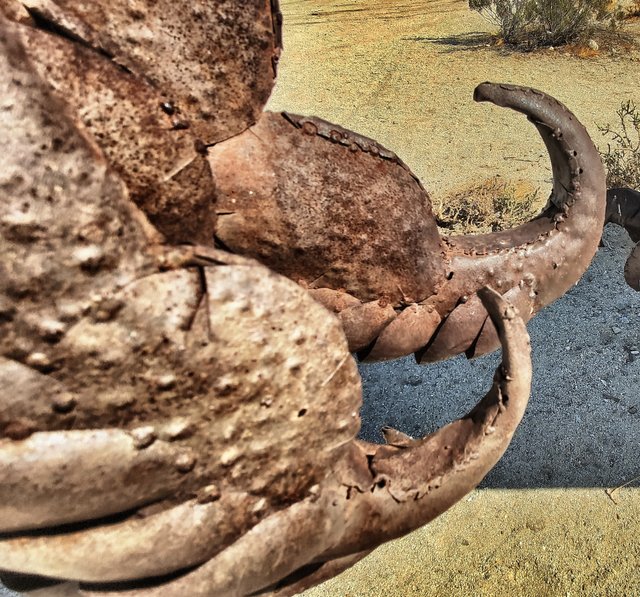 After Dennis Avery died in 2012, he commissioned established a fund allowing Ricardo to be able to repair and maintain the current and now famous Borrego Springs Sculptures, who are concentrated on two hot spots. One is on the north and one on south of Palm Canyon Drive that is the main and and - how evil tongues say - only street in Borrego Springs.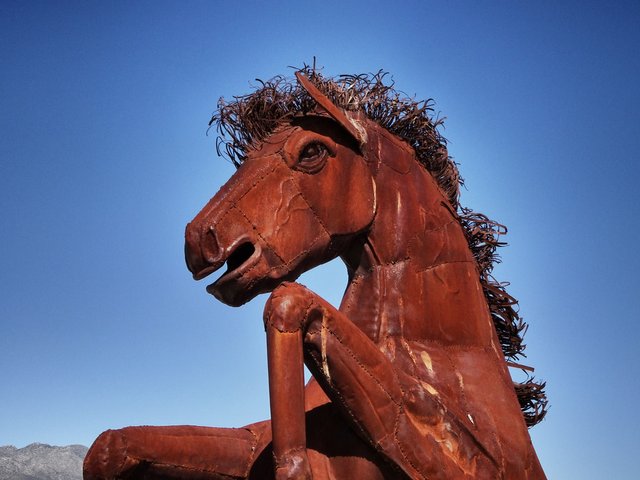 The sculptures mostly easy to see from the road and you can get a map at the Anza Berrego Desert State Park Visitor Center west of the Palm Canyon Drive or at the Borrego Springs Library, The Anza-Borrego Foundation, and the Anza-Borrego Desert Natural History Association.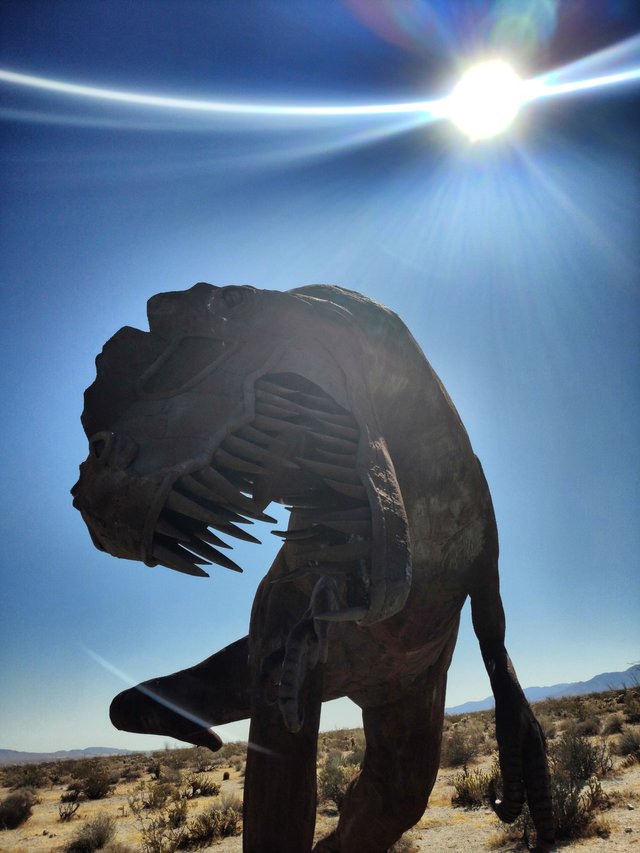 The north group contains the larger statues. Rusty animals with claws and giant ears like elephants, raptors, mammoths and sloths. Adviced is to cover this area in the morning before to many people reach the place to taking photos and ruin yours!
More pictures under the link section.
Follow me on my epic journey through America:
Joshua Tree: Holy trees under a blood red sky
Area 66: The last secret of the aliens
Ghost Town Oatman: Where the mule does rule
Route 66: On the road that kicks
Grand Canyon West: No-pics allowed of this beauty
Grand Canyon: Scenic views into the abyss of earth
Graveyard of giants: The Jurassic Park at the Navajo Trail
More than monumental: The heart of the wild west
Arches NP: The biggest bow you've ever seen
Zion Canyon: Ice-cold feet in narrow waters
Bryce Canyon: God's glowing stones
Las Vegas: Home of Bad Luck
Red Rock Canyon: Road under the ocean
Death Valley: The dry throat of the desert
Mt. Withney: High on thin air
Mono Lake: Eating flies on a salty shore
Golden Gate Bridge: 80.000 miles of steel wire
Sequoia: Beyond the everlasting trees
Yosemite NP: Crazy climbers at El Capitan
High Sierra: The wonder of the Sierra Waves
Alcatraz: Into the home of horror
Richfield: Where Easy Rider is alive
Alabama Hills: Blue skies over Hollywoods West