Graveyard of giants: The Jurassic Park at the Navajo Trail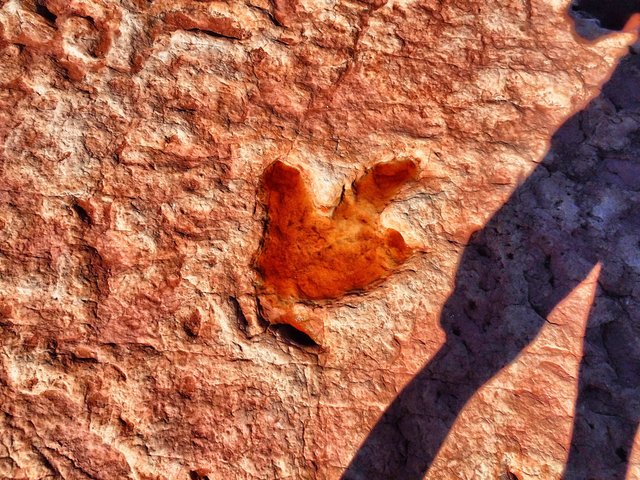 This is not a stone, said John, although it looks like that. John is smiling and he gives us a riddle. Touch it, he said, and hands out some stones in our hands. What do you think you hold in your hand? Looks like a bullet of stone, it´s red and heavy weight. John giggels. "It`s shit", he said, "pure shit – 200 million years old."
John is from the Navajo Tribe and he works as a guide at the Jurassic Park of the Navajo Nation. Dinosaur Tracks, just 70 miles away of Flagstaff, near Tuba City, is a place where evidence of dinosaurs can be experienced first-hand till now.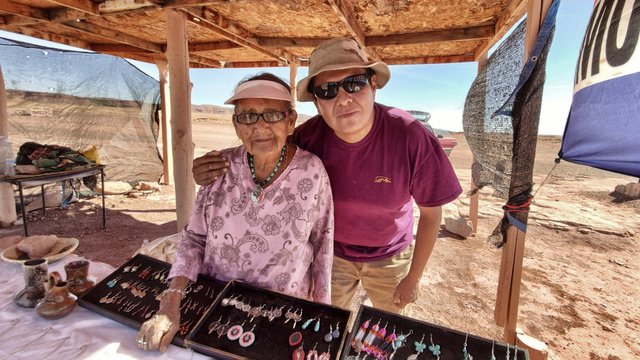 The Moenave Dinosaur Tracks only a few meters away from the Navajo Trail aka Route 160, is not a museum or a exhibition
with glass containers and plastic skeletons. It´s all real, a graveyard of giants from million years ago. Right on the first steps into the red-stoned field that reach to the horizon you see stone pieces of fossilized footprints; frozen from a volcano eruption in the early Jurassic period, approximately 200 million years ago. Poo too: The piece of shit doesn't smell anymore.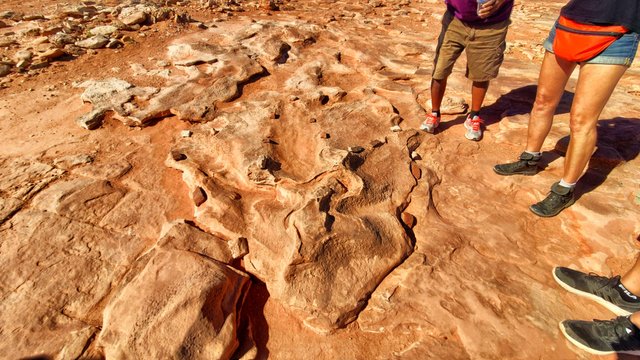 John knows the story of the dinosaur tracks you can find all over a section along the bench below Hamblin Ridge near Moenave, his village. "Our anchesters seen these track for years and years" he said, "they have their own legends about dragons and giants." But only 100 years ago scientists came by and discovered the traces of a time that has long passed.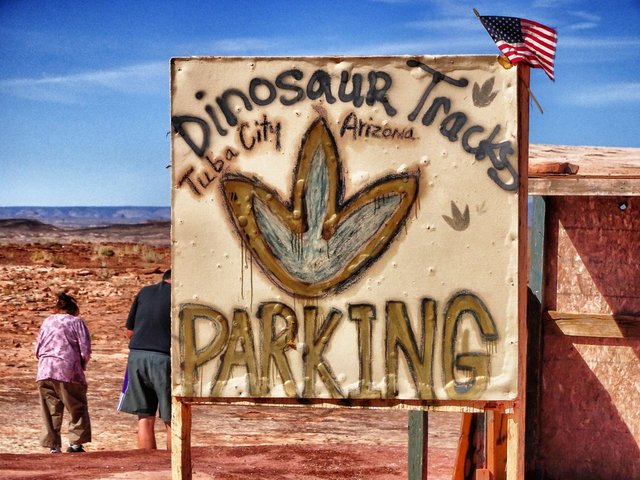 "It was a river bed here", said John, "and these dinosaur tracks were formed in a mudlace just before the volcano erupted." He´s sure that he can show us traces of Tyrannoraurus Rex, the terrible killing machine from the "Jurassic Park" movie. But if you ask paleontologists they are not by his side. The traces are too old! The specific type of dinosaur that left these footprints near Moevave cannot be determined, so they called them "trace fossils".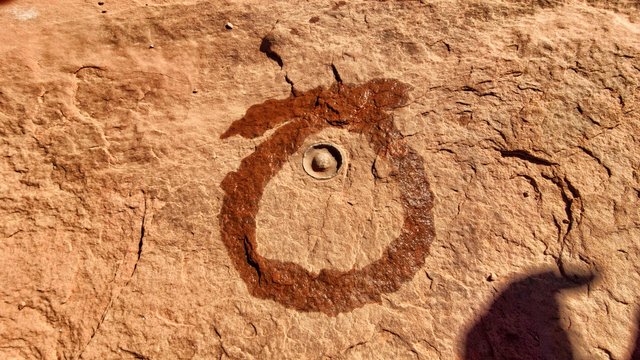 Trace fossils are huge, but if you not an expert like John you will stumble by the most of the footprints. The guide, who is waiting for visitors at a small jewelry shop, where his 83-year-old mother sells Navajo blankets, rings and dream catchers, has a bottle of water in his hand. With this bottle he sprays water to the specific places. The footprints of the long lost giants immediately turn blood red and are clearly visible.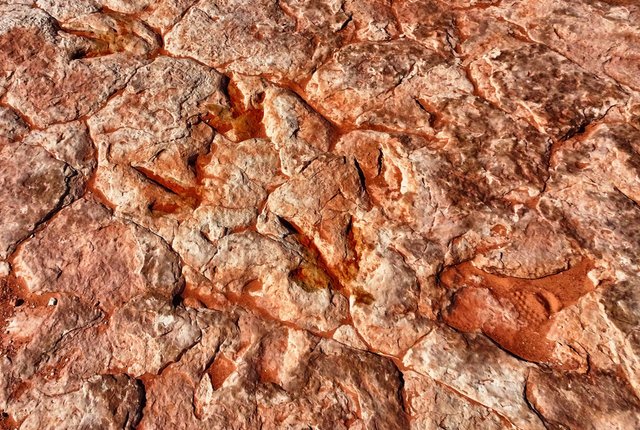 His grandma has herd sheep out here, John tells us, but the better way to turn an income was to take tourists out here. Moenave Dinosaur Tracks are not an official National Park or National Monument or something like this - the biggest dinosaur track sites in the country is a private place without any kind of Welcome Center, Restrooms or Ticketshop for admission. You only have to pay a tip to John and his colleagues after the walk around the former lake. It´s up to you how much you give.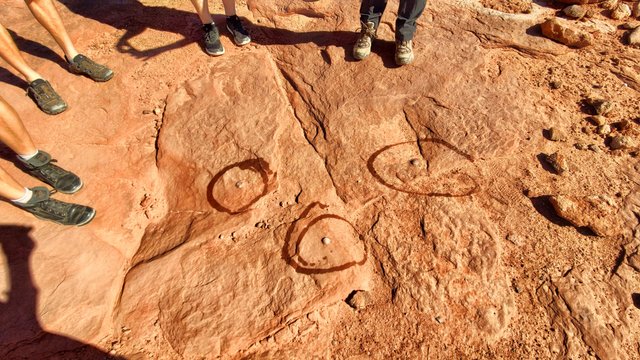 It should be a lot because the tour is a great experience at all. You can see roundabout 200 dinosaur tracks, for every single one John could tell you a nice story – of mother Dino, her kids, of the murderish T.Rex and all the reptile birds who lived here. Maybe not all of the information will be absolutly scientifically correct, but it's worth taking the tour for an half an hour or so. Maybe you never have a chance again to step directly into a real wild piece of our planet's history and touch a patch of earth where a Grallator or Dilophosaurus has gone along before the first human was even a though.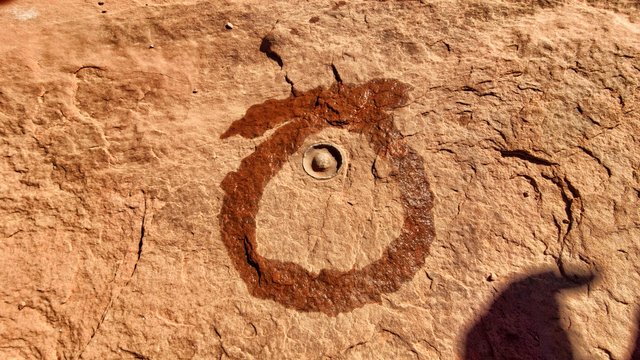 Later Dr Google will tell you that there are apparently no actual Tyrannosaurus rex tracks at Moenave and the dino-skeleton John have shown you is also not real. But the "dinosaur eggs" and the "dinosaur poop" you've seen could be, maybe. And if not, it was nice anyway.
Follow me on my journey through America:
More than monumental: The heart of the wild west
Arches NP: The biggest bow you've ever seen
Zion Canyon: Ice-cold feet in narrow waters
Bryce Canyon: God's glowing stones
Las Vegas: Home of Bad Luck
Red Rock Canyon: Road under the ocean
The dry throat of the desert
Mt. Withney: High on thin air
Eating flies on Mono Lake
80.000 miles of steel wire
Beyond the everlasting trees
Crazy climbers at El Capitan
The wonder of the Sierra Waves
Into the home of horror
Where Easy Rider is alive
Blue skies over Alabama Hills
//:# (!steemitworldmap 36.104281 lat -111.325352 long Graveyard of the giants d3scr)


---
View this post on TravelFeed for the best experience.