"The Rock" Alcatraz: Home of Horror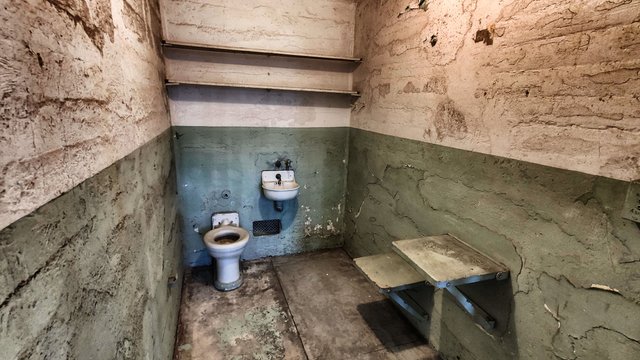 It was a Spanish explorer named Juan Manuel de Ayala who come into the San Francisco Bay in 1775. He has seen the island in the middle oft he water and called rocky cliff "La Isla de los Alcatraces," meaning "Island of the Pelicans." It was a lonely stone this time, no trees, no grass, only a few of birds. Later "The Rock" (name of a Michael Bay-movie written by Quentin Tarantino) become a military fort under President Millard Fillmore in 1850. Because oft he discovery of gold in the Sierra Nevada Mountains San Francisco where a target for soldiers of fortune from the whole wide world and after the the U.S. acquisition of California from Mexico following the Mexican–American War it was under high risk to come under fire from the beaten enemy.
But Mexico didn´t do so. Alcatraz, the centre stone of a planned "heavily fortified military site on the West Coast", get Fort Point on his left side, you can see it near the Golden Gate Bridge. But Lime Point, the other battery of cannon on his right, was never realised. Instead of this Alcatraz become a prison – first for military personal, later for Civil War prisoners of war. After the 1906 San Francisco earthquake for the first time civilian prisoners come to the Rock, because they were transferred to Alcatraz for safe confinement.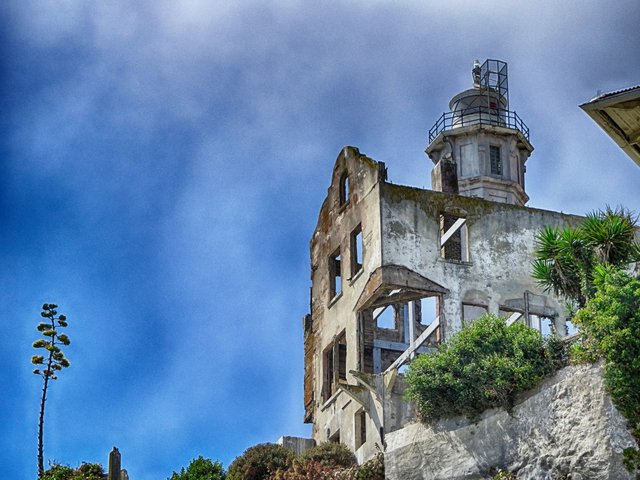 But it seems like a good idea, so the United States Disciplinary Barracks on Alcatraz were acquired by the United States Department of Justice on October 12, 1933, and the island became a federal prison in August 1934. It was a lonely place made from cold stone, wet and foggy and certain for prisoners who continuously caused trouble at other federal prisons. Among its famous prisoners were Al Capone, George "Machine Gun" Kelly and Robert Stroud, the "Birdman of Alcatraz" (1962 has had a famous film of the same name).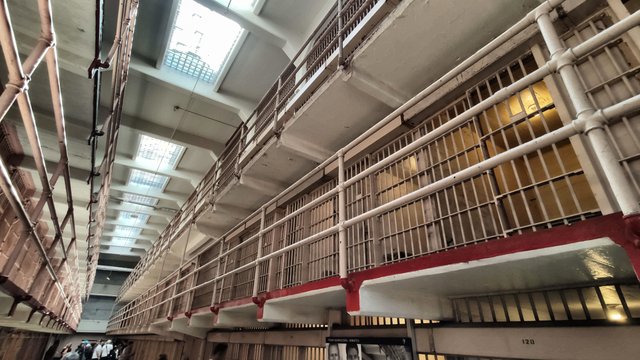 If you´re going to San Francisco nowadays, you can make a trip to this island of horror, where cells were smaller than a closet: In B & C blocks, the cells 5 feet by 9 feet, with a sleeping cot, a toilet and small sink (picture). Think about one moment of a life you`re in this kind of cage, small, icecold and open to the watchmen, who never had have a gun or something else because the dangers to high that prisoners get one.
But it`s not so hard to life here as it seems. Never no more than 250 prisoners occupied the island at one time. Escape attempts are legendary, the inmates try to get out thru tunnels, over the walls, with selfmade weapons. In 29 years only 36 men try to get out, 23 were recaptured, six killed by guards, two lost in the water of the bay. Only Frank Morris, John Anglin, and Clarence Anglin, gangsters who escape the prison island in 1962 using a raft made out of raincoats, where never seen again. Are they drowning? Are they free?
No one knows, but this mystery makes them a legend like the 19 native americans, who occupied the island November 20, 1969 as a group called United Indians of All Tribes, to get it back from the governmenrt as a possession of all American Indians. 19 months they stay on the rock, after that president Nixon rescinded the Indian termination policy to give more rights to the original americans.
Some more pictures for you: