Bryce Canyon: God's glowing stones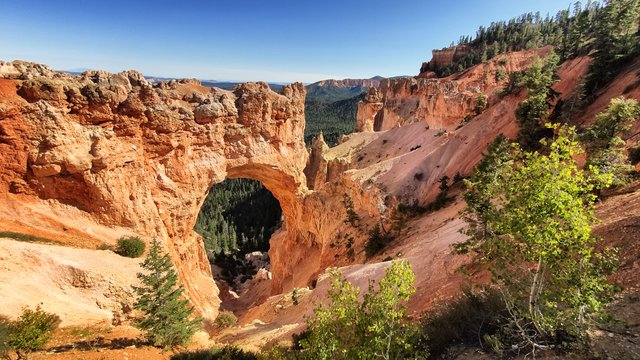 If God ever had time to play in a sandbox, making castles, towers and plains it could be that the result would look like this. Yellow spirals that wind up in a blue sky, hundreds oft hem like a bed of thorns. On the other side a red cliff, hanging on a mountain that look like the playground of a giant. A black road with yellow stripes. A green wood. And a bright yellow sun sends magic rays through a thin and clear air. Breath in, breath out. Be happy for all this beauty.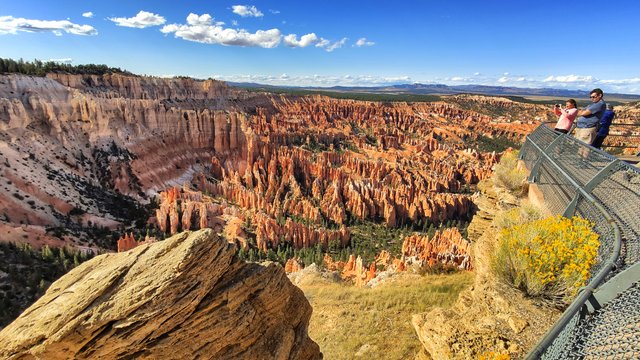 This is the way the Bryce Canyon National Park works for the most people. Bryce, named after Ebenezer Bryce, a man from Paria Valley who is looking for some of his lost cattle and found the canyon instead of that, is one of the well-known, but not so famous National Parks in die US. It transcends 2000 feet (650 m) of elevation and gives you the chance, to drive through three distinct climatic zones in only two hours: spruce/fir forest, Ponderosa Pine forest and Pinyon Pine/juniper forest lie on both the road that pervades the entire park.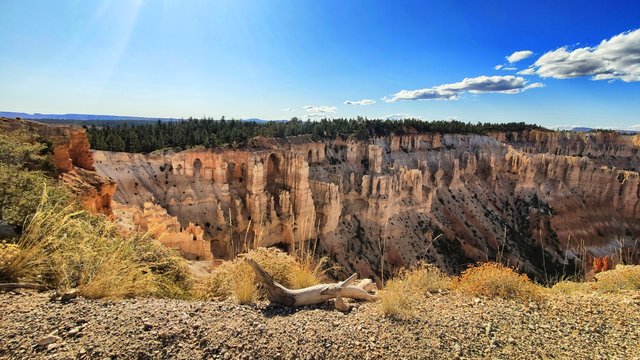 It's a joyride to drive along the rocks and cliffs and canyons, where Ebenezer Bryce lost so many cattle that he's quoted as saying that the area was "one hell of a place to lose a cow." You drive, you stop, you have a great look down to bizarre rock formations. Take a picture. Keep driving. Stop. And take the next look.
After two or four hour without any hazzle you've seen it all: Ponderosa pines, high elevation meadows, and fir-spruce forests border the rim of the plateau and abound with wildlife. This area boasts some of the world's best air quality, offering panoramic views of three states and approaching 200 miles of visibility. This, coupled with the lack of nearby large light sources, creates unparalleled opportunities for stargazing.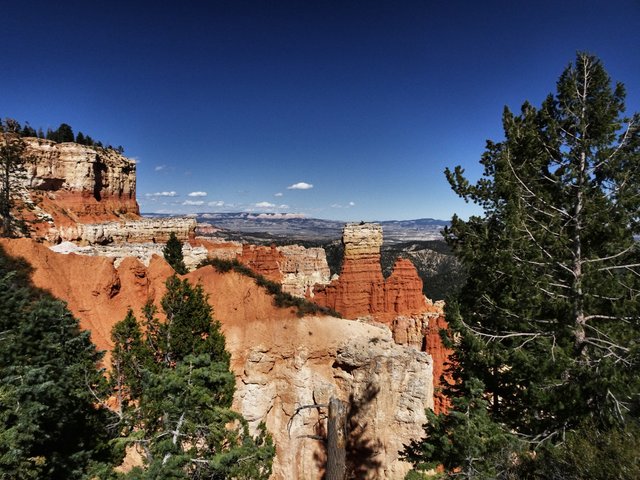 "Forty miles from the nearest gravel road we cut our life in the ponderosa pines" Johnny Cash sings in What have you got planned tonight, Diana" and that ist he scene you see. Unforgetable pictures, scenic views over stones they where drawn by the erosional force of frost-wedging, rain and wind. Most of the looks are going into horseshoe-shaped amphitheaters on the eastern edge. The wild color comes from calcium-rich mudstone, all the canyons have bizarre shapes like spikes, windows and spires called "hoodoos."


The Bryce Canyon National Park lies on the eastern edge of the Paunsaugunt Plateau in south central Utah. You have to drive four hours from Las Vegas - no comparison to earlier times when mormon settlers from St. George and Cedar City tried to find a new route to southeastern Utah. Their journey was expected to take six-week but it became a six-month expedition. Pioneers cut their way through the rock at the rim of the Colorado River, and lowered wagons to barges where they crossed and continued their journey across 200 miles of some of the roughest terrain a wagon has ever crossed.
Hard guys, harder than these rocks. Robert Leroy Parker, later famous as "Butch Cassidy", was raised here in Bryce Canyon Country and he returned infrequently to visit his family. If you come along from Circleville you can see his childhood home near the road. A shed.
More pictures under the link-section.
Follow me on my journey through America:
Las Vegas: Home of Bad Luck
Red Rock Canyon: Road under the ocean
The dry throat of the desert
Mt. Withney: High on thin air
Eating flies on Mono Lake
80.000 miles of steel wire
Beyond the everlasting trees
Crazy climbers at El Capitan
The wonder of the Sierra Waves
Into the home of horror
Where Easy Rider is alive
Blue skies over Alabama Hills