Would you like to know what is my strategy to gain and use SteemPower because this might be useful for you? It is important to have goals and a strategy that works on Steemit to see your account grow and stay motivated.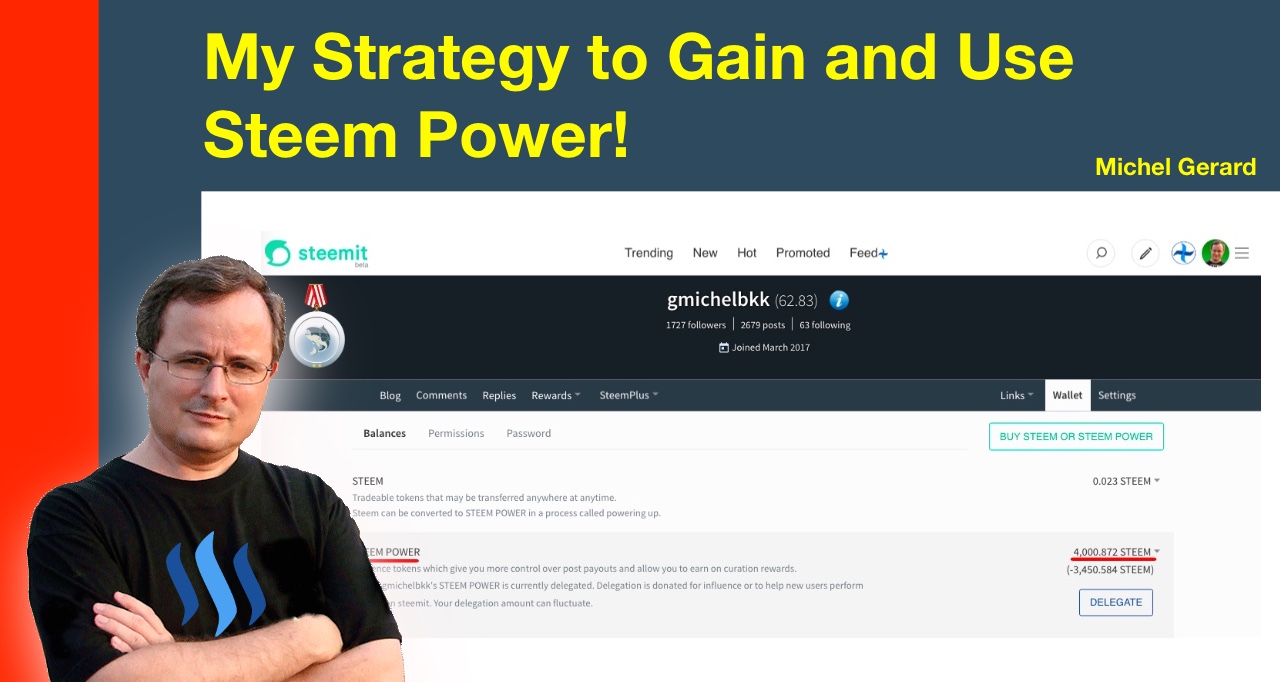 In this post I am going to show you how I gain Steem Power, but mainly how I use Steem Power.
My Strategy to Gain and Use Steem Power!
I have just reached 4,000 Steem Power and I remember being at the 1,000 SP range not long ago.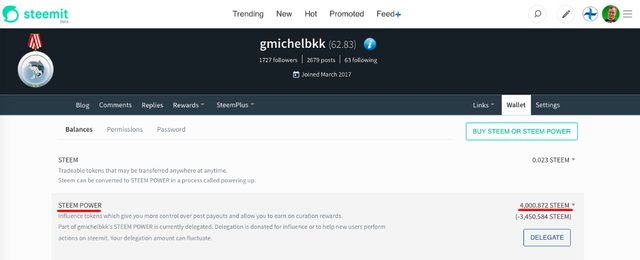 I have been on Steemit for a year and my goal is to reach 10,000 SP at the end of 2018 with buying and earning Steem. I know this might be difficult to reach 10,000 SP only earning it, so I will buy some more as I can. I believe that after I reach that goal it will be easier to earn more SP, and reach a goal of 10,000 Steem Power earned.
Managing Steem Power
The first thing I do is that I manage my Steem Power and record my progress in a Portfolio on CryptoCompare.
As you can see I have bought $4,165.75 worth of Steem Power in my first year, and even with a very low Steem price, I am still at $3,219.83 profit, for a total holding of $7,385.58.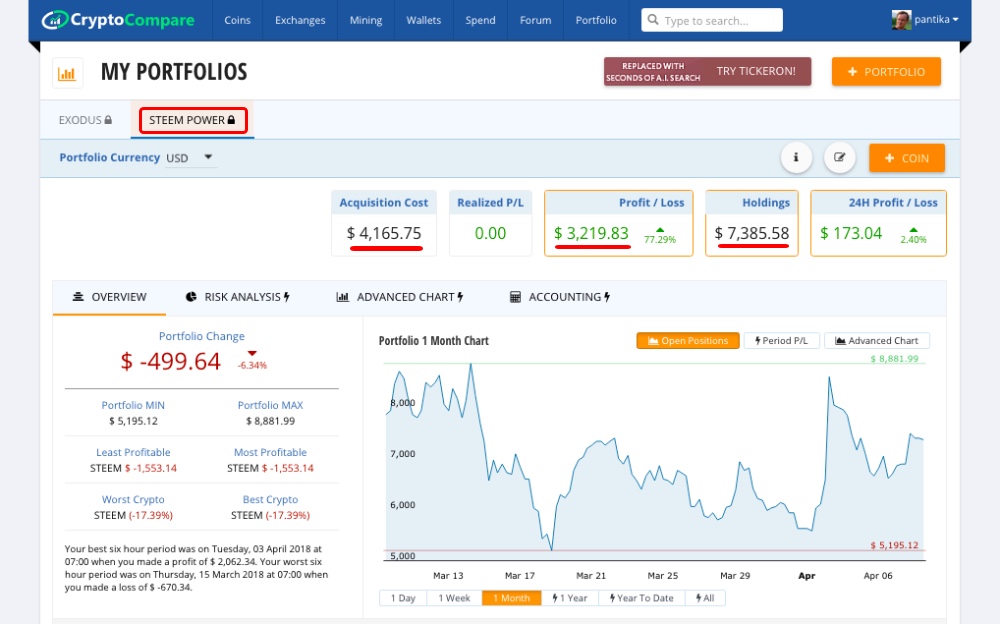 Each time I buy Steem Power I record it with CryptoCompare.
You may be interested to read my previous posts: An Overview of CryptoCompare, Have You Joined Yet?, How to Create your Cryptocurrency Portfolio on CryptoCompare & Get Real-Time Info and Prices for Steem with CryptoCompare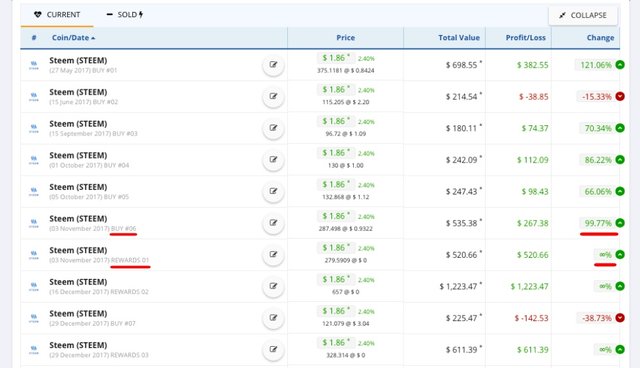 I use *BUY #00 when it's a purchase and REWARDS 00 when I earned STEEM. I update the Rewards entries every month, I look at my total SP minus what I bought and previous rewards recorded.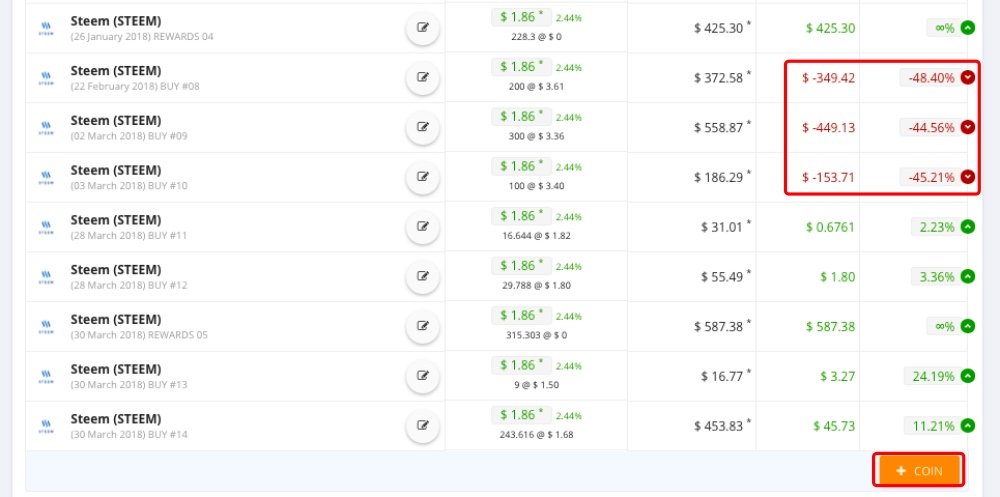 There has been some purchases in the red lately, but Rewards are always in the green, whatever the price of STEEM.
When I add one entry using the "+ Coin" button and it is a reward, I always use the number of SP earned for the month at $0 because I have earned it through writing posts and delegation.
Doing this shows me precisely where I am in my progress to achieve my goal and motivates me to continue growing on Steemit.
Earning Steem Power
My strategy to earn Steem Power is first to write quality posts daily. I write posts that I enjoy writing and that I know will be useful for readers.
As you can see, I have written 195 quality posts, and one post is taking at least one hour to write.
You may like this post: Receive Awards for your Achievements on Steemit!
Then, I set a budget to promote each of my posts with bid-based bots. I started with 5 SBD per post and to a maximum of 20 SBD, and now I am back to 8 SBD or 10 SBD. I do not use any of my money to promote the posts, the amount I put in to bid depends on what I get in rewards from previous posts.
Now that Steem is low, rewards are much smaller, so my promotion budget is down accordingly.
You may want to read: How I Use Voting Bots!, How to Select your Bid-Based Voting Bots! & New Improvements in Steem Bot Tracker!
Using bots has always increased the amount of SP I gained in rewards, while the SBD parts is spent back in promotion for newer posts.
My second strategy is to not keep my Steem Power idle in my account as I do not have the time to use the voting power I have daily myself. I delegate SP to bid bots or community bots so they can use my voting power and I get a return daily for the delegation.
If I kept my Steem Power for myself, my vote would be worth $0.48, I could give myself one of these vote for each of my post and do some more curation.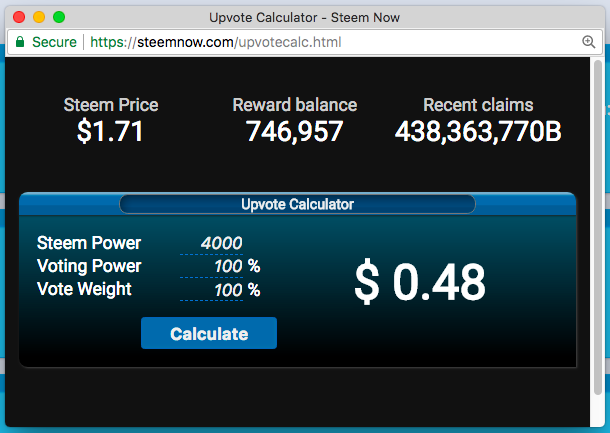 I chose instead to delegate all I have so I can maximize earning and I bought a 90-day delegation of 500 Steem Power from BlockTrades for my use.

I found that buying a delegation for the SP I want to use, is cheaper than keeping 550 SP I own for my personal use. This might change, so making some calculation is a good idea.
My vote is worth $0.07 now and it's what I get when I upvote my daily posts, I then share what's left between authors I support that are in my auto-voter and I always upvote comments made on my posts.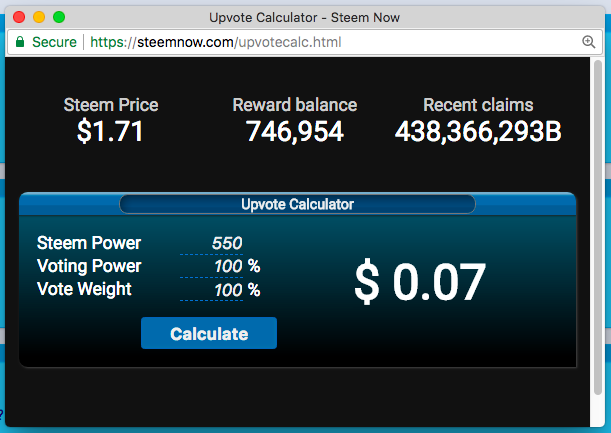 See the value of your upvote here: https://steemnow.com/upvotecalc.html
When the price of SBD was $10 plus, I took advantage of that and exchanged my SBD rewards for more SP, and at that period I think I increased about 700 SP in a couple of weeks.
As the price of SBD and STEEM is nearly the same now, it's not a good way anymore, but we still need to stay on the lookout for future SBD pumps.
Delegating Steem Power
I have a selection of bots I delegate to and I will explain to you why I delegate to them.

I delegated the most to @jerrybanfield because this bid-based bot gives back 50% of its revenue to finance Steem projects. You can make a Steem budget proposal if you have a project and need help, and if accepted revenue from the bot will be used. Delegators get 50% revenue daily, it is pretty low, but you have the satisfaction of helping projects on the blockchain.
That's what I earn daily with this delegation.

I think I started delegating 1,000 SP, and then I increased my delegation as I got more and more SP.
Then, I delegate 800 SP to @qurator, which is a community bot where you need to write quality posts to be approved as a member. I also upvote them daily at 50% weight to qualify for the Copper level.
This is good to delegate if you intend to write posts regularly and want a big upvote daily for your post. Currently I get an upvote of $0.89 by @qurator at that level.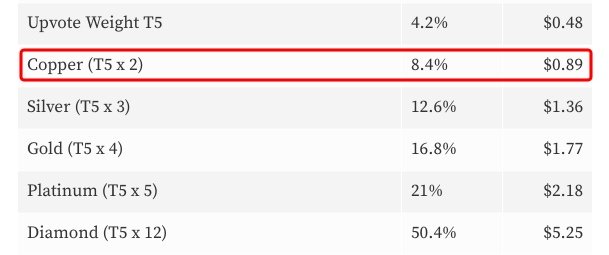 I started delegating 300 SP to them several months ago and I then increased that when they introduced their "Elite Tiers." I also plan to upgrade to upper levels as I can. How would it be nice to have a $5.25 daily upvote from them?
Members' posts are reviewed often, so don't think you can get away with junk posts…
My third delegation that I started last month is for @silvergoldbotty. It is a community bot as well where you have to be approved. A couple of months ago, I looked into them and the topic of the posts in that community was not really what I write, so I gave up on them until they changed their terms.
They opened to more topics and new tiers, so I delegated 400 SP with them to get started. Their vote gives me $1.14 per vote on my posts each day.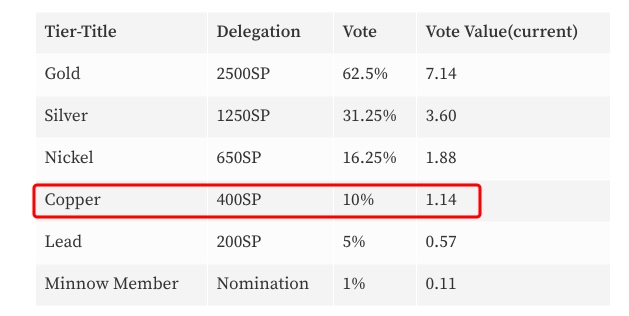 You also have to upvote their daily post at 100% vote weight if you have less of 1,000 active SP.
I will surely delegate more with them because being at the "Gold" level would be very nice.
I love delegating to community bots because they not only give you big votes on your posts, which is a motivational factor to continue writing, but they upvote other quality posts by the community.
I am guaranteed at least $2 for each of my posts with votes by @qurator and @silvergoldbotty and that's great. When the price of STEEM increases, this also increases.
The last delegation is for @tipu because I like what they are doing. It is a bot you can use to send tips to your favorite authors or other users on Steemit.
They give back 100% to delegators + 50% of the curation rewards, and I started with them last week to see how it is going. I have much more to learn about @tipu, and I might write a post about them soon.
I delegated 296 SP with @tipu and this is what I get daily with them.

Conclusion
All that I earn with delegation and writing posts are used to delegate even more, and then receive even more daily pay outs and rewards.
You can start small delegating and writing posts, and use the compound effect, which is re-investing what you earn, to make even more.
This means that you really need to see Steem as an investment and not a website where you withdraw daily profits.
I hope you have enjoyed this post and that it is useful for you.
Would you upvote this post and follow me for more because this will encourage me to write more posts about Steem like this one?
Would you please help @jerrybanfield become a top 10 witness because you can help funding projects to build Steem as explained here? Vote for jerrybanfield as a witness or set jerrybanfield as a proxy to handle all witness votes at https://steemit.com/~witnesses. Read the 5 reasons why I'm voting for Jerry Banfield as a witness and how to vote in my post.
Michel Gerard