How to Create your Cryptocurrency Portfolio on CryptoCompare
Yesterday I showed you an overview of a website called CryptoCompare that I discovered and today I'm going to show you how to create your cryptocurrency portfolio.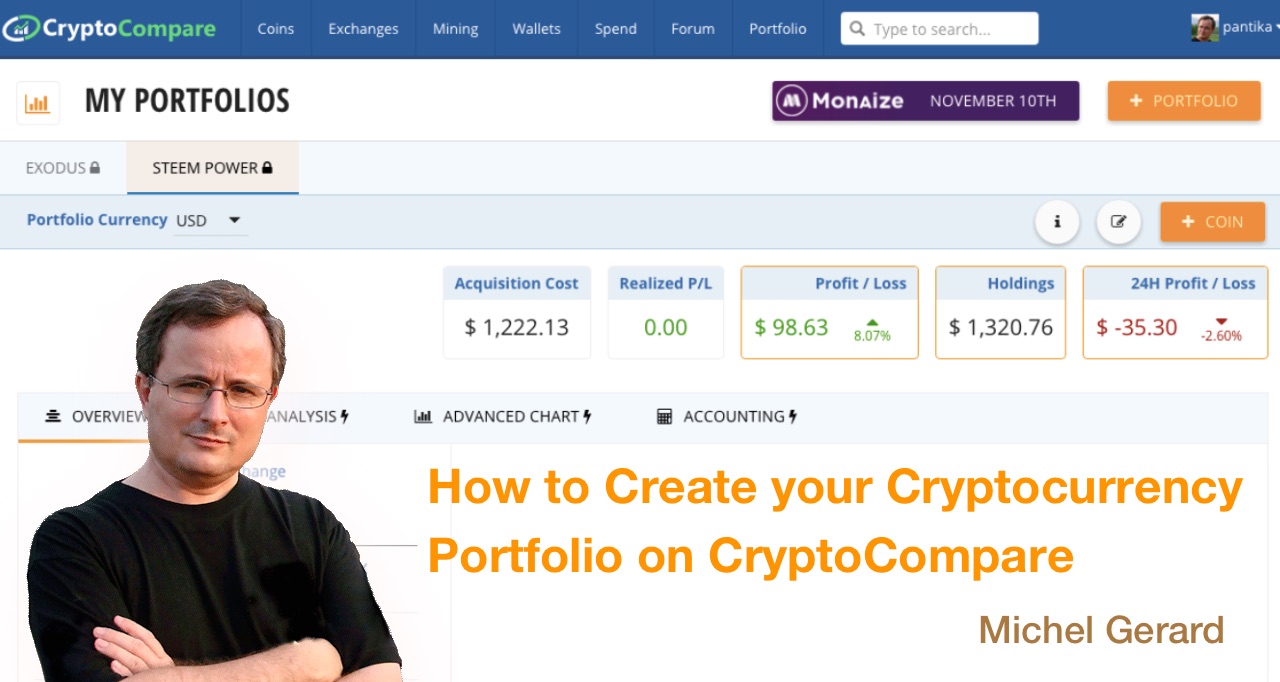 It is quite challenging to keep track of your cryptocurrency investments in a spreadsheet, especially calculating the profit and loss with several deposits and withdraws, and as I was searching for a simple solution online, it's how I found CryptoCompare.
If you want to create a crypto portfolio like I did, register for a free account, and then go to www.cryptocompare.com/portfolio/ to get started.
How to Create your Cryptocurrency Portfolio on CryptoCompare

The first thing that you can do is go to the "Portfolio" section using the top menu and select "Public Portfolios." This will give you an idea how others have done theirs and how it works.
You can scroll down to infinity looking at all these public portfolios. Let's click on one!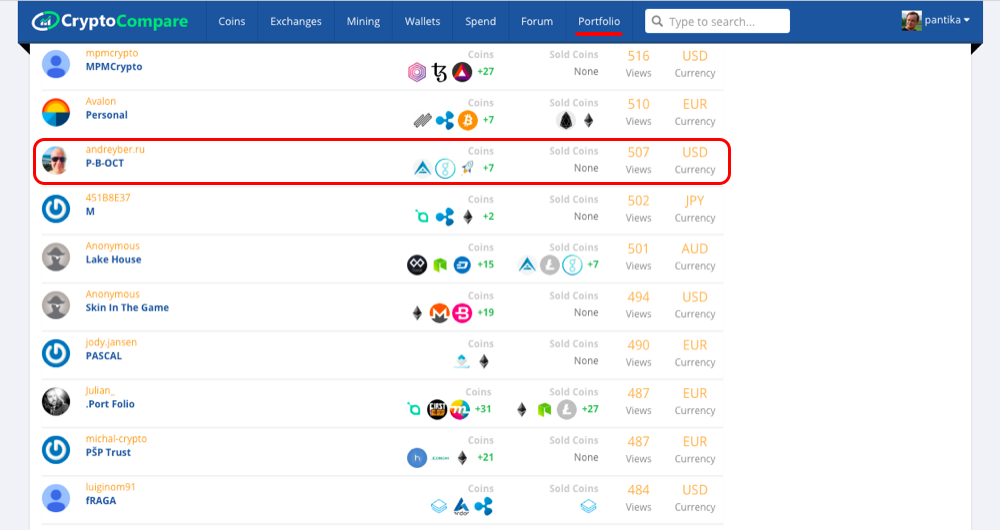 Now you can see all details of this person's portfolio, what was his initial investment and all the coins he has invested in.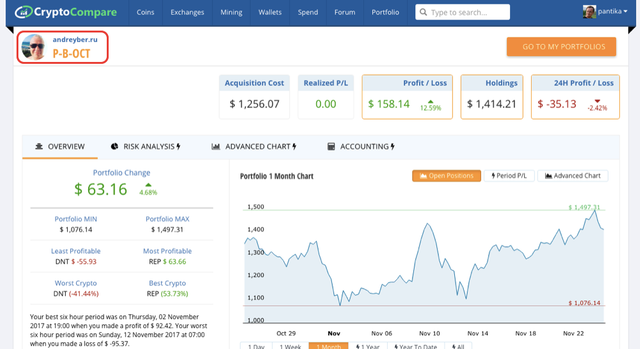 This can be an excellent template for you to follow and when you create your own portfolio you will be given the choice to make it public or private.
Create your cryptocurrency portfolio

The first step is to select "My Portfolios" in the top menu, and then click on the orange "+ Portfolio" button.

Then you will see this window. Give your portfolio a name, a description and select your currency. Then choose between a private or public portfolio. The encrypted option is not available at the moment.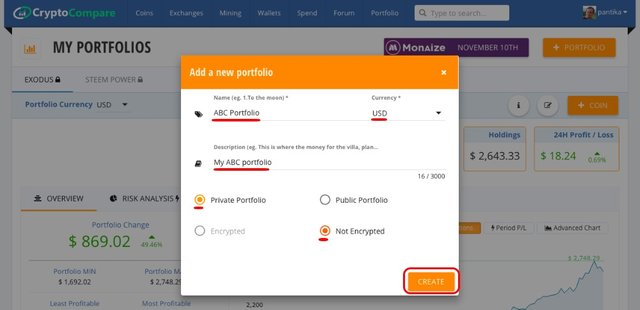 Click "Create."
Now your portfolio is created and you will need to enter your first coin using the button "Add your first coin" or one of the "+ coin" orange buttons.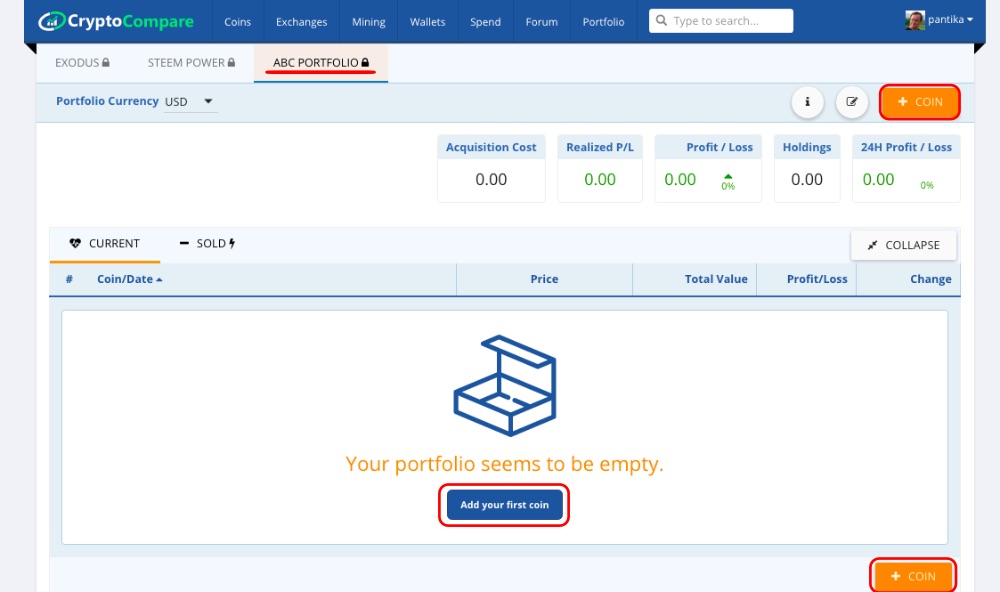 This window opens up and you can select your coin in the menu. Let's select Bitcoin.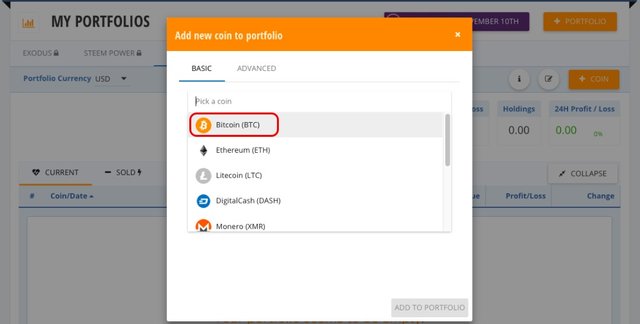 Then, enter all details: amount, price, currency, per unit or total value, date and a description.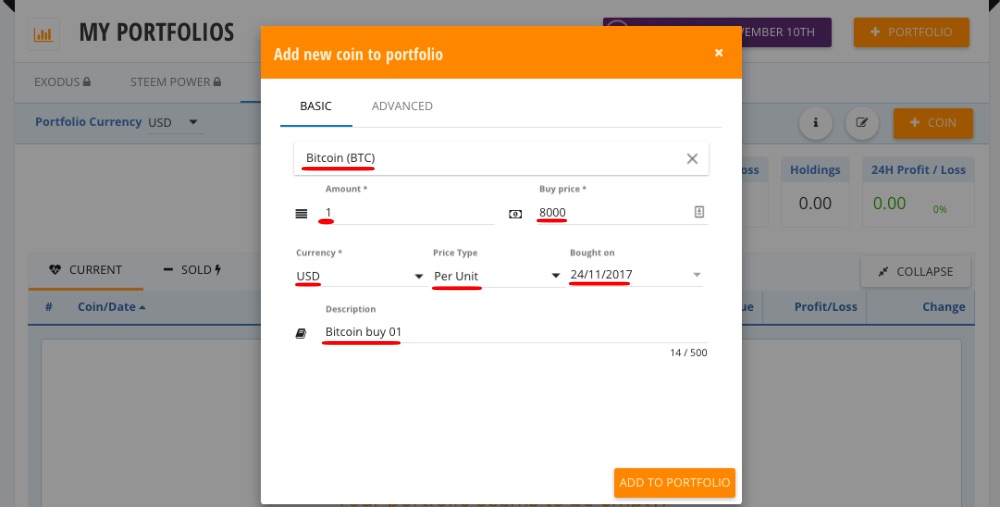 From there you can click "Add to Portfolio" or go to the "Advanced" tab.
You may select your wallet and type the receiving address.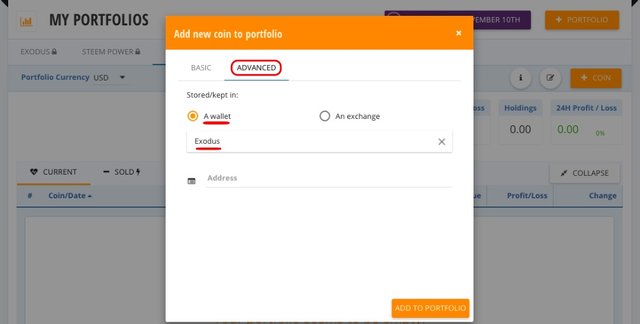 This is particularly useful if you have coins in several wallets, then you know exactly where each investment is.
If your coins are on an exchange, select the exchange.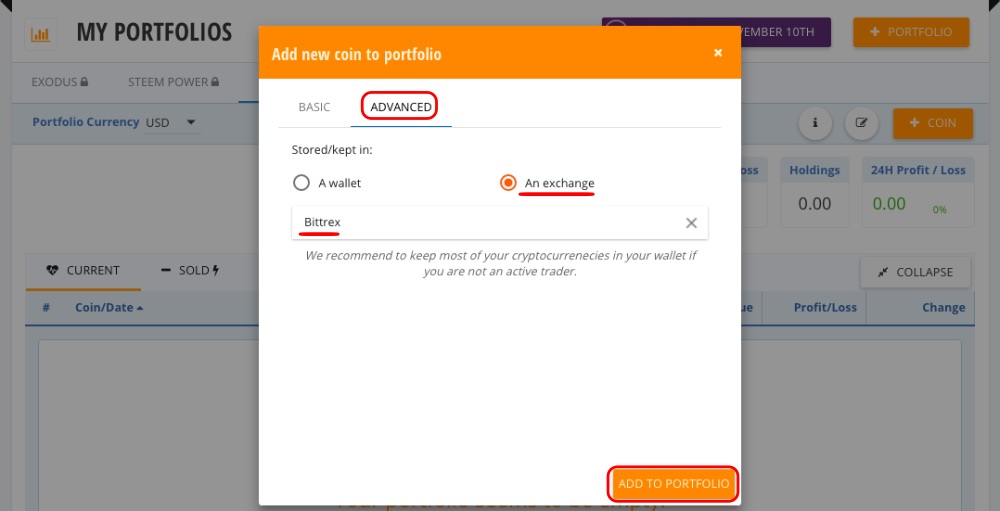 When you are done, you can then click "Add to Portfolio."
You will then see an overview of your portfolio with your "Acquisition Cost," your "Profit/Loss" and your "Holdings."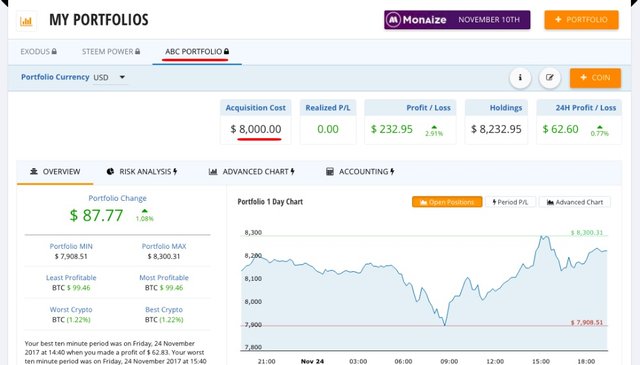 The Portfolio Change section is particularly useful and the graph also.
Then, you can see your first coin.

If you want to understand all metrics on this page, you can read their guide.
I added a few more coins to show you the "Risk Analysis" tab.

Then there is an "Advanced Chart" tab.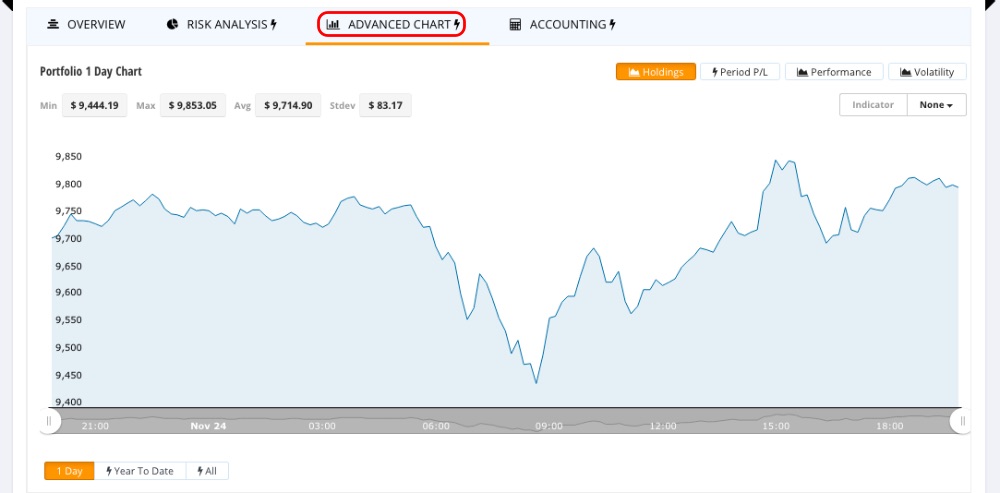 Finally, the "Accounting" tab.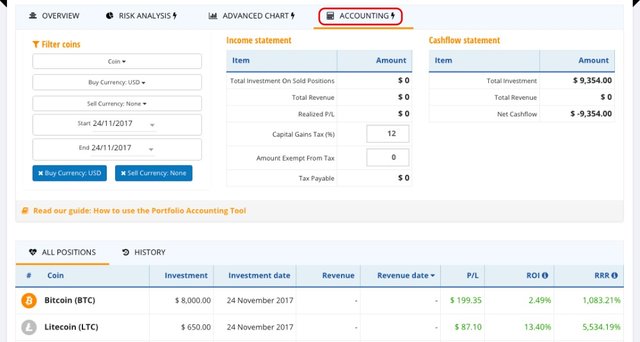 Note that these last 3 tabs with the little thunder sign are Free while in Beta testing and will be part of the portfolio subscription once it gets out of Beta.
I hope that you enjoy this tutorial and that it is useful for you.
If you are interested in learning cryptocurrency trading, would you check out the cryptocurrency trading course that I am a student of? If you join, use coupon code "michelsentme" at check out, I will get a small commission and you will get a 20% discount.
Would you upvote this post and follow me for more because this will encourage me to make more posts like this one?
Michel Gerard