How to Select your Bid-Based Voting Bots!
Today I'd like to show you a bit more about bid-based voting bots and how to filter them on SteemBotTracker.com, so you can make a better selection according to your needs. This post is for newer users on Steemit and first users of Steem bots, pardon me if what I show looks too easy for you, experienced users.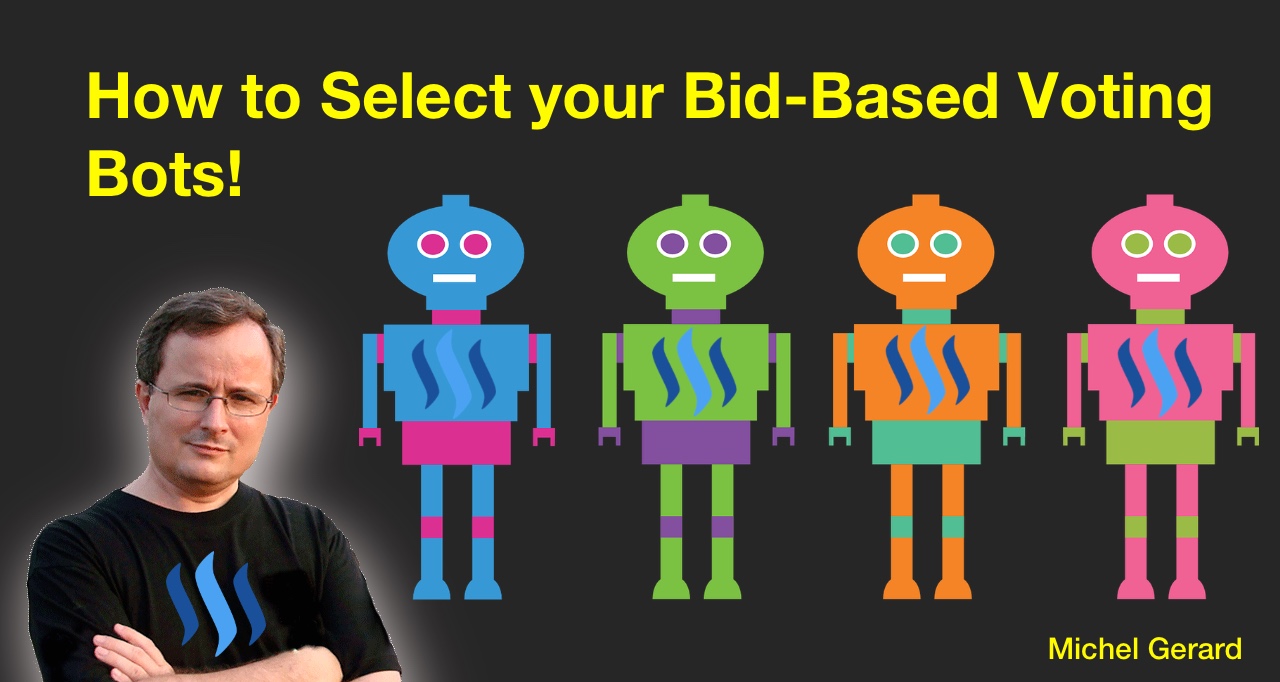 I still see people complaining about the profitability of bid-based voting bots and I'd like to start this post with a screenshot of what you see when you go to SteemBotTracker.com.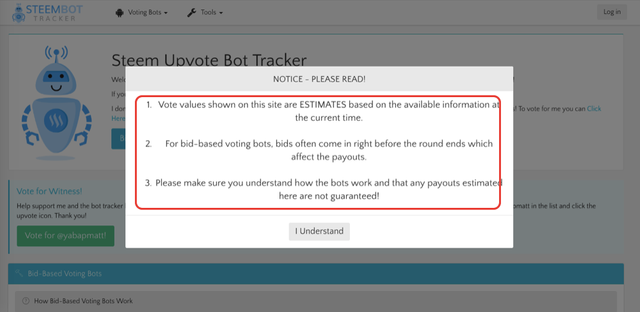 Three important points to read and understand:
Vote values shown on this site are ESTIMATES based on the available information at the current time.
For bid-based voting bots, bids often come in right before the round ends which affect the payouts.
Please make sure you understand how the bots work and that any payouts estimated here are not guaranteed!
If you understand that bid-based voting bots are not always profitable and that they are mostly promoting tools to get you farther on Steemit, then you will have a nice ride.
How to Select your Bid-Based Voting Bots!
SteemBotTracker.com is the website I have been using since I started using bid-based voting bots and it is the only site I know of that lists all bots and gives stats live.
Now, in order to help you select your bid-based voting bots, you may want to use filters.

There are 5 filters and I'm going to show you what they do one by one.
Let's click on the first icon.

This only shows bots that provide a bid API so the data shown is guaranteed to be accurate. This means that data shown can't be faked and you can trust what you see. There have been some abuse in the past.
Let's click on the second icon.

This only shows bots that automatically refund invalid bids. An invalid bid is if the memo is blank, the URL in the memo is wrong, the bot didn't vote or your post, the bot already voted on your post, or the post is older than the limit set for the bot.
If you send two transactions in the same round by mistake, this will be added up as a unique vote, and if the final vote is not profitable because there have been too many bids, it's not refundable automatically or manually, and for all bots.
Wait at least 3 hours before contacting the owner of the bot for a refund if the bot hasn't voted and a refund wasn't made automatically.
Let's click on the third icon.

This only shows bots that accept STEEM bids. Some bots only accept SBD, so if you have STEEM you want to use, this filter will save you time.
Let's click on the fourth icon.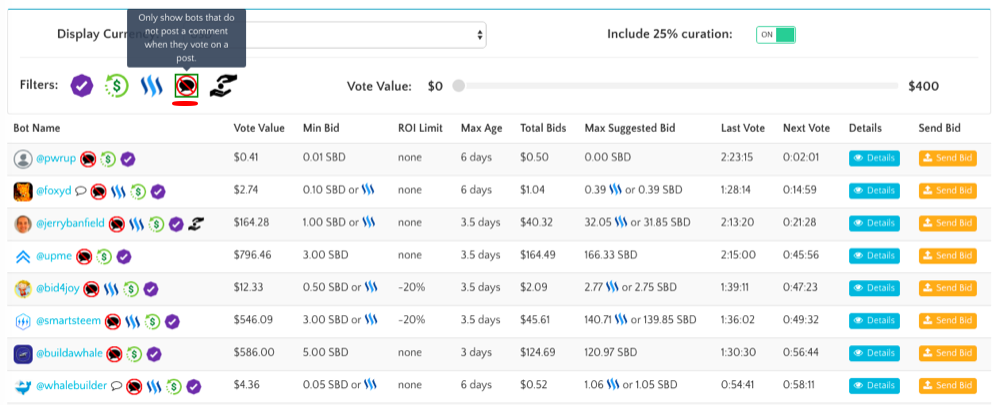 This only shows bots that do not post a comment when they vote on a post. This is a new filter that has been added to SteemBotTracker.com and it looks like more and more bots are now dropping comments. If you don't want a comment on your post made by the bot, this will come handy.
Let's click on the fifth icon.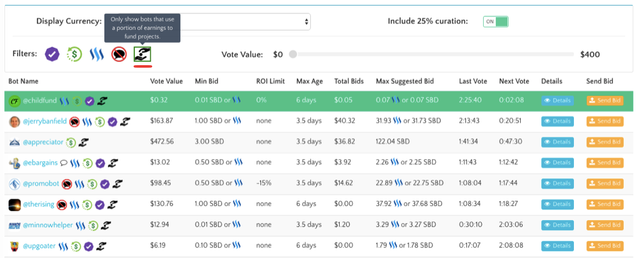 This only shows bots that use a portion of earnings to fund projects. This can help you decide where you want to send your money to. These bots are using part of their income to fund projects on Steem, not making someone rich, and that's good.
Finally, you can combine filters.

If you want to see bots that fund projects and also do not post a comment, you can.
I hope this post is useful to help you select the bots you want to use for your needs.
You may be interested to read two previous posts about bots: How I Use Voting Bots! & Is It Still Profitable to Bid for Steem Upvote Bots?
Would you upvote this post and follow me for more because this will encourage me to write more posts on Steem bots like this one?
Would you please help @jerrybanfield become a top 20 witness because you can help funding projects to build Steem as explained here? Vote for jerrybanfield as a witness or set jerrybanfield as a proxy to handle all witness votes at https://steemit.com/~witnesses. Read the 5 reasons why I'm voting for Jerry Banfield as a witness and how to vote in my post.
Michel Gerard