Illegal: a true story of love, revolution and crossing borders [Ch.16]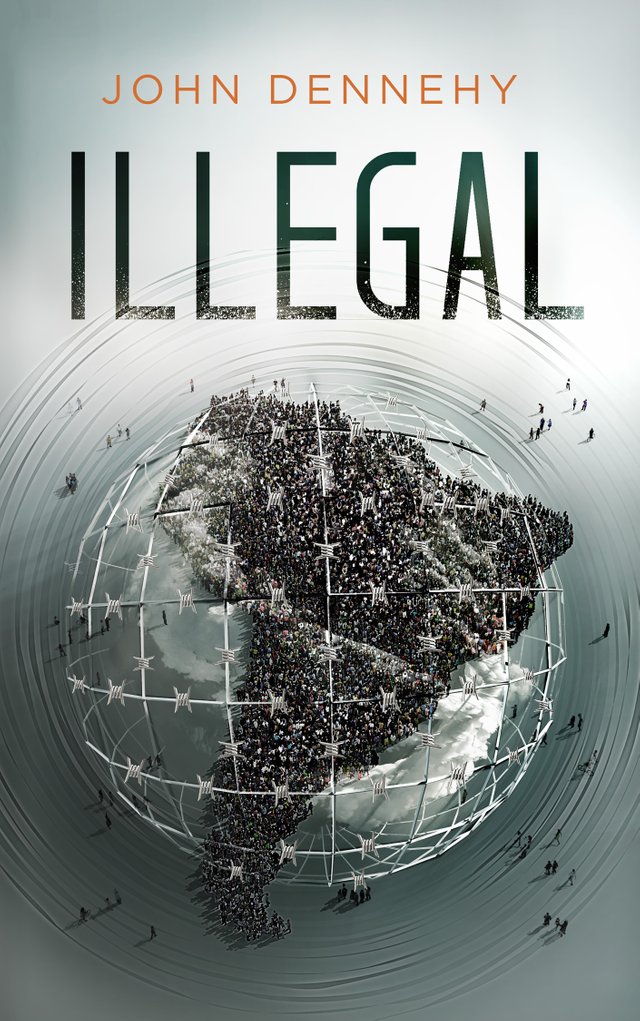 I'm a journalist for publications such as The Guardian, Vice, The Diplomat and Narratively and my first book, a memoir, came out just over a year ago [Amazon link]. It's won numerous awards and sold thousands of copies. And now I want to give it away. This is the sixteenth installment [Prologue | Ch 1 | Ch 2 | Ch 3 | Ch 4 | Ch 5 | Ch 6 | Ch 7 | Ch 8 | Ch 9 | Ch 10 | Ch 11 | Ch 12 | Ch 13 | Ch 14 | Ch 15] and every few days I'll post another chapter. From the back cover:
A raw account of a young American abroad grasping for meaning, this pulsating story of violent protests, illegal border crossings and loss of innocence raises questions about the futility of borders and the irresistible power of nationalism.
--
Running Barefoot in Houston Airport [Chapter Sixteen]
I had not eaten or slept in nearly two days and had been through many setbacks and much heartache. At first glance I must have appeared desperate, my voice was dull and my words few, but through the wide open eyes of my exhausted body anyone could see I was on a mission. I think many of the people I dealt with bent the rules for me out of compassion. Emotionally drained, I was stuck between my two worlds without any way of leaving, and the hardest, most dangerous part of my journey was still to come. Ever since I had gotten my passport back with my newest stamp, I had almost no critical thought process. There was a mechanical quality to it and little deliberate mental debate; I knew I was on my way home but beyond that my subconscious had taken over. I loved Lucía in the deepest way I had ever known: there was nothing I would not do for her, nothing that could ruin her for me.
I threw myself at my new friends at Delta, and thankfully, they caught me. I had to get on that flight but lacked the necessary funds. Since there weren't many customers the majority of the staff was now working to solve my dilemma. One woman gave me a cup of water to put the sunflower in, and everyone else tried to get me back to the girl who gave it to me. They were calling my bank, brainstorming ideas, and recruiting others to help.
After many revisions, our final plan was to reserve a ticket in my name to be paid for over the phone with a credit card by a third party. I could turn to my parents for help, but did not have their phone numbers with me.
I bought a $20 IDT phone card from a vending machine—the first of many I would buy—and called a friend in New York whose number I had memorized and who I envisioned to be sitting at his desk in front of a computer at the time.
He was surprised to hear from me. His greeting was joyful, almost excited.
"John, what's up man? Are you in Ecuador?"
In a tone that must have conveyed as much as my words, I said, "Actually I'm in Houston. I got deported and now I need your help."
In one breath I had summed everything up and by the tone of his voice I could tell he understood.
"Shit man, what do you need?"
"Are you at your computer?"
"Yeah."
After a short time he was able to search for and find what I needed: my parents' work phone numbers from my e-mail account. I quickly told him what had happened and we hung up.
My parents have always supported me, but I know my lifestyle can sometimes cause them significant stress and loss of sleep. If they'd known their son was sneaking across heavily militarized South American borders and risking life and liberty in the process, I am quite sure they'd have spent their time in dread, so I carefully choreographed the conversation and de-emphasized the trouble.
"Hello, John Dennehy speaking."
"Hey Dad."
He was obviously happy to hear from me.
"Hi John. How are you? Are you in Ecuador?"
I waited a second.
"Not yet. I'm in Houston." I tried to sound optimistic and cheery.
"In Houston? Was your flight delayed?" He asked, assuming I never got off the ground after a layover on the way down.
"Well no, I was in Ecuador last night, but I had some trouble with my passport so they sent me back. And, actually, I'm calling because I need to ask you a favor."
"What do you need?"
My dad definitely sounded concerned, but he thinks clearly under pressure and handled it well. He said he would call the number I provided, purchase the reserved ticket, and then call me back at the pay phone to confirm.
I sat on the floor nearby and waited restlessly. A woman got into a long conversation on the phone he was slated to call, so I bought another phone card and called him back from a different number. He told me the process had all been automated, but he believed it was a success.
I returned to my friends at the ticket counter, desperate to move on from this ordeal, but not overly optimistic as the roundtrip requirement hung over my head. Lisa was helping me and there were a handful of other airline employees standing close by. They checked on the computers. It didn't go through. I didn't say anything.
Lisa tried again, and on the second attempt it worked. Then she told me what I already knew: there was a problem; she could not sell me just a one-way ticket.
"Is there something I can do? How can I get on that plane?" I asked.
"Give us a few minutes and we will figure something out," Lisa said, smiling. Another woman briskly walked into the office behind the ticket counter to consult with a supervisor, and she came back with good news. She handed me a piece of what felt like fax paper. It had the airline's watermark and looked official.
"This is a false itinerary for a return flight. Colombian immigration will probably not ask you for proof, but if they do, this should work."
They were putting themselves and their jobs at risk to help a stranger in need. I was physically and emotionally numb and accepted the paper with little emotion as I flatly repeated the phrase "Thank you."
I regret not expressing deeper gratitude at the time. All along my journey, through the good times and the bad, there were incredible people that propped me up and showed me what courage and compassion could look like. I am forever in their debt. The story of my deportation and what followed is one that still makes me sad, even a decade later. But it's also a story that gives me incredible hope and inspiration.
I may have been numb, but I was as determined and focused as ever. In my mind, I knew I would get back and what happened in between did not matter, they were just details. I was saving all my joy for the next time I touched Lucía.
I had minimal time to catch my plane because of all the delays. I quickly called my dad for the last time to tell him everything was okay and ran to my already boarding flight. After I passed through security, to save time, I kept my shoes off and continued running—now barefoot—to my gate. The plane was boarding, but it wasn't leaving just yet, so I got on the internet at a nearby computer with a coin slot. Lucía had written me:
mi amor yo ahorita escribí mucho mucho para ti y estaba nerviosa y se borró todo, quiero llorar, yo te amo con todas mis fuerzas, yo voy a hacer todo lo que esté posible y lo que no sea posible yo lo haré por ti, mi amor espero que todo salga bien, yo voy a pedir a dios que te cuide y te proteja y voy a pedir a dios que nos deje estar juntos porque el amor que los dos tenemos es sincero, y así tu seas del norte y yo del sur tenemos que estar juntos porque el amor no entiende de distancias, mi vida si pasa algo en colombia solo me llamas o me dices que necesitas y yo voy hacer todo, si pasa algo yo te voy a ayudar mi vida.
Mi amor pero si no puedes venir a ecuador yo voy a presentarme para sacar una visa para ir a verte en tu país. Yo estoy segura que yo puedo esperar por ti toda mi vida mi amor, porque tu eres el motor de mi corazón y sin ti mi corazón no quiere funcionar, te amo y nadie nos va a separar ni la distancia de los países, ni migración, ni embajadas, nada porque el mundo no es de ellos el mundo es de todos, y el amor es libre, y mi amor es tuyo.
I LOVE SO SO SO MUCH mi wishes yo voy ahorita a la universidad y voy a retirar el celular para que me llames es muy necesario ahora mi amor, y espero tu estés bien mi vida yo estoy pensando mucho en ti y tengo pena porque no sé cómo estás.
te adoro cuidate mucho mi amor y espero todo salga bien pero mi amor no quiero que hagas algo que puede llevarte a la cárcel (prisión) no quiero eso mi amor, si algo no es posible hacer me dices y yo voy a presentarme para una visa para ir a tu país, pero si no resulta nada de eso, yo esperaré por ti toda mi vida, de verdad te amo, te amo, esto que siento por ti es más fuerte de lo que imaginas.
He arreglado mi celular para que me llame, es el mismo número. Te amo.
Below is a translation of her e-mail.
Mi amor, I just wrote you so much but I was nervous and erased everything. I want to cry. I love you with all that I have and I will do everything that is possible, and everything that isn't, for you. Mi amor, I hope everything ends up okay, I am going to ask God to protect you, I'm going to ask God to let us be together because the love that we have is sincere. Even though you are from the north and I am from the south we have to be together because love doesn't understand distance. Mi vida, if anything happens to you in Colombia all you have to do is call me, or just tell me what you need, and I will do it all. Mi vida, if anything happens I will help you, mi vida.
Mi amor if you cannot come to Ecuador I will present myself to get a visa and come see you in your country. I can wait for you all my life mi amor, because you are the motor of my heart and without you my heart doesn't want to work, I love you and nothing will keep us apart, not the distance of nations, nor immigration, nor embassies, nothing because the world is not theirs, the world is everyone's and love is free and my love is yours.
I LOVE SO SO SO MUCH mi wishes. I am going to the university now to get my cell phone so you can call me if you need to. I hope you are doing okay mi amor I am thinking of you a lot and I feel pain because I don't know how you are.
I adore you, take care of yourself mi amor, I hope everything works out but, mi amor I don't want you to do anything that will put you in jail, I don't want that mi amor. If something isn't possible just tell me and I will present myself to get a visa for your country and if that doesn't work, I will wait for you all my life. It's the truth that I love you, I love you, what I feel for you is stronger than you can imagine.
I fixed my cell phone so you can call me, it's the same number. I love you.
I desperately wanted to call her, so I went to the desk now announcing final boarding, and asked if I could make a quick phone call. These were some of the same people who helped me before, so they knew my story and nodded happily. "We'll make sure the plane doesn't leave without you," one said. Still barefoot, I ran off to buy yet another phone card.
The card didn't work, and I was out of time, so I got on the plane.
Two hours later we landed in Miami. The airport was nearly empty. I bought a new phone card and this time got through to Lucía. It was so good to hear her voice; it felt as if she was there with me. I updated her on what had happened and what I planned to do next.
"I'll come to Colombia. We can cross together," she said.
I thought for a second, considering the option before responding.
"No, it's better if I go alone."
"Then Tulcán, I'll meet you in Tulcán."
I smiled at the thought of her waiting for me just across the border. I could almost feel her warmth slipping through the phone.
I located a board listing nearby hotels and got a shuttle to the cheapest one. The driver was Cuban and once I entered the shuttle my brief time speaking English on this voyage was over. At my hotel, I put the sunflower in water and passed out on the bed.
In the morning, I caught another shuttle and made my way to the airport. I checked in, and while waiting on the long line to pass through security, I realized I had been traveling with some banned items but no one had noticed. A few weeks earlier, British police had uncovered a plot to blow up U.S.-bound flights using small amounts of a clear liquid explosive carried in vials, and since then, all liquids were banned from carry-on luggage. Not only was I transporting small discreet vials of clear liquid this whole time, but I was doing so while sneaking into a country and with forged airline tickets. The liquids were a souvenir from my sister's wedding the week before, and although they were meant to be used for blowing bubbles, they definitely looked suspicious.
I didn't want to lose this souvenir, so I returned it to my backpack and walked through a row of police and metal detectors for the fourth time since I left New York and the second time since I was deported and traveling with forged documents. We build walls of security for peace of mind, not necessarily because they are effective at stopping what we judge to be bad and allowing what we judge to be good.
I walked through security without a problem and put the still vibrant sunflower in the seat-back in front of me and flew back to South America.