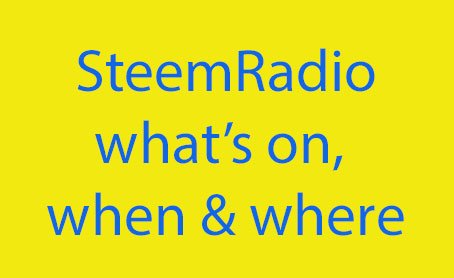 Another busy, but fun radio weekend for me with the second of my Alternative Lifestyle Shows on MSP Waves last Friday, and then a one-off Hard Rock edition of the Frequency Waves 432Hz with @globocop on Saturday.

Elsewhere on the steem radio waves there are two new shows on the SteemStar Network and a new forthcoming daily news show has been announced for MSP Waves.


On SteemStar Tuesday evenings will see a new YouAreHope Transparent Townhall show with @sircork. Following straight on from that will be the Trash Talk show with witness @patrice of SteemCleaners.
This coming Saturday on MSP Waves will see another special panel format show with @aggroed - this week it will be a Musicians Forum. Look out for a post from @aggroed with more details during the week.
---
---
For my Alternative Lifestyle Show I have recruited three hardworking 'Guest Finders' to help me find guests for the show.
@RedRica, @ravenuis and @awesomehomestead have been busy and we already have four great guests lined up for the show this coming Friday. @goldendawne, @occupywallets and @ura-soul will be joined by @armadillocreek who wasn't able to get on last Friday's show.
@globocop whose Saturday show I co-host is moving to Panama at the beginning of March. For the two or three weeks while he is in transition getting settled in and set up I will be taking over the slot piloting a new show with the working title of 'My Life in 8 Songs'.
To help me with both my shows I will be recruiting a few more people particularly for the technical side and also for promotional work.
I will be putting out a post on this shortly but if you are interested in working on the shows please do contact me in the comments below or via Discord @Pennsif#9921.
---
---
For the Alternative Lifestyle Show the Design a Logo contest is still running for anyone with graphic design or artistic inclinations.
I also launched a few days ago a contest for homeschoolers and unschoolers :
---
---
This coming Saturday @globocop and I will be stepping back in the time machine on Frequency Waves 432Hz show as we move into the 1970s.
And there will be more home movies for that decade.
So tune in and look out for when I finally get long trousers in 1971.
---
If you know of any other relevant shows that I haven't included please do put the details in a comment below or DM me on Discord @pennsif#9921 . Also please let me know of any changes to the shows already listed

---
The times for the shows are all shown in Coordinated Universal Time UTC/GMT - which is currently UK time. There are numerous sites on the web for converting UTC to your local time. This one looks particularly useful worldtimebuddy.com.
---
SteemRadio : schedule of shows for week beginning 5 February 2018


---
---
You might also be interested in some of my other posts :
---
---
[ graphic by pennsif ]