Die Sonne kommt raus und es wird heute wieder ein prächtiger Sonn(en)tag. Das Lied Here Comes The Summer hätte heute gut gepasst, aber The Undertones hatte ich bereits vorgestellt.
Ich war lange am Überlegen, welche Band ich heute vorstellen soll. Dann hatte ich die ersten beiden Alben von Skids in der Hand und überlegte, ob ich den heutigen Morgen damit beginnen soll. Skids machten tanzbare Songs und mit tanzbar meine ich nicht den Tanzflächenleerputzer Pogo, sondern eher diese wackel mit dem Po und beweg die Hüften Nummer. Die A Seite der Skids Platte "Scared To Dance" dreht sich gerade auf meinem Plattenteller dem Ende zu, mein Gute-Laune-Barometer ist schon kräftig gestiegen und ich freue mich schon aufs umdrehen mit dem Eröffnungslied The Saints Are Coming. Also, Entscheidung gefallen, ich nehme heute die Skids.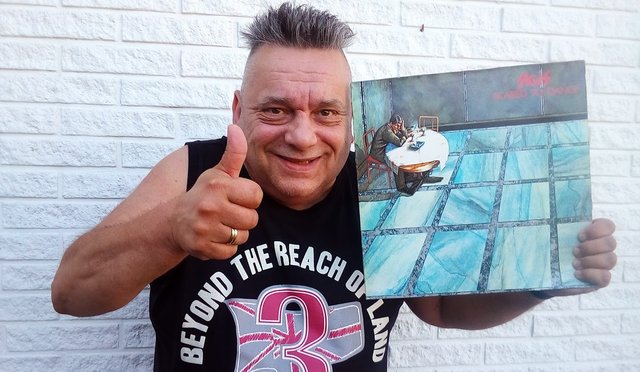 Die aus Schottland kommende Punkband "Skids" wurde 1977 gegründet. Das Debüt Album von 1979 "Scared to Dance" war meiner Meinung nach das beste Album von den Skids. Selbst das im selben Jahr veröffentlichte Album "Days in Europa" erreichte nicht mehr dieses Niveau, auch wenn die Charts etwas anderes sagen.
Nach 12 Singles, 4 LP's und diversen Auswechseln der Bandmitgliedern, wurden die Skids 1982 aufgelöst. Zum dreißigsten Jahrestag (2007) und zum vierzigsten Jahrestag (2017) kamen die Skids zu einer Reunion Tour zusammen. In diesem Jahr gab es ein neues Album "Burning Cities" und weitere Concerte in England.
Hört einfach mal rein.
---
---
Immer wieder sonntags kommt die Erinnerung... Dubdidubdidubdub dub
Punk Classics on Sunday #1 with "999 - Homicide"
Punk Classics on Sunday #2 with " Buzzcocks - What do I get"
Punk Classics on Sunday #3 with "The Undertones - Here Comes The Summer"
Punk Classics on Sunday #4 with "The Damned - Smash It UP & Love Song"
Punk Classics on Sunday #5 with "Stiff Little Fingers - Alternative Ulster (Live 1980)"
Punk Classics on Sunday #6 with "The Stranglers - No More Heroes"
Punk Classics on Sunday #7 with "The Vibrators - Baby Baby (Live at CBGB)"
Punk Classics on Sunday #8 with "Sham 69 - Hurry Up Harry"
Punk Classics on Sunday #9 with " Dead Kennedys - California Über Alles & Holiday In Cambodia
Punk Classics on Sunday #10 with "The Lurkers- I Don't Need To Tell Her"
Punk Classics on Sunday #11 with "The Pork Dukes"
Punk Classics on Sunday #12 with "The Ruts"
Punk Classics on Sunday #13 with "Peter And The Test Tube Babies"
Punk Classics on FirstMayDay with "Crass - Have A Nice Day"
#musicwaybackchallenge Day 1 (1975): Frank Zappa and the Mothers of Invention
#musicwaybackchallenge Day 2 (1976): Lou Reed vs. Patti Smith
Nachzügler zur #musicwaybackchallenge Day 3 (1977): The Vibrators