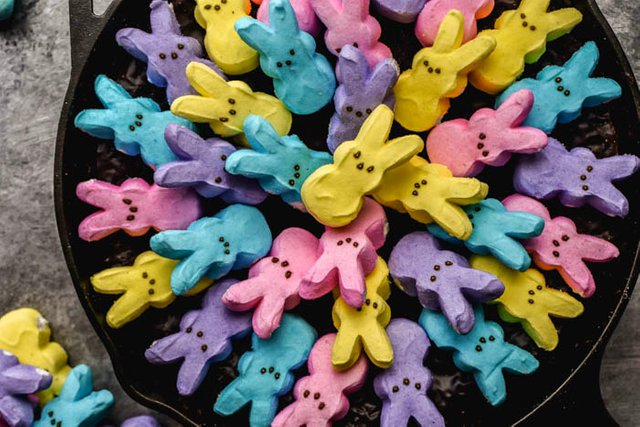 I've got a fudgy, sweet, sticky, situation to tell you guys about.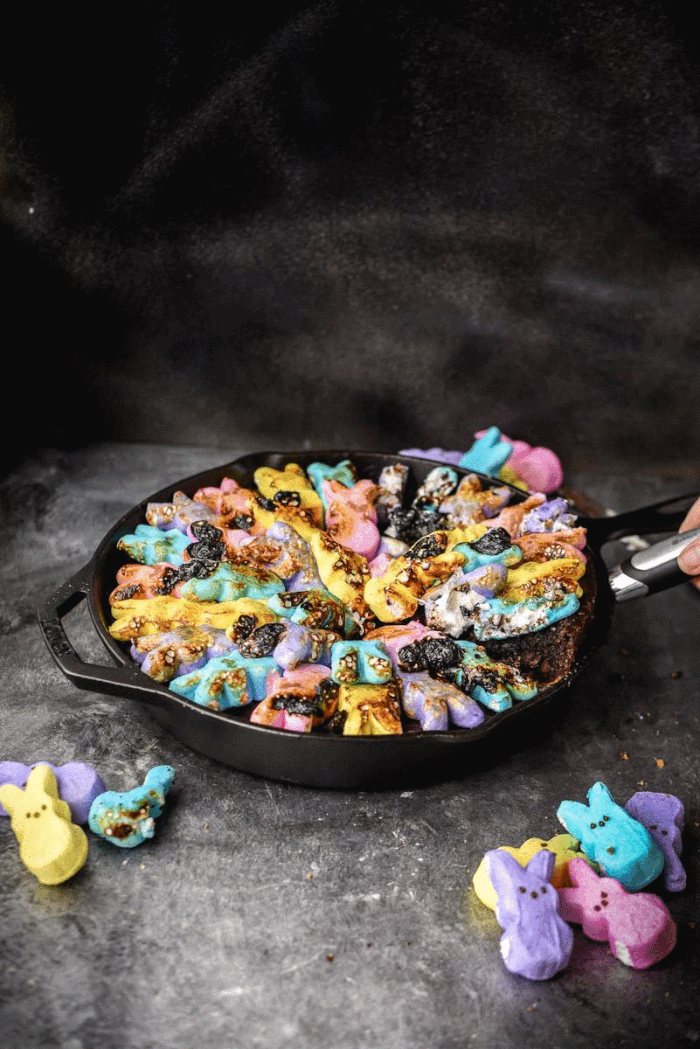 Tell me if this is just me, but I'm really terrible about remembering to use tools and things that I've put away. Like if it's out of sight and out of mind, I might as well not even have it. My dad got me a culinary torch for Christmas since I'm running out of space right now, I put it away and have never used it until now.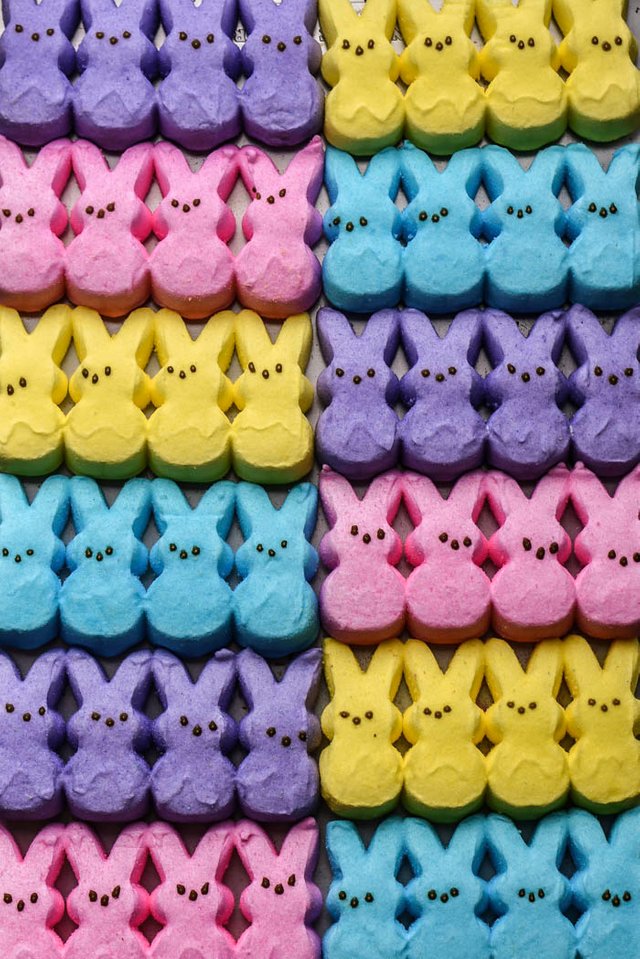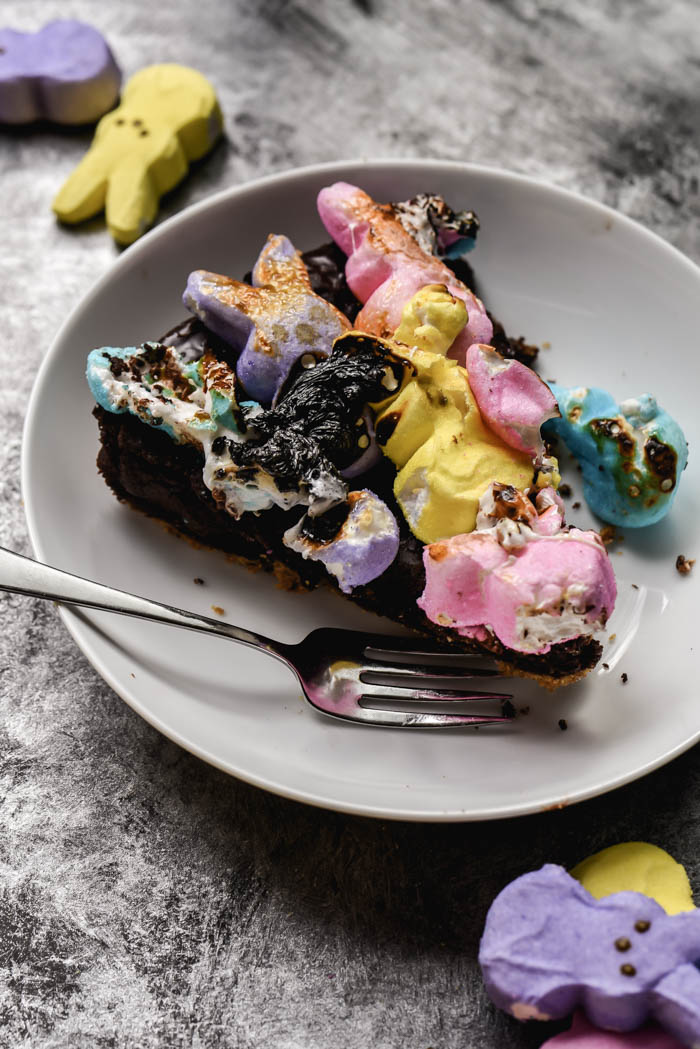 I was planning out some Easter recipes a few weeks ago and the idea to make something s'mores with peeps was one of my favorites so this brownie skillet is something I've been really excited to make. As soon as I had the idea I knew I wanted to use a torch to toast the peeps all over the top for that campfire roasted flavor.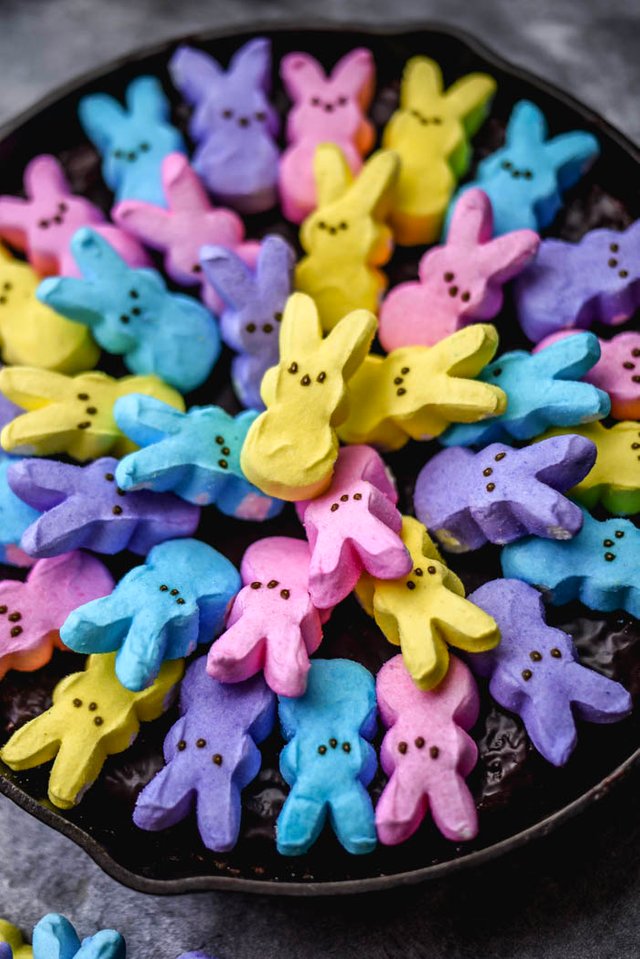 Good news, I didn't burn the house down so that's a plus. I also realized that I've got to try making homemade creme brulee asap because using the torch is pretty fun and these melty peeps totally completed this whole thing.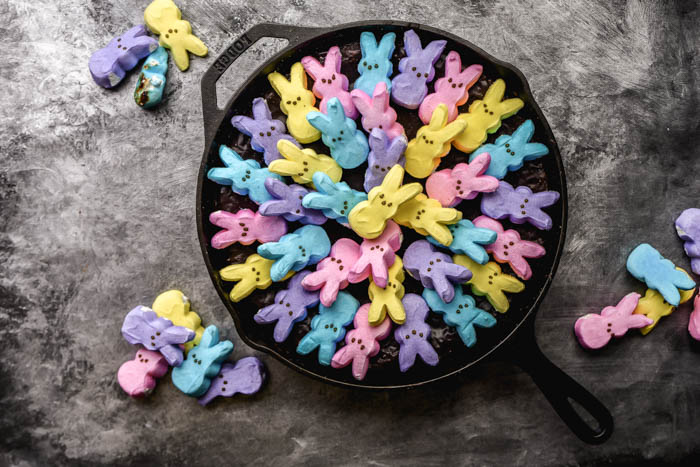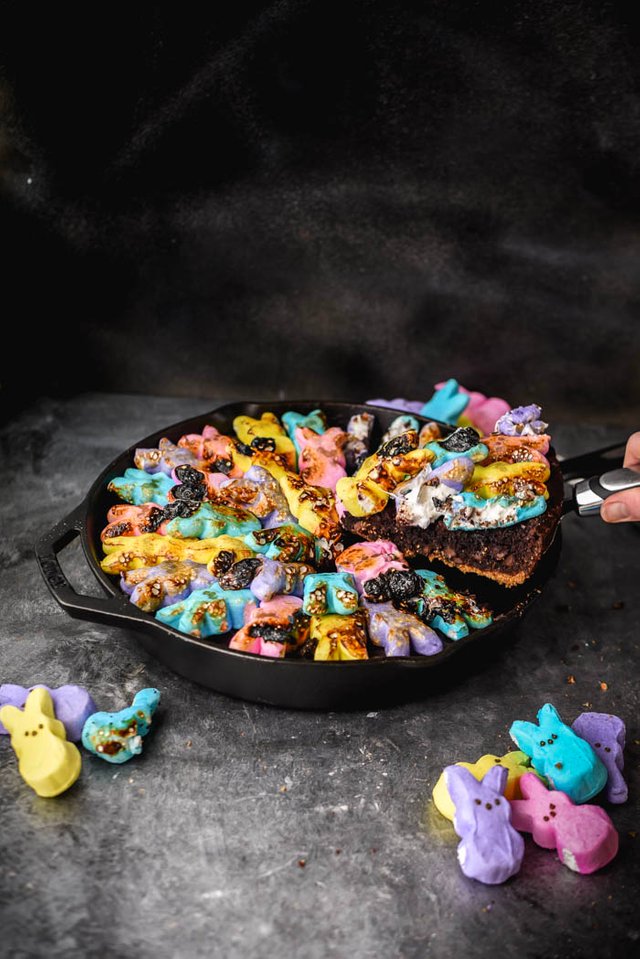 So this is sort of off topic, but have you seen the movie The Wedding Planner? There's this part where McConaughey is tossing peanut m&ms over his shoulder and then JLo asks what he's doing and he explains that he only eats the brown ones because chocolate's already brown so they must have less die. Well firstly, they may be chocolate inside, but um, they're still coated in a candy coating and therefore have to be died that brown color. Secondly, because they're the darkest they probably have the most die of any of the colors. Thirdly, uh, wasteful! Just sayin', those were perfectly good m&ms.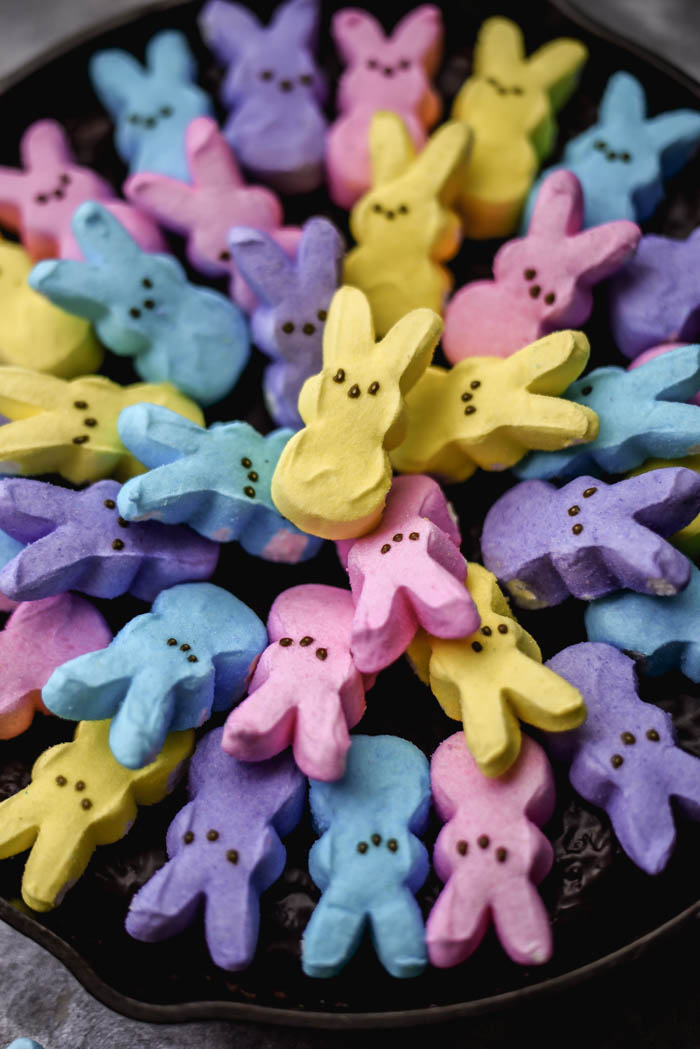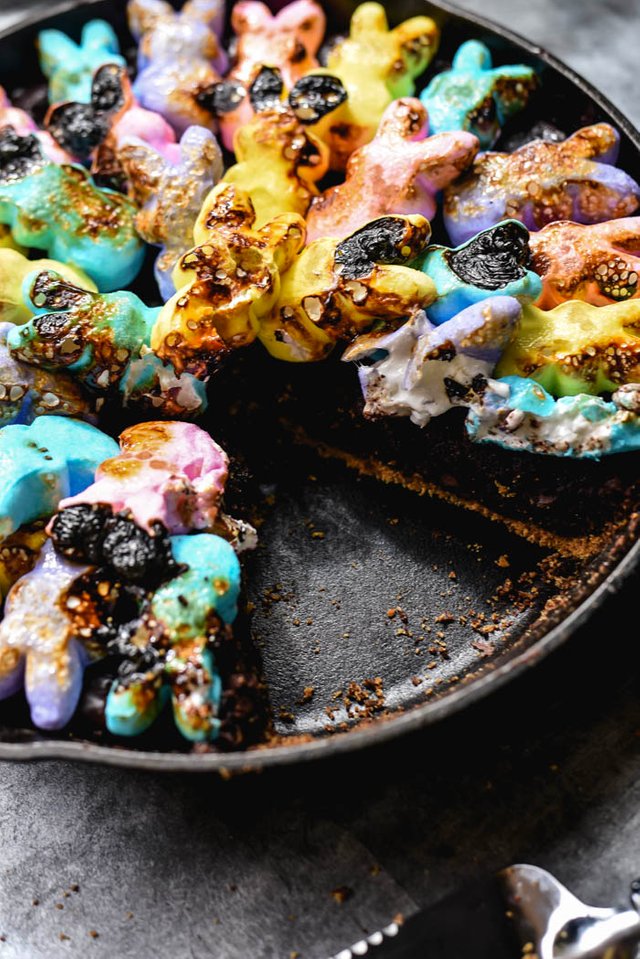 What does this have to do with anything? Okay, I tend to think in movie quotes and whenever the topic of food dye comes up this is what I always think of this scene for some reason. So I realize that peeps aren't the pinnacle of healthy foods and they do have dye on them, but hey, if McConaughey can rationalize peanut m&ms in such a flimsy way then that basically makes this healthy. It's kinda like that t-shirt that says chocolate is a salad because cocoa beans grow on trees. Wow, logic gets pretty blurry when sweets are involved doesn't it?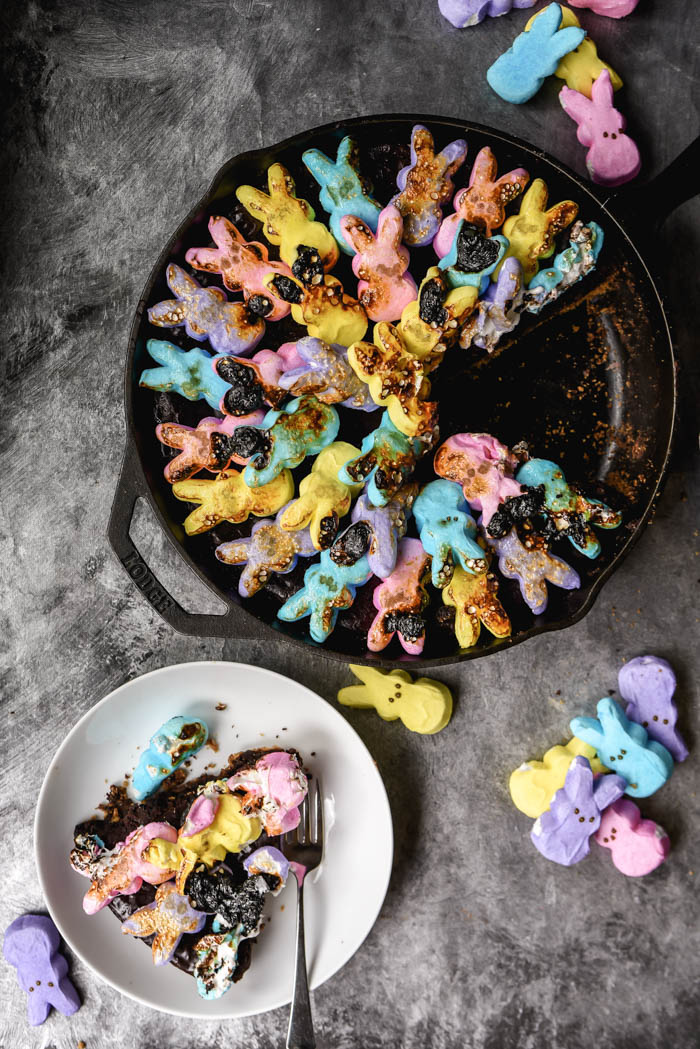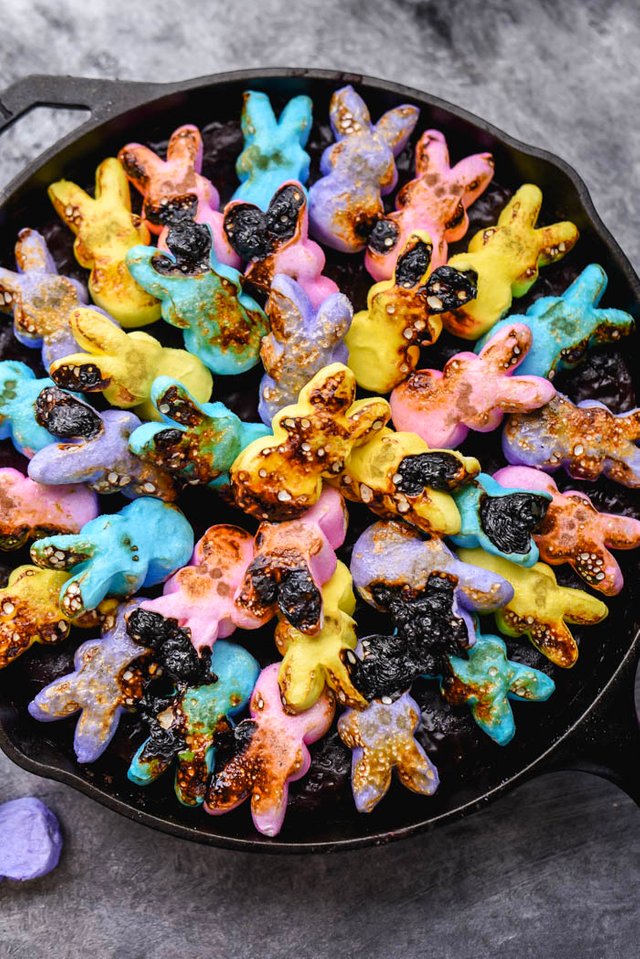 Toasted Peeps S'mores Skillet Brownie
Ingredients
Graham Crust:
2 cups graham cracker crust
5 tablespoons butter, melted
1 tablespoon brown sugar
Brownie:
2 cups sugar
1/2 cup oil
1/2 cup (1 stick) butter
3/4 cup cocoa powder
1 teaspoon salt
1/2 teaspoon baking soda
1 teaspoon vanilla extract
4 eggs
1 cup all-purpose flour
2/3 cup chocolate chips
Glaze:
2 tablespoons cocoa powder
2 tablespoons butter, melted
1/4 teaspoon vanilla extract
1 tablespoon whole milk
1/8 teaspoon salt
1 cup powdered sugar
4 packages any color peeps
Instructions
Graham Crust:
Preheat oven to 350 degrees F (180C). Combine the ingredient for the crust in a medium mixing bowl and stir to combine. Grease a 12-inch cast iron skillet (you can also use a 13x9 inch baking dish) very well and press the mixture in to form a crust. Bake for 12 - 15 minutes until it begins to brown. Remove and cool for about 5 minutes before adding the brownie layer.
Brownie:
Mix the melted butter with sugar, oil, and cocoa powder in a medium mixing bowl. Add the salt, soda, and vanilla and stir until combined. Add the eggs and stir just until mixed, then the flour and stir in until smooth.
Pour the batter into prepared pan and sprinkle chocolate chips over the batter evenly. Bake the brownies for 20-25 minutes until the center doesn't jiggle when the pan is nudged (you can also check center with a toothpick and see if it comes out clean). Remove from oven and add the glaze a soon as possible (starting by pour it around the edges).
Glaze:
While the brownies are baking, whisk the melted butter, vanilla extract, and milk in a small mixing bowl. Add the salt , cocoa, and powdered sugar and stir until creamy smooth. Pour the glaze out onto the brownies and allow the heat of the brownies to soften the frosting for about 5 minutes, then very gently spread it over top being careful not to tear the brownies.
Layer the peeps on top of the skillet and use a culinary torch to toast them. (Alternatively you can place the skillet in oven on broil for 3-5 minutes.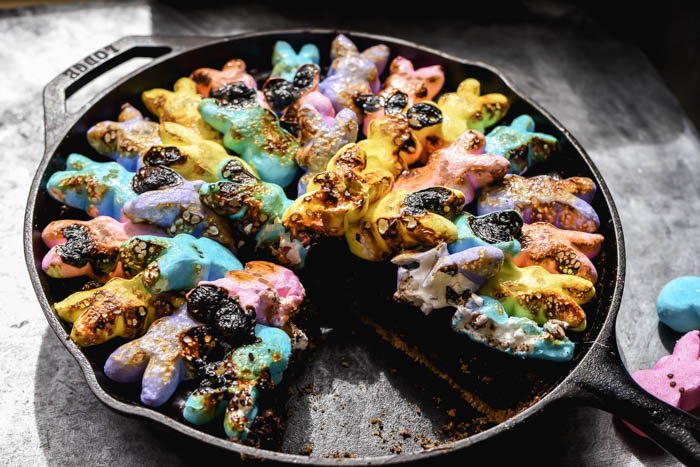 For more great food ideas, please do not forget to look at my other recent food posts
ALL CONTENT IS MINE AND ORIGINAL! All of these food photos were taken with my Nikon D750 and my favorite Lens, the Nikon AF-S FX NIKKOR 50mm f/1.8G. You can find out more in my INTRO POST.
And, by the way, to all the minnows out there, my intro post did a huge $0.21. The key to success on Steemit is to be consistent and persistent. Click on the link below for some great tutorials on how you can also succeed on the steem blockchain: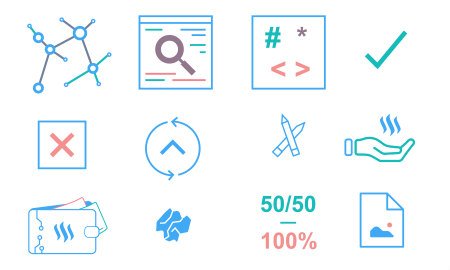 Also, a huge shoutout to @rigaronib for designing my logo!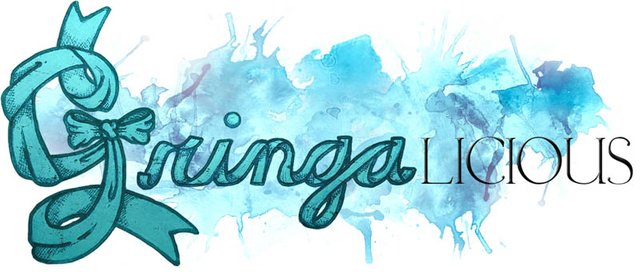 Do you want to learn more about me? Click here to see a recent @wadepaterson interview with me - 20 questions with @gringalicious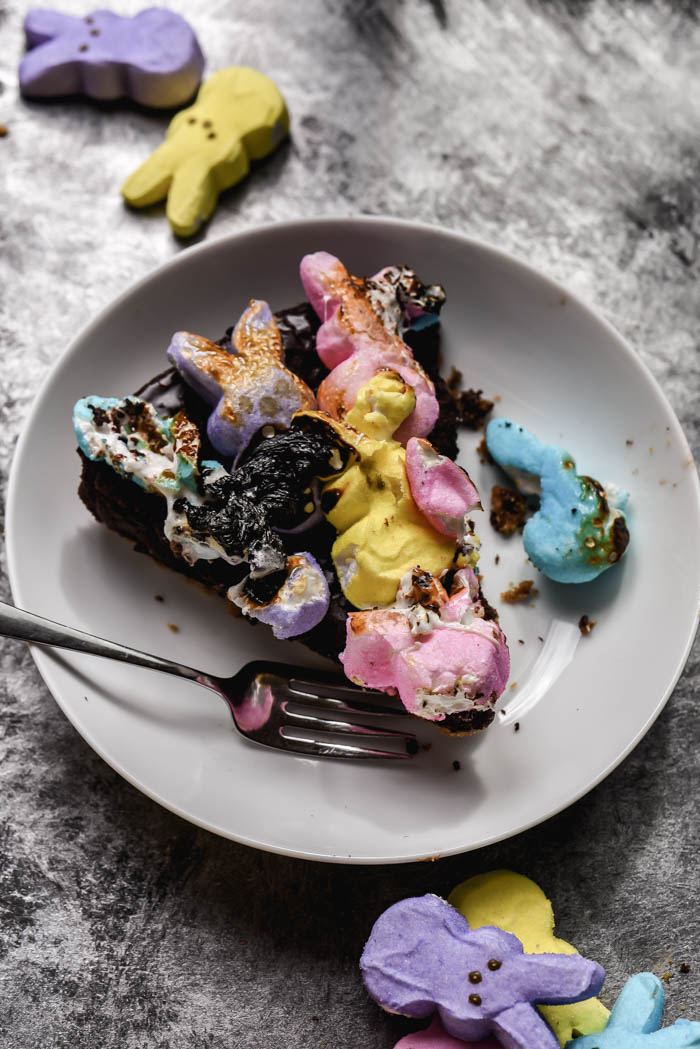 My Current Stats: 64,507 Steem Power | 13,750 Followers | 30,143 Posts | Reputation 74.84