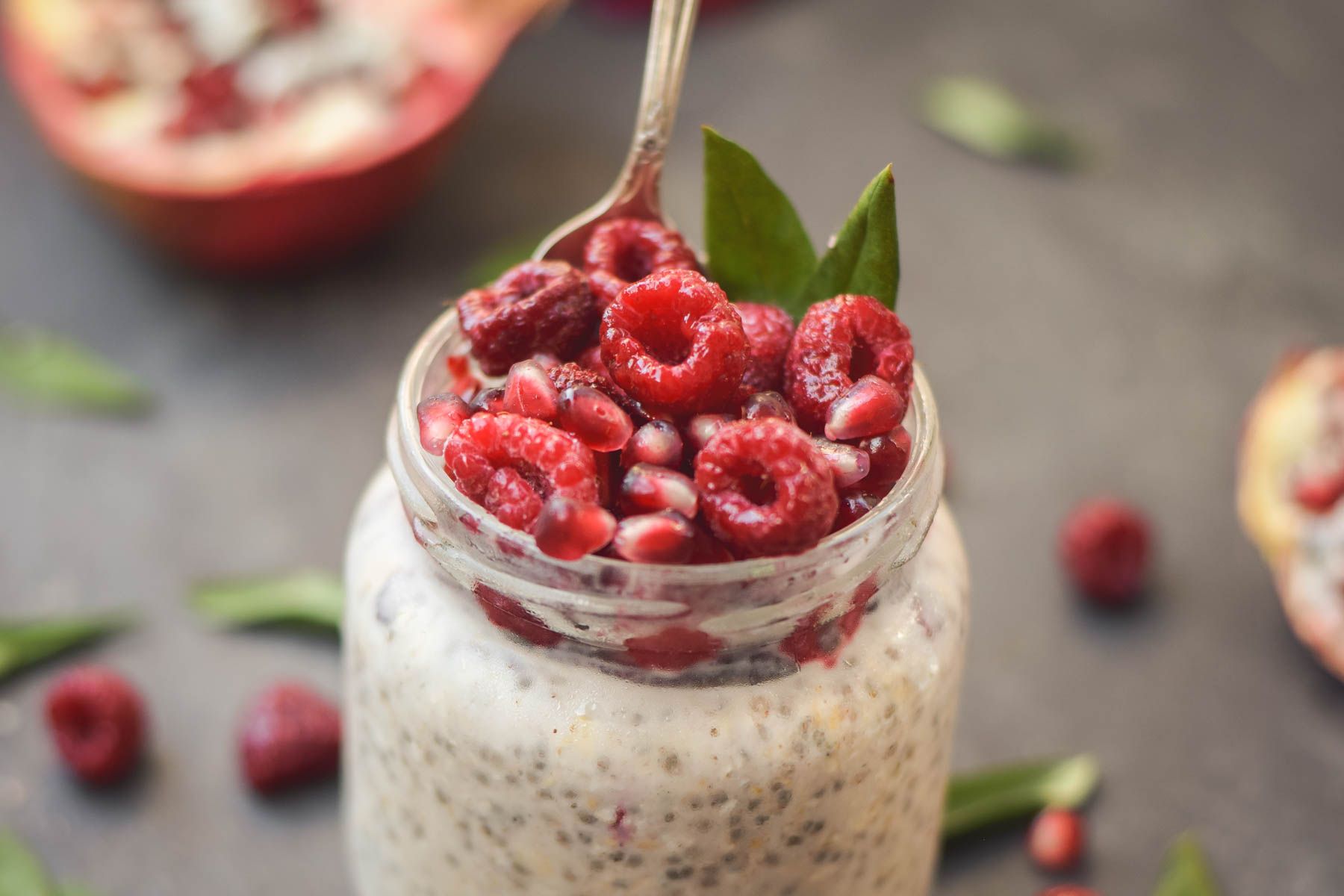 Okay guys, I think I found a new favorite way to eat oats.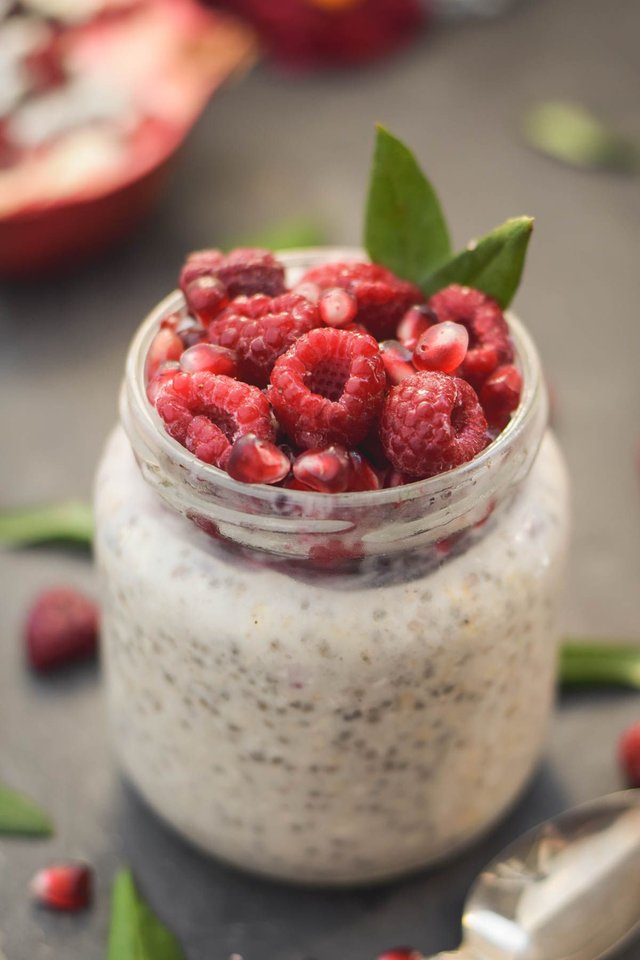 make oatmeal to talk about and I think you're going to love it, it's the best! Of course, for me that means there have to be lots of berries involved because you all know I'm like a berry-holic on steroids. But seriously, I eat berries every single day when it's possible and I'm fortunate enough to live in an area where they are abundant. What also makes this recipe awesome is that it takes literally about 5 minutes to prep and you can make it up to two or three days ahead. Win win.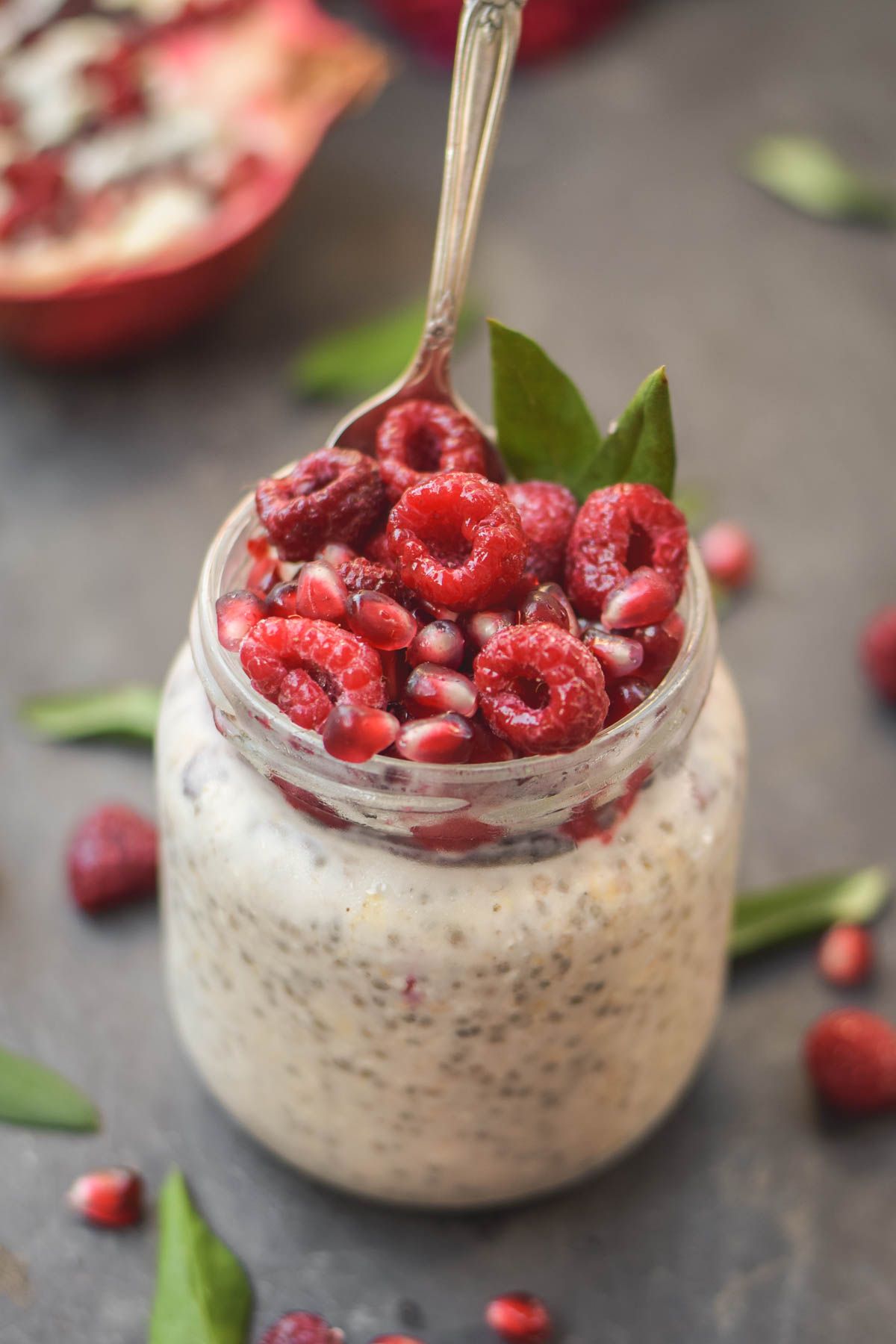 The fruit you add can totally be switched up if you aren't a fan of pomegranates or berries. Or maybe they're just not in season and you want to use, say, bananas! Go for it. This is such a simplistic recipe and so easily changed to fit your taste. Also, as I noted in the recipe, it can be made dairy free and vegan if you want to replace the yogurt with coconut yogurt or coconut milk. Another thing is that you can adjust the thickness of it if you're the type who like it really thick.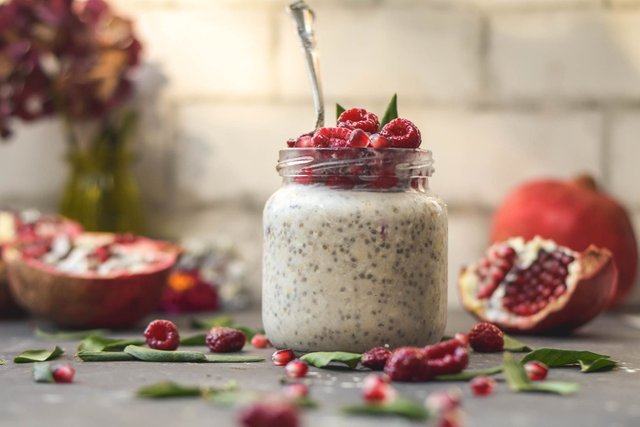 One last thing I'll add is that this oatmeal is great with add-ins like nuts, nut butters, and even granola. Oh and you could even go for some chocolate!?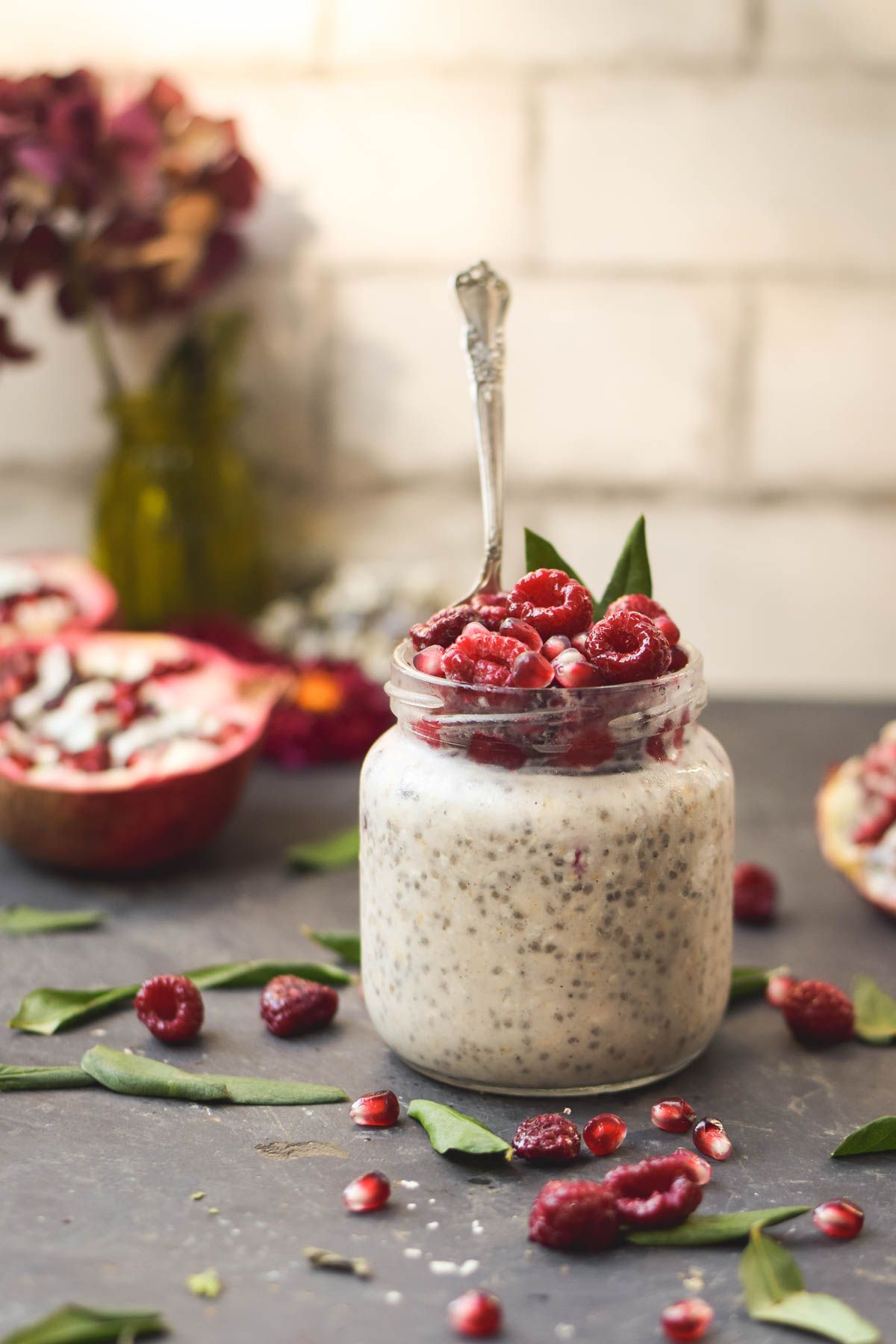 Raspberry Pomegranate Overnight Oats
Prep Time: 5 minutes
Total Time: 5 minutes
Yield: 1 serving
A quick and easy overnight oats recipe starring raspberries and pomegranates! It takes just a few minimal ingredients and about 5 minutes to make, then it's ready for later when you need a quick breakfast, pre/post workout snack, or even as a late night treat!
Ingredients
3/4 - 1 cup unsweetened almond milk (depending on how thick you want it)
1/4 cup plain Greek yogurt (see note)
1 tablespoon chia seeds
1/3 cup oats (see note)
1/8 teaspoon pure vanilla extract
dash of sea salt (optional)
dash of cinnamon (optional)
1 - 2 tablespoons maple syrup or honey (stevia can be used instead)
1/4 cup pomegranate seeds (arils)
1/4 - 1/2 cup fresh or frozen raspberries
Instructions
In a medium jar or resealable container, add the milk (use less if you want it thicker), yogurt, salt, vanilla, cinnamon, and sweetener of choice, and stir together. Mix in the chia seeds and oats and cover with lid. Place in the fridge overnight or for at least 8 hours to thicken.
Once it's thick, add the raspberries and pomegranates and enjoy. (If you prefer you can add the fruit when you mix it however if using frozen raspberries they will be very soft when you eat it later.)
Notes
*You can substitute coconut yogurt or coconut milk here for a vegan option. ~ For the oats you can add more if you'd like a really thick oatmeal. This recipe is going to be pretty soft so add more oats and less milk to your taste.

For more great food ideas, please do not forget to look at my other recent food posts
ALL CONTENT IS MINE AND ORIGINAL! All of these food photos were taken with my Nikon D750 and my favorite Lens, the Nikon AF-S FX NIKKOR 50mm f/1.8G. You can find out more in my INTRO POST.
And, by the way, to all the minnows out there, my intro post did a huge $0.21. The key to success on Steemit is to be consistent and persistent. Click on the link below for some great tutorials on how you can also succeed on the steem blockchain: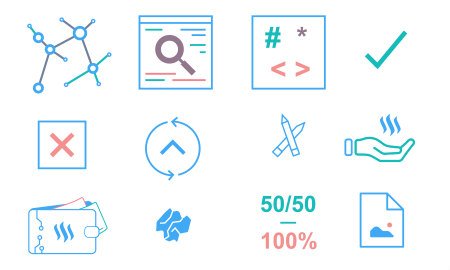 Also, a huge shoutout to @rigaronib for designing my logo!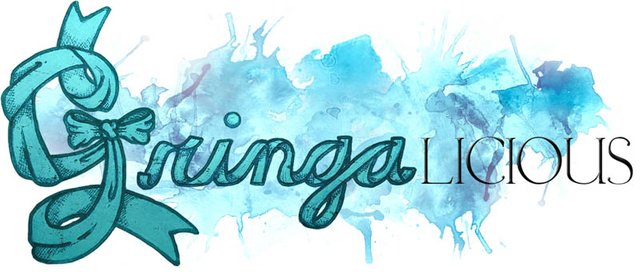 Do you want to learn more about me? Click here to see a recent @wadepaterson interview with me - 20 questions with @gringalicious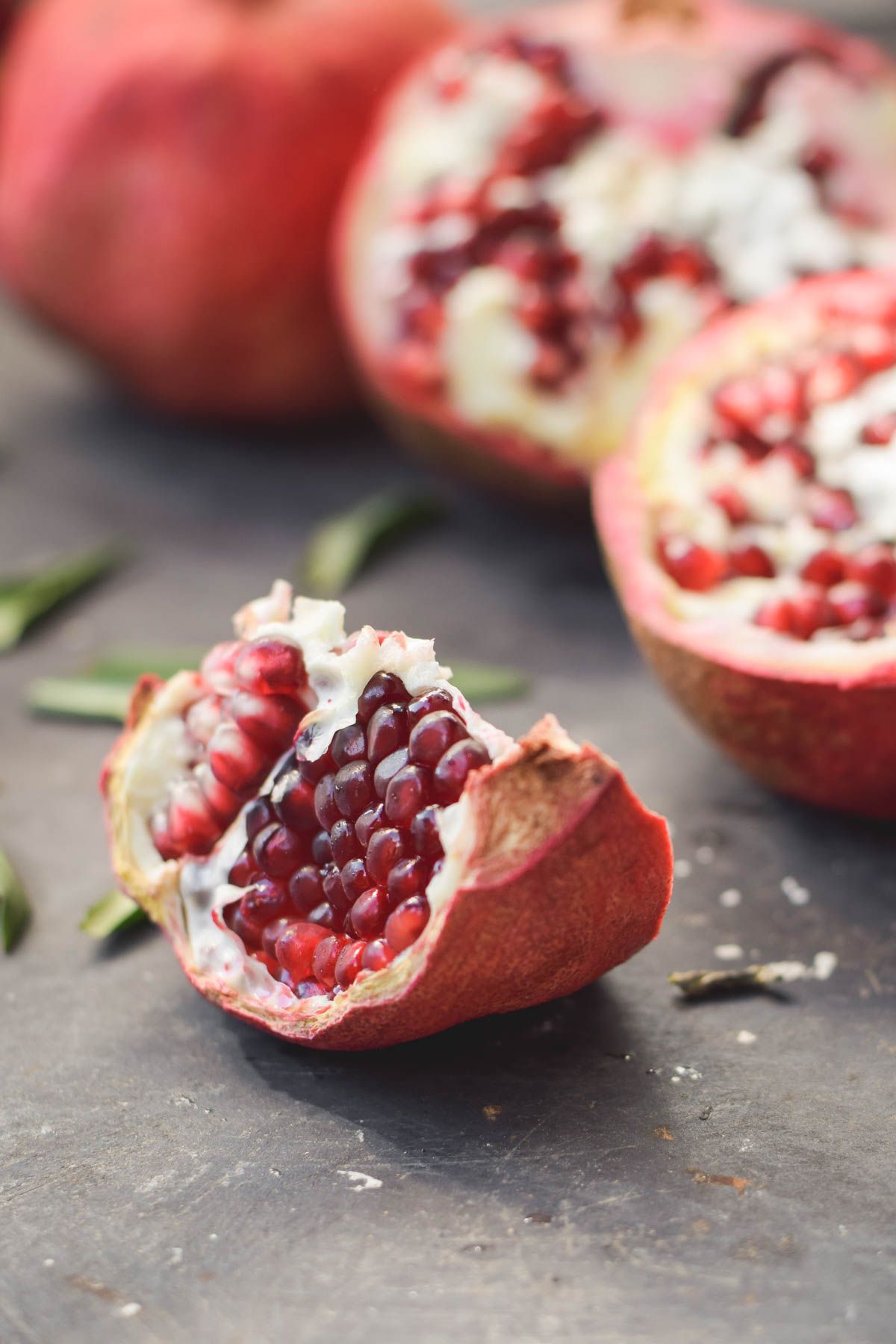 My Current Stats: 63,790 Steem Power | 13,282 Followers | 29,586Posts | Reputation 74.771