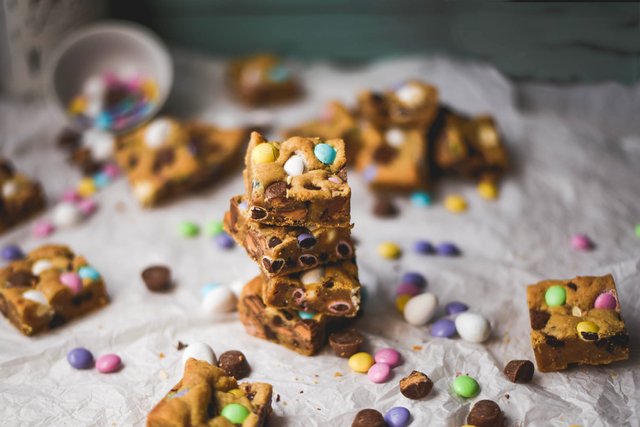 You guys, you guys, Spring is so so close! I know I'm excited, and I hope you are too. As you guy probably already know, my favorite way to celebrate any season is with something edible (and preferably colorful, oh, OH and sweeeeeeeet!)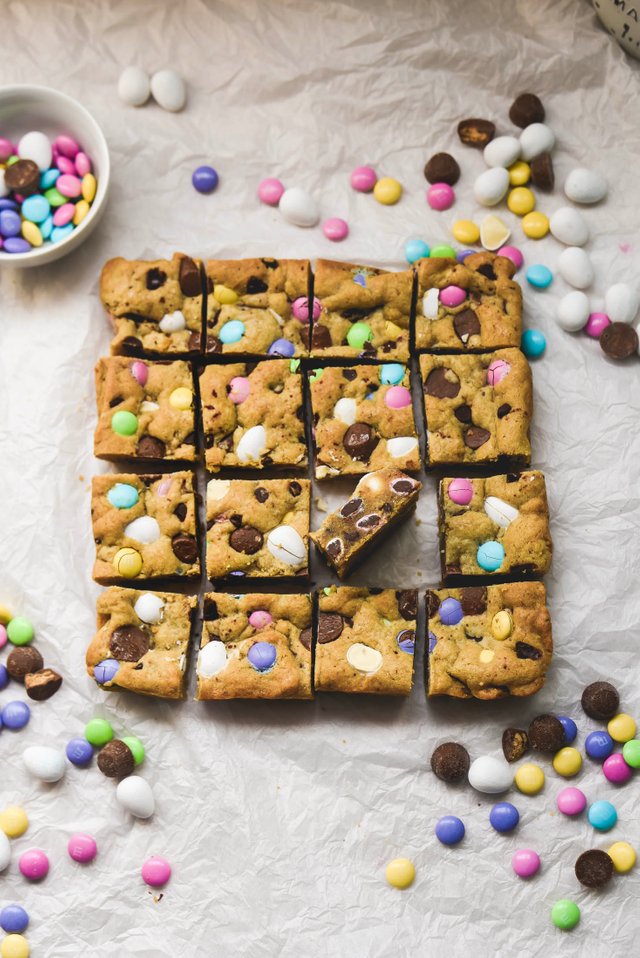 So we're just gonna pretend that this recipe isn't my favorite blondies recipe simply stuffed with Easter candy and given a new name, ok? Cool, it's a plan. Also, did you know that Cadbury mini eggs came in white chocolate, 'cause I certainly didn't?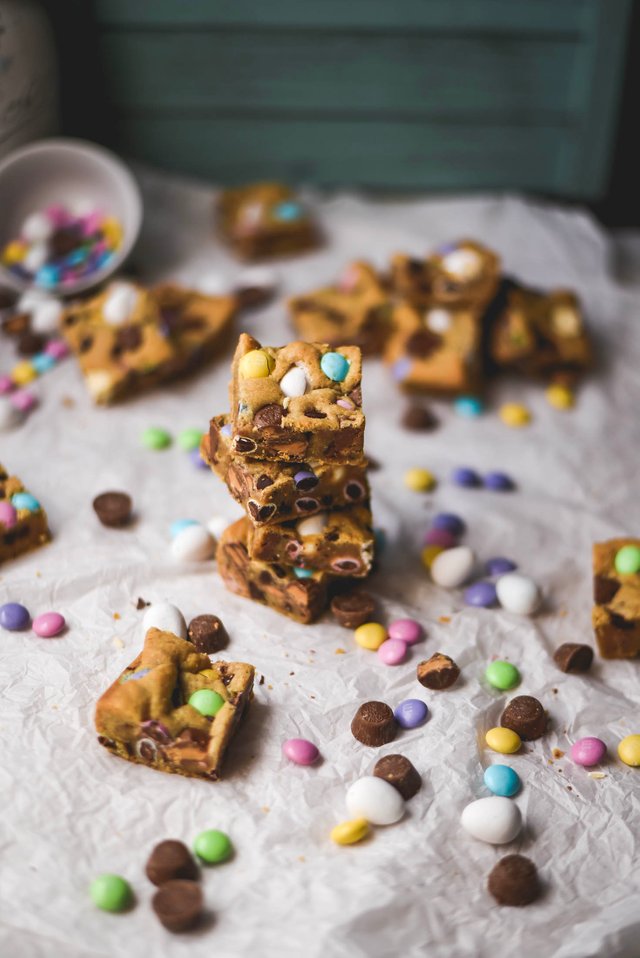 Here I was shopping the other day and I had them on my list for this recipe so I grabbed a bag of what I thought were the only kind of "Cadbury mini Eggs" that they made. How was I supposed to know they had options? Clearly I missed the following part that said "white eggs".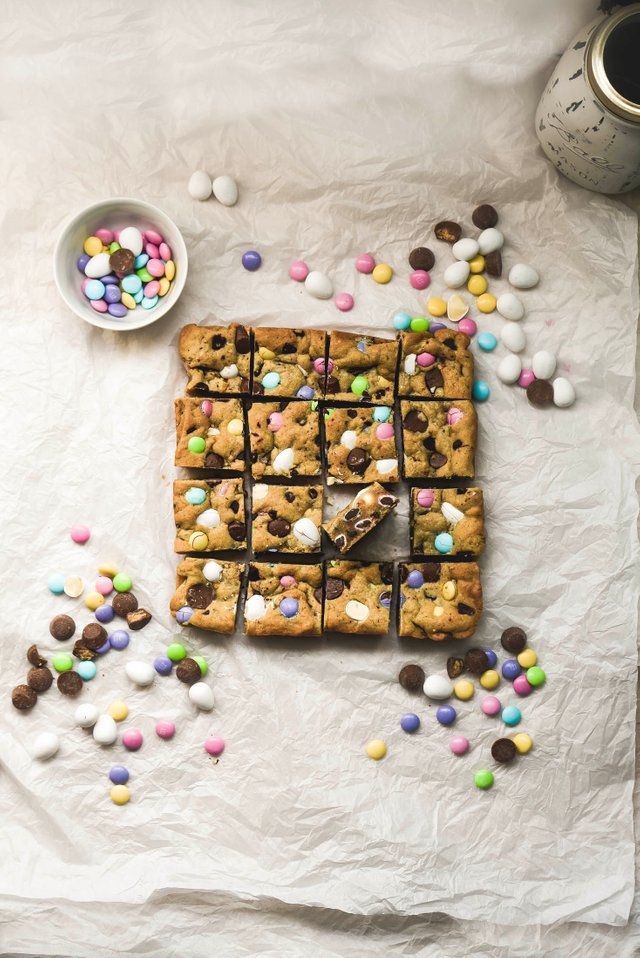 It wasn't until I started making this recipe that I figured out this little detail, but by then it was a bit irrelevant because that's all I had. Luckily, they turned out pretty good when thrown in with the dark chocolate, m&m's, and peanut butter cups to balance them out. Not gonna lie though, they aren't my favorite on their own. The originals are way better. I actually love white chocolate, but these candy covered white chocolate eggs, they're just a little too sweet to munch on by themselves.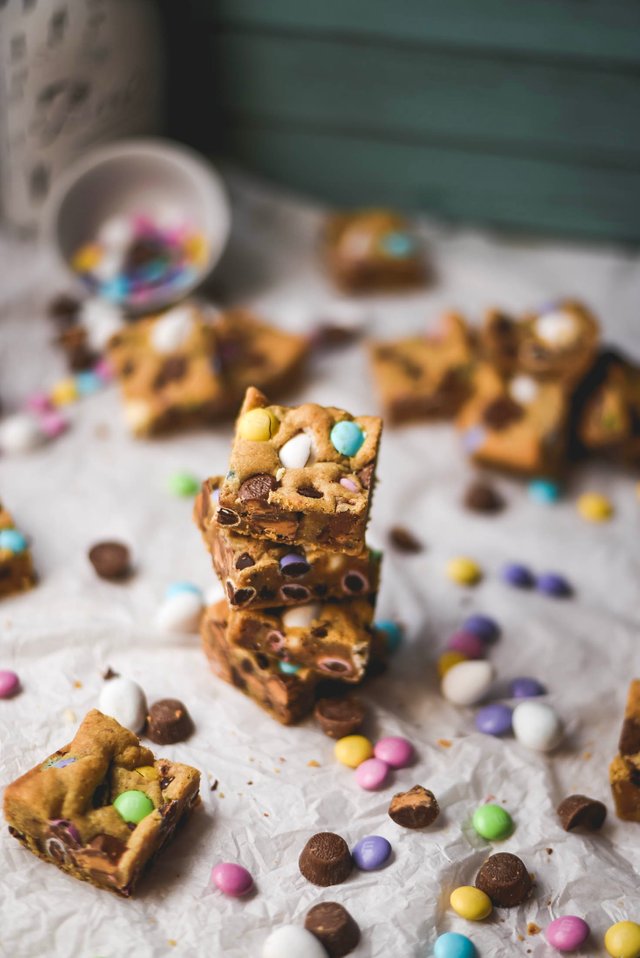 More on topic though, these blondies you guys! I know, they're really not that original of an idea, but sometimes I find myself asking "What's wrong with a surefire classic?" Call me basic if you want, and I don't know, maybe it's the childhood nostalgia that Easter always brings or the excitement of smelling freshly cut grass for the first time in the season, but I just like simple sometimes.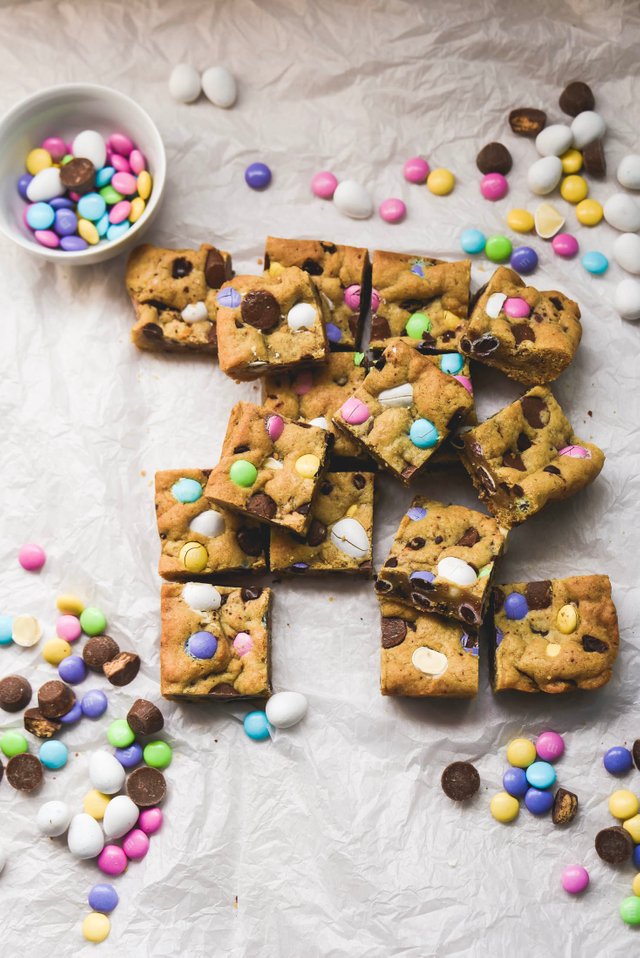 I also love that the ease of quickly pressing a favorite cookie dough into a pan and baking blondies and thick, soft texture is another highlight. According to my brothers this is a one of the most highly addictive combinations I've made yet, so don't say I didn't warn you. Okay, so until the next recipe……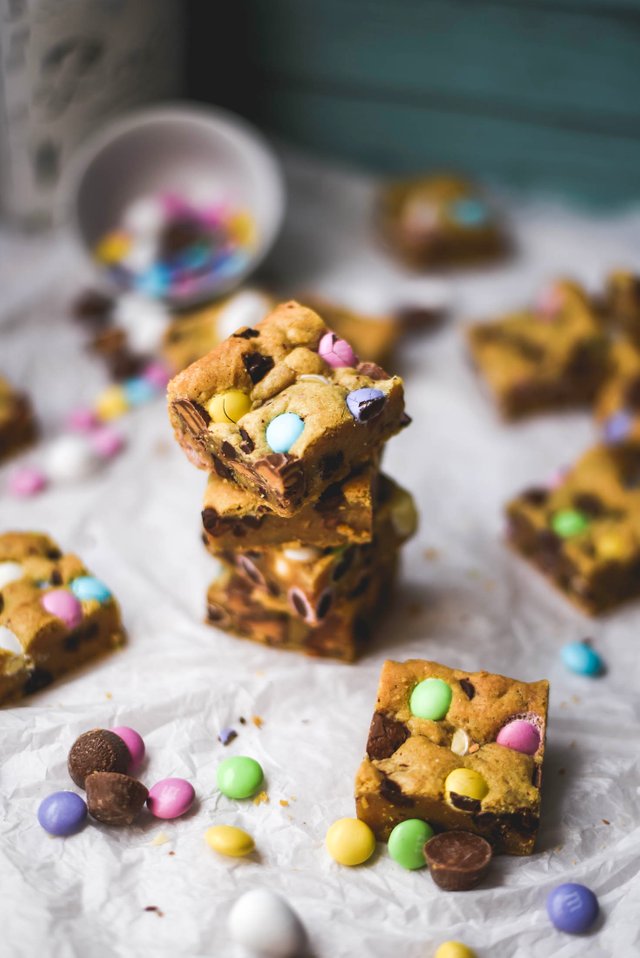 Spring Bunny Tracks Confetti Blondies
Prep Time: 30 minutes
Cook Time: 30 minutes
Total Time: 1 hour
Yield: 24 bars
Get ready for Spring time with these colorful pastel cookie bars filled with some of your favorite classic Easter candies!
Ingredients
1 cup butter (2 sticks), softened
1 cup sugar
1 cup brown sugar, packed
2 eggs
1 teaspoon baking soda
1 teaspoon salt
2 teaspoons vanilla extract
4 cups all-purpose flour
1/2 cup mini or regular semi-sweet chocolate chips
1/2 cup pastel m&m's
1/2 cup white or milk chocolate Cadbury mini eggs
1/2 cup mini peanut butter cups
Instructions
Pre-heat oven to 350 degrees F (180 C). Cream butter and sugars together in bowl of stand mixer or with hand mixer. Scrape sides of bowl and add eggs, vanilla, soda, and salt; beat until mixed. Add flour one cup at a time and beat until combined. Add the chocolate, m&m's, Cadbury eggs, and peanut butter cups and mix.
Grease a 13x9 inch pan and press the cookie dough into pan. Bake for 25 -30 minutes or until golden brown on the edges. Remove from oven and cool completely for about 30 minutes before cutting.

For more great food ideas, please do not forget to look at my other recent food posts
ALL CONTENT IS MINE AND ORIGINAL! All of these food photos were taken with my Nikon D750 and my favorite Lens, the Nikon AF-S FX NIKKOR 50mm f/1.8G. You can find out more in my INTRO POST.
And, by the way, to all the minnows out there, my intro post did a huge $0.21. The key to success on Steemit is to be consistent and persistent. Click on the link below for some great tutorials on how you can also succeed on the steem blockchain: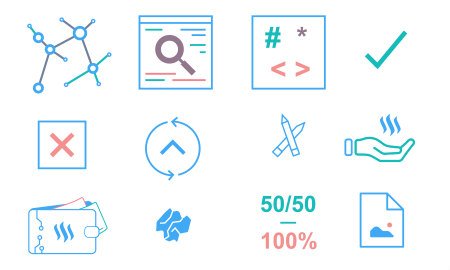 Also, a huge shoutout to @rigaronib for designing my logo!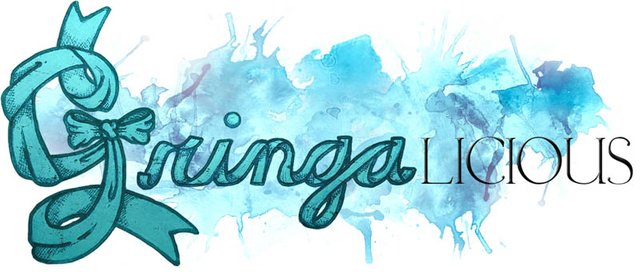 Do you want to learn more about me? Click here to see a recent @wadepaterson interview with me - 20 questions with @gringalicious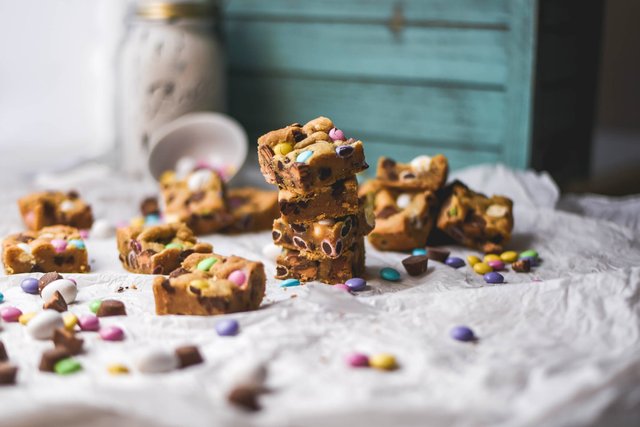 My Current Stats: 63,967 Steem Power | 13,391 Followers | 29,723 Posts | Reputation 74.785