Roasted Butternut Squash, Quinoa, & Lentil Burritos - FOOD PHOTO SHOOT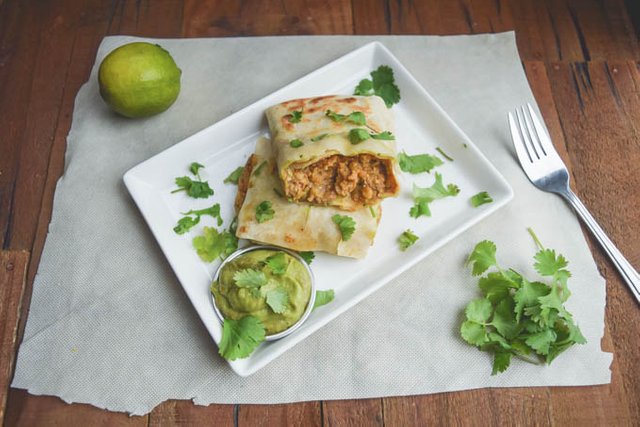 Who wants a burrito?
These are fairly simple to make but there is the roasting part that takes a few minutes. I don't know if you remember the last butternut squash recipe I made but I peeled and cubed it prior to cooking. That's pretty much the only way to get pretty cubes but for this recipe I only want soft squash. I wasn't in the mood to do any annoying peeling either, so I just sliced the thing in half, shoved it in the oven until soft, and then scooped out what I wanted.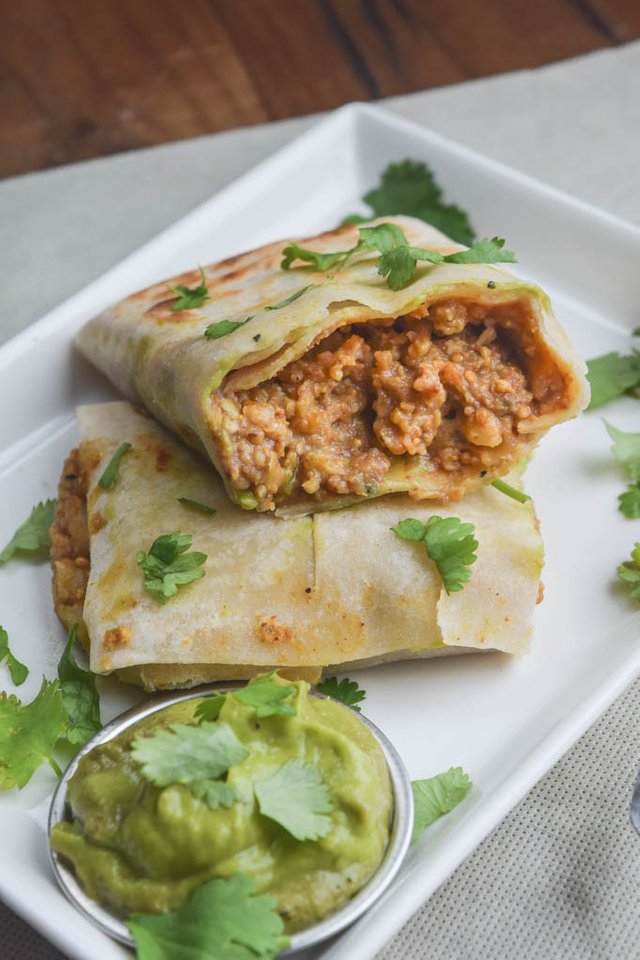 Of course, then I still ended up peeling the squash because I can't bear to throw away perfectly good food even on lazy days, but I was planning on being lazy, does that count? Feel free to take the easy route if you feel like it. Many stores will sell pre-peeled and chopped butternut squash.You could also use canned and ready butternut squash if you can find it. Even sweet potato puree or pumpkin would work in this.
After you've got the squash taken care of these are quick and easy to make and they are perfect to prep ahead of time or even freeze them. I like to serve them with the worlds greatest condiment, a little thing called guacamole, and some extra cilantro!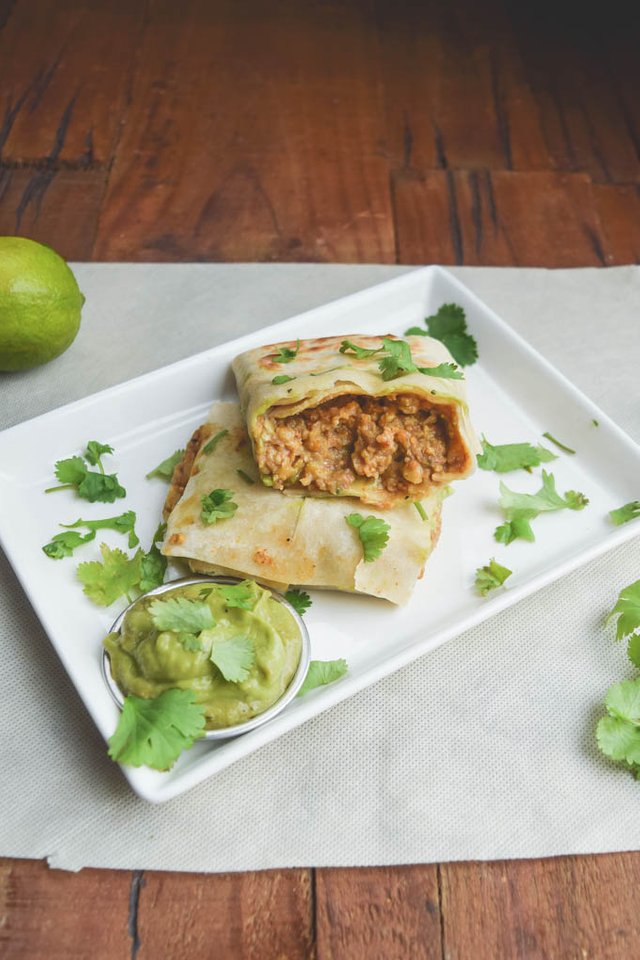 Roasted Butternut Squash, Quinoa, & Lentil Burritos (Vegan)
This recipe takes a bunch of wholesome ingredients and throws them together to make these delicious and filling burritos!
Prep Time 15 minutes
Cook Time 45 minutes
Total Time 1 hour
Ingredients
1 butternut squash washed and sliced in half lengthwise
Burrito Filling:
1/2 cup uncooked quinoa
1 tablespoon olive oil
1 1/4 cups water
2 cups roasted butternut squash
2 cups cooked lentils
1/4 cup salsa verde
1 clove garlic
1/2 teaspoon cumin
1/2 teaspoon salt
1/4 teaspoon pepper
1/4 cup fresh cilantro large stems removed
5 - 6 large flour tortillas make sure they are vegan if necessary
guacamole and extra cilantro for serving
Instructions
Heat oven to 400 degrees and line a baking tray with foil. Lay both sides of squash side by side on pan (face-up) and place pan in oven. Bake until squash is fork tender, about 40 minutes.
Remove from oven and scrape seeds and stringy stuff into trash. Now you can either scoop out squash with a spoon if you're feeling a bit lazy, or take the time to peel off the skin by hand and save every bit of squash. Measure out 2 cups of squash and save the rest for another use.
While squash is baking, in a medium skillet, toast quinoa with oil for about 2 minutes over medium heat. Reduce heat to a simmer, add water, and cover. Cook, stirring occasionally, for about 20 minutes until softened. Set aside.
Combine all other ingredients for filling in a food processor and blend until smooth. Scrape into the skillet with the quinoa and mix gently over low heat until warm.
Scoop about 1 cup of filling onto a tortilla and fold in 2 opposite sides and roll into a burrito then repeat for remaining filling.
Heat a small skillet and spray lightly with oil or cooking spray and place 1, or 2 if they will fit, burrito onto skillet over medium heat and toast each side for 1 to 2 minutes.
Serve hot with guacamole and extra cilantro

ALL CONTENT IS MINE AND ORIGINAL! All of these food photos were taken with my Nikon D750 and my favorite Lens, the Nikon AF-S FX NIKKOR 50mm f/1.8G. You can find out more in my INTRO POST.
Also, a huge shoutout to @rigaronib for designing my logo!
If you're looking for more recipes check out some of my other recent posts!
Also, I've been starting to vlog in case you missed it.