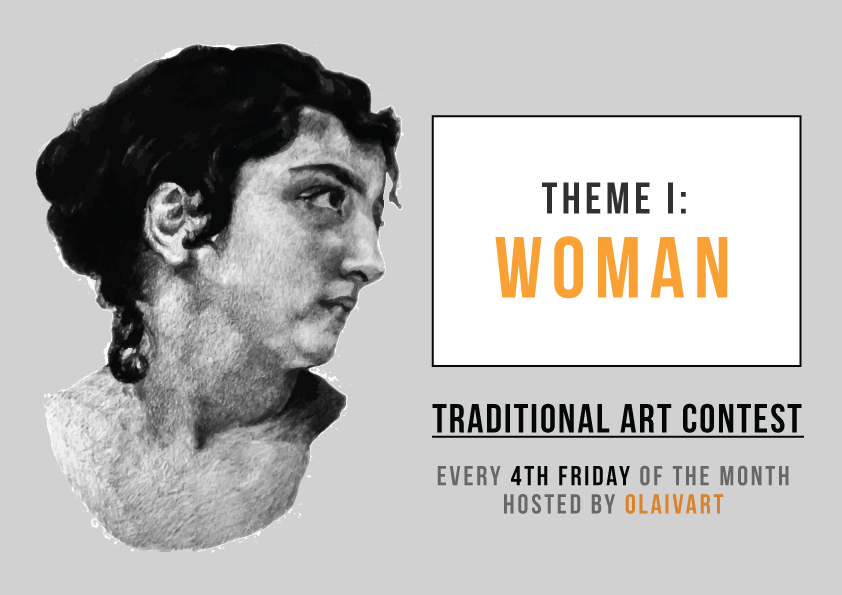 DESIGNATED COVER IMAGE
---

ONLY TRADITIONAL ARTS! (Read the announcement here.)
Kindly use the designated cover image above. This will help me in the long run.
First hashtag must be OLAIVART + THEME. So for your entries, kindly use #olaivartwoman as your first hashtag.
The entry will run for 7 days until payout. I will announce the winners the very next day.
You can do whatever you want with your entry title as long as you use the right hashtag and the right cover image.




Resteem this post. Let's get more people in this game, shall we?
Please include #artguildph as one of your hashtags if you are an artist from the Philippines. (Visit @artguildph's account as well, yes?)
Add a link to your post in the comment section down below.
Write down the details of your drawings just like how professional artists do. Write down the title, the dimension, and the medium used.
Write an artist statement after the details. Minimum of 30 words, maximum of 100 words.



TITLE: Woman I
Dimension & Medium/Media Used: 8 x 10 in | Charcoal & Soft Pastel on Paper
ARTIST STATEMENT: As an artist, I am much drawn to drawing women than men. I think it is because I am a woman as well, and I wanted to portray their rawness and beauty in my drawing. It is also my way of empowering them to accept their wholeness ― flaws and all ― because I know what it's like to look in the mirror and not like what you see. (You can check your No. of words at Word Counter.)
I have included this Artist Statement practice because it is important to know the purpose as to why we chose the subject we are drawing/painting. And in order to connect more in a much deeper sense. Please do not get taken aback with this. Whatever you write is valid. I just want to have a brief explanation about your artwork.





I will be giving away a total of 16 SBD! 4 lucky winners will each get 4 SBD at the end of the contest which I will transfer directly to their steemit wallet. The reward pool can change in the coming months depending on the support I'll be getting, but I am sure as hell I'll work harder to meet my goals for this contest.



---
Excited to see beautiful artworks very soon! Thank you for reading and please do join.


This initiative is closest to my heart because art saved me in so many ways. Posting, judging, and choosing the best among the rest is gonna be tough, but I will do it fairly and will reward accordingly. Resteem, upvote, and other support will be much appreciated. Thank you for reading. Namaste!