I'm delighted to announce that I am holding my first ever contest, and I'm going big. My recent post about my trip to Tallinn, Estonia was picked for @curie by (I think?) @wdoutjah — correct me if I'm wrong and you weren't the curator. I've decided that I'm going to give away all of the SBD I was given from the vote in #steembasicincome form, in honor of the two projects that helped me as a newbie: @curie and @newbieresteemday.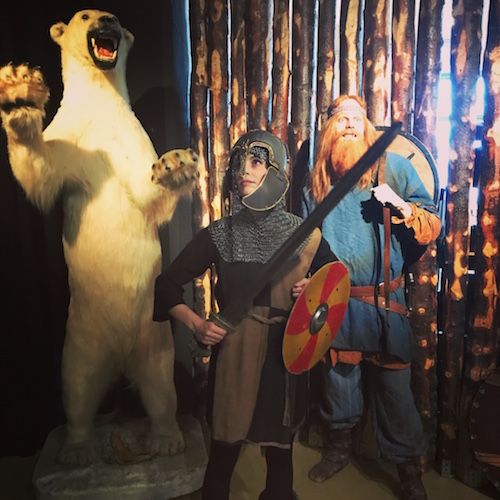 Posting a totally awesome picture of myself as a viking to keep things aesthetically pleasing and because I like for my photos to be original and not clip art, no offense to clip art enthusiasts.
Choose from one of the following topics:
EDIT: It occurred to me that these suggestions don't make sense for newbies who might not know anything about any of this stuff yet. You can also write about your goals here at Steemit or the kinds of people you want to meet. Maybe we'll have suggestions for you. :)
Tell us about one or more projects that every newbie should know about. (My answer: #newbieresteemday.)
Recommend a super talented Steemian who the @curie curators should keep their eye on.
Tell us about the moment that you decided that it was worth sticking around and putting in the work on Steemit. (My answer: the kind people who read and commented on my first posts and told me I was appreciated, particularly @beeyou, but my first @curie vote on a poem I posted really solidified it.)
Tell us about your favorite community here. (My answer: #teamgirlpowa.)
Pick your own topic—but something that fits the general theme of appreciating things and people on Steemit.
Requirements:
Write about one of those topics in an original post (duh). It must be a minimum of 3 full paragraphs, and I would actually prefer that you keep it relatively concise. Link back to this post so others can join as well.
Post a link and a brief (1-3 sentence) summary in the comments.
Upvote this post to help add to the prize pool. It doesn't have to be a huge upvote; whatever you want to put in is fine.
Read and comment back on at least 2 other contestants' comments, and upvote at least 1. There's no limit on how many you can upvote.
Optional: Comment, vote on, resteem, or otherwise show your appreciation for other submissions. Make friends with each other!
Optional: Resteem this post or help get the word out, because I probably won't have enough contestants from my own followers.
The prizes will be rewarded as follows:
All 24 SBD worth of the proceeds from the
@curie
pick will be put into
#steembasicincome
shares. At the moment, that's about 21 shares. An SBI share guarantees you an upvote on everything you post (currently mine are about $0.16 for the 2 shares I have, posting a couple times a week). Additionally, I will buy SBI shares on any SBD earned on this post.
The prize breakdown will be like this:
10 shares given out to the contestants with the most upvoted comments below.
10 shares given out to other submissions posted by people under 45 rep.
The remaining shares given out to other contestants at random, or whose posts I particularly like.
If there are more SBI shares to give out than there are contestants, everyone will receive at least 1, and I'll go back through the list to reward the remainder, starting with the most upvoted comments.
Why am I doing this!? It's not like I'm swimming in SP over here!
I really appreciate you all and I nearly started crying with joy the first time I got that @curie vote, and even before that, I'm sure I would have given up after like, a week, if it hadn't been for @newbieresteemday and @beeyou. (Besides, it's a little selfish as well. I'll be getting SBI shares with the winners too, and maybe I'll make some more friends.)
Tagging @beeyou @sukhanasister @davemccoy @limabeing @teamgirlpowa @curie @carlgnash @abh12345 @wdoutjah @newbieresteemday @steembasicincome @amariespeaks @bashadow @honeydue @soyrosa @shawnamawna @underground
GOOD LUCK!