I AM INVOLVED IN STEEMIT'S FUTURE: My Posts Is My Identity for the Future. Together We Can Make the World Better!
This post is a simple reflection me and my views of steemit. I am still endeared to make this post as I remember my First Discord Talk-show with @Surpassinggoogle tagged THE POWER OF STEEMIT POST. The show has sparked so many things inside of me and am reminded that If the world must be a better place, I have a part to play. Even God, my creator, depends on me.
Musing on the "power of steemit post" keeps me on the consciousness of the transparency and the temporary permanency of each mark we make here in the STEEM Blockchain. Our posts after seven (7) days of payout cannot be edited neither deleted. it stays as long as the blockchain remains. This means to me that the future generation will always have a peek into the contributions I make here. This on the long run will speak of my identity and values, and I may not be available to defend myself.
I am barely 117 days old in steemit by my registration records but am actually 80 days old in my activities in the Platform. These few days here has taught me great lessons which I will not keep silent until everyone around me hears.
Steemit holds a hallmark fame for promoting originality, ingenuity, personal values and "YOU". it therefore leaves us with the choice of either playing out positively and becoming a celebrity for now and for posterity or being the notorious rebel.
At 100 days, @Ejemai delegated 500 SP to me on the platter of self expression. He says "he feels blessed to be doing it". Most endearingly, I enjoyed enormous exposures by @surpassinggoogle (which still continues). To @Surpassinggoogle, he has many reasons for doing it as he presented in his post: Real-Time "Power-Use" Of A Steemit Post & 7 Hours Recording Of The Last SteemGigs Discord Talk.. I'll give a few excerpts:
Un(dis)talented: Remove bum, average, smart and suddenly; "we are genius".
SteemGigs: Make "everyone" have something to offer" and suddenly; "dreams equaller reality".
Ulog: True Celebrities = True Fans + O; where letter "O" equals "loop" and suddenly; "Mama Earth shines brighter".
Teardrops: Give tears value and suddenly; "we are back down-to-earth and "human".
Surpassinggoogle: "Mine the "human" into its awesomeest version, then "humanity becomes the brother next to you" and suddenly; "we are re-directed to the Creator Jehovah"
@Surpassinggoogle is always conscious in adding more value to people, yet, he stays real to his identity of tears, pains, worries, challenges, and the likes as a human face. Check out @teardrops @ulogs @uloggers @steemgigs @steem-untalented among others. He is conscious of minding his minds for the good of all. This is what is expected from all of us as steemit janitors.
From my point of view, the steemit janitor in the #mind-minder. While the ordinary janitor seeks to do away with dirts, the steemit janitor echoes "dirt is good" like the porter does to convert a miry clay into an unsuspected vessel with value. Such values are values as carried by Smart Media Tokens (SMT). We have great expressions of this such as with @teardrops @ulog @ulogs @uloggers.
Those lines were my first musings on the First Discord Show Effect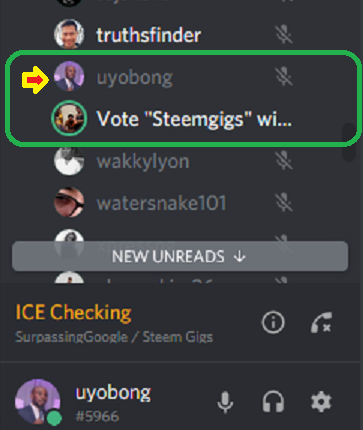 He has taken pleasure in making everyone a celebrity, some include @kneelyrac @jejes @phantum04, "YOU" and "ME"
These and many more has put me on my toes to declare my involvement in the future of steemit and the STEEM blockchain in general. Am determined to contribute my part with all God has endowed me with and with all my exposures.
I AM BORN OF GOD hence, I'll keep telling the world what God has done and will keep doing
I AM CREATIVE, that is why I can't get lost in the crowd.
I AM A ULOGGER, this gives me the premise and push to tell ou boldly about myself because I know you will be encouraged.
With my 522 SP, I will continue my daily curation as the days countdown to the expiration of my 500 SP by Ejemai. I will be showing the Curation Timetable in my next post. The curation will favour the following communities and trails.
@stach
#stach
@steemchurch
@sc-n
@sc-v
@sc-g
#steemchurch
#sc-n
#sc-v
#sc-g
@air-clinic
#air-clinic
#nigeria
#gratitudecuration
@ulogs
#ulogs
#steemitisbeautiful
@surpassinggoogle
@scripture-union
#scripture-union
#dailyguide
#creativehub
The truth here is that, the curation value is not much, yet am encouraged to do it with love. However, If you are benevolent enough, you can also delegate a part of your SP to me to continue impacting my world in my ow little way.
Yesterday, I did a familiarization meet-up with my steemit invitees. Details are coming on the #creativehub
Here's my resolve:
I will keep telling my friends about steemit and will do all things possible to promote this platform in daily transactions outside of here. My 30% discount to clients still remains if they see reasons to register in steemit and opt to pay me with STEEM and SBD.
---
Visit these timeless posts, they will be helpful.
5 SBD DAILY FOR JUST 3 HOURS: New steemians MUST grow
EARN 3 SBDs DAILY WITH GOOD COMMENTS
10 RULES OF THUMB FOR NEW STEEMIANS - Part 1
#STEEMITISBEAUTIFUL: How I became a HAPPY WORKAHOLIC
STEEMIT IS BEAUTIFUL: Am cutting Edge in my writing skills
#STEEMGIGS: (TIL(Today I Learned)) — Don't hoard knowledge
MY 100 DAYS IN STEEMIT: @Ejemai Spiced it with 500 SP
#ULOG IS BECOMING A SMART SUCCESS EVALUATION MODULE (SSEM)
#STEEMGIGS: (TIL(Today I Learned)) —Learning needs Collaboration
---
@surpassinggoogle is a steemit witness and is the pillar behind trending categories #teardrops #ulog #ulogs #steemgigs #undistalented #steemitisbeautiful
With #ulog #ulogs, You have something to share. Keep ulogging

Use the steem-based website today for creating your posts
Note that on SteemGigs, "everyone has something to offer". At the very least, you can update your profile on our website to open yourself up to more potential possibilities and improve your general reputation even within the steemit community.
To create awesome steemit posts, try our "un(dis)talented editor".
Read the detailed FAQ & Answers
Offer a service under hashtag "#steemgigs". Attempt out-of-the-boxness on hashtag (untalented). Join the Steemgigs Community on discord: https://discord.gg/CGuPyyT
Everyone has something to offer!" Why not?
---
YOU HAVE SOMETHING TO OFFER THAT ANOTHER PERSON NEEDS
SHARED KNOWLEDGE INCREASES IN VALUE - DON'T HOARD IT
REMEMBER! A THOUSAND (1000) INTENTIONS ARE NOT AS POWERFUL AS ONE (1) ACTION, DO SOMETHING TODAY
---
I remain you brother and Success Coach - @uyobong