So it happened! The SteemGigs talk on discord happened again, all through the early hours of the past Sunday (Manila time)
That night was tough! I was in deep places of sorrow but "close to 9 hours" on the SteemGigs discord (in a talk) still happened. 
That's me!
I listened to the recorded version of the talk and you can too. @ishanvirtue was able to record most of it and uploaded it to @dtube. 
Many are becoming diggists and this is essential to the beauty of the world. 
@phantum04 dug all day long too. After her effort, with converting the very large file to MP3 and hours of waiting for it to upload and publish, it got deleted for being too large.
@phantum04 i wonder if dsound, will work for such large files
You can listened to the show here: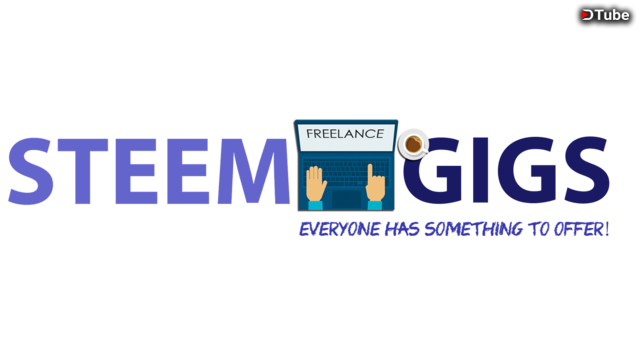 Listening to the talk re-touched me. Those talks happen on-the-spot; fully felt; almost fully-fiction-less and a portion of it especially, re-touched me. 
Well, several portions of it. 
It is several hours long but if you paid close attention; across the span of the recording, you would have heard a loud background-voice several times, that sounded like heavy shouts of "Jah". 
That was my popsy in his agony; in his wailing; in his lost world. 
He suffers each minute. I suffer each minute. My heart already cuts for myself. My heart cuts for him. "2 heart-cuts every minute". 
Hahaha, i just played!
If you look at the script more intently though, these are these details:
They have taken my dad away from me and put this whole new-scene before me, to let me watch it; same as they took my mum away and put another in her place and let me watch it. 
I laugh!
Who is stopping?
Hahaha, i saw the other sides too (upon listening to the audio of the talk); so who is stopping? I laugh!
There are other sides of the recording that made me marvel. You know, in those talks, where other humans are involved (YOU), i fully am there present. 
Within those discord talks, i truly dig. Yes, even within those very on-the-spot moments; "in the split milliseconds in-between"; i dig stuff out. 
Hahaha, i don't have long term memory even, but my memory sharpens in those split moments where "YOU" are/become involved, because i was digging.
For you, i am bound to be diggist.
Remember where i said (during the talk/if you are just listening to it/if you are about to listen to it) that i would usually jot down my "dreams in dream-bits" on countless small-torn-pieces-of-paper instead of on organized books and that if i was to store my dream-bits into a booklet/book, i would usually write them out on authored books (as opposed to empty plain books) and all across it, in tiny pieces (dream-bits) instead of "whole", not only to add a code-dimension to the drafts of my dreams but also so that, whenever i have to re-comeback to this book, to find the missing piece-of-my-puzzle, i would have to dig all over again, in entire journey to find it. Remember?
Well, those words in themselves where dug-out stuff, happening on-the-spot because i was digging off of myself to pour this INTEL, because "YOU" were involved. 
I haven't written with a pen in a long time and as i was listening to the recording again, i marveled because, i wondered how can i have popped out that old (redundant) INTEL on-the-spot and the answer was re-told to me........;
Jehovah gifts me and "YOU" were very much involved.
So yes, there are battles and odds and stuff but who is stopping? 
I laugh!
Back to Dream-Building
I didn't just want to go to an organized place to pick my dream-bits or entire dreams up. 
Note: by "dreams"; i mean things, like innovation ideas, world-adjusting ideas, going-to-the-moon ideas etc
Yes, i didn't want an organized book where i can easily go to and find a listing (of my dreams) with pin-point titles. 
I wanted puzzles. I want the crooked, tiny path; i wanted the testimonial harder route; but "that's me"; for "YOU".
I wanted to dig; to re-kickstart the journey of dream-building each time. I wanted each dream-bit to have an un-patterned route, so i can dig. I wanted to be able to pass across each dream-bit all over again, so i can be re-told of them and so that, each time i pass, my dreams deep-root "up a notch" into my very cores. I want to re-define and define each dream-bit, till the entire dream enters levels of spanlessness. 
There are my dreams not yours yet if you found the book containing them, my dreams can be yours too but you would have had to dig still.
But there is more..... I wanted an ever-green avenue to (keeping passing by) the bed, going under it to sniff "life" into skunk-socks.
Growing up, we used to throw our dreams under beds like "skunk-socks". 
Hahaha, none of this is a negative. It is a journey of admirability; and perhaps "the more testimonial harder route" as this particular route comes with rarely-heard earth stories. 
Hard is earth; ease is outer-space.
What when you have rarely-heard stories en-route dream-building?
Then, you supersede walls. The play becomes one. The fields level.
It no longer mattered if you are king and i am pauper because this particular pauper has a "walk of life", where he will school you and you will simply have to listen; because what you will hear will be rare and despite being well-schooled and rich, this particular breed of rare will catch your fancy.
Macrohard: Remove the notion of developed or developing and suddenly; "we are the world".
Un(dis)talented: Remove bum, average, smart and suddenly; "we are genius".
SteemGigs: Make "everyone" have something to offer" and suddenly; "dreams equaller reality".
Ulog:  True Celebrities = True Fans + O; where letter "O" equals "loop" and suddenly; "Mama Earth shines brighter". 
Teardrops: Give tears value and suddenly; "we are back down-to-earth and "human".
Surpassinggoogle: "Mine the "human" into its awesomeest version, then "humanity becomes the brother next to you" and suddenly; "we are re-directed to the Creator Jehovah".
Hahaha i just played with a steemit post "real-time", to build on some of the things we discussed on the last SteemGigs discord talk and also, so that steemians who weren't able to attend can grasp the recording above better.
A steemit post and the power it holds is a beauty because while it has the very best nozzle, "YOU" are the ever-lingering aroma. 
So why not ever-linger every & each time (with each and every steemit post)?
Gosh, did you see how many things i have had to do to using a steemit post; each steemit post? These are unwritten stories; "new books" and we (each) have these "new books" and tons of them and the world is still very novice with regards to "new books". 
So, i said "the world is calling and you can answer" and ULOG was birthed
Gosh, did you also see the beautiful aspects from which i saw steemit and the use of a steemit post, starting day one? (This was discussed during the talk)
I didn't go for the steemit whitepaper; i visited the man. These are new stories and they have to be written. 
Yes, who knew that dream-building can involve "hitting heads on walls". Well, how many have "hit heads on walls" to build dreams?
Every weekly SteemGigs discord, we will dispense this rare INTEL, however-tiny-the-piece and everytime we come back out into the world and steemit, we will see more beauty. 
It is so-so-so dead tough but there is beauty still. 
Yes, we spoke of a few things on the SteemGigs discord voice chat that day but via many angles and the few suddenly became myriads. 
Hahaha, i said "suddenly" many times because you know what?.................
"Suddenly"
Yes, as rare as "suddenly" looks in "real life" especially in relation to "positives"; "a decade of "NO(s)" can still flip into a ginormous "YES"; suddenly!
Yes, jackpot can still happen suddenly
You can own the bank suddenly.
"Do the dreaming; leave the building to us" is one motto of SteemGigs. 
If going to the moon happened; every noble dream is attainable!
So "will steem succeed?"; isn't the question! The more pertinent question is; 
is in your dream in "set-state" yet? 
Because when steem succeeds, will your dreams be ready to launch. Now, assuming the future for steem is looking bleak, your already set-dream (if already set) can fix that future.
So, no lele! Now, is the time! I tell you, "your steemit posts; each of it (depending on how much "dig" you put into each); ever-incessantly opens your up to "suddenly" (+)
Note
Within this very steemit post, i carried out "live", all the things i tried to explain in the last discord talk regarding the use of a steemit post:
I played
I rehearse my dreams
I kept my dreams alive in dream-bits
I woke-up old dreams
I found myself
I re-found myself
I created legacies
I shone 
I was flawed 
I asked forgiveness 
I asked "prayers"
I laughed
I laughed with pain
I added codes
I created a crooked route so you can dig
I dug
I appealed to the soft spot of humans
I left mystery behind
I left puzzles behind
I said "i was here".
I served the search engines
I spoke
I reshaped the internet
I did "surpassing google with steemit"
I promoted steemit organically in the search engines
I asked questions
I answered questions
I fixed someone
I got fixed
I left permanent evidence for generations yet unborn that "i was here" and i was here for them. 
I spoke of Jehovah
I asked to be loved like crazy
I love like crazy 
I flew with the day but no emptily by.
I did something
I spoke of Jehovah
Feel free to join us on the SteemGigs discord each week.
Saturday/Sunday at 12 am Manila Time! (GMT+8)  
1 hours 30 mins long. Then after-party thereafter.
Join here!!!
We are approaching 5k steemians on the SteemGigs discord and this is huge. Basically, what i am saying is, "i am not the only one on there" and there is room for building connections and interactions. 
You can also gather your questions and bring these question on there and there are many steemians on there, who have answers. 
On the SteemGigs discord, we are creating a culture of dream-building where "everyone has something to offer", so kindly join in.
Your Boy Terry
See the beauty that is ongoing here: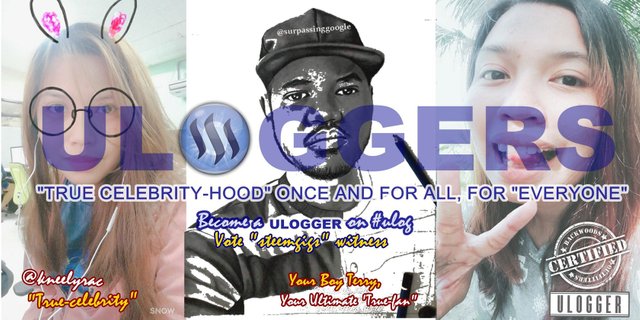 Visit with @kneelyrac and become her "true fan".
She has signed you autographs too! Consider printing them and make selfies with them
 You can also use these profile cover ULOGGER banners freely: 


You may need to resize them! Perfect dimension would be  1280 x 191 as recommended by the creator "@jejes" 
How To Become A Ulogger?
Please digest this post and this post and like me, join in and become a Ulogger today. Become "true celebrities" and "true fans" of #ulog. 
You can start simply by getting your personalized ULOGGER header/footer from @phantum04 here!!! 
e.g  

We are seeking coders/developers to help, by means of utopian or direct contributions. I would like to invite all  coders/developers, to show up on our SteemGigs development channel. 
Kindly visit and use our steem-based website today
https://steemgigs.org
Note that on SteemGigs, "everyone has something to offer". At the very least, you can update your profile on our website to open yourself up to more potential possibilities and improve your  general reputation even  within the steemit community.  
To create awesome steemit posts, try our "un(dis)talented editor". 
Read our detailed FAQ & Answers  
I do need strength
Dedicating My Entire Steem/Steemit Journey To My Mum
If you want to support an extra witness and you support mine "steemgigs", it will be really helpful. 
To vote my witness, simply visit https://steemit.com/~witnesses and type in "steemgigs" into the first search box for witnesses or simply click Here to do it on one click! 
If you want me to make witness voting decisions on your behalf, simply visit https://steemit.com/~witnesses and type in "surpassinggoogle" in the second box for proxy.  

Let's Go!!!
Offer a service under hashtag "steemgigs". Attempt out-of-the-boxness on hashtag (untalented).  Join the Steemgigs Community on discord: https://discord.gg/CGuPyyT  
"Everyone has something to offer!" Why not?