#STEEMITISBEAUTIFUL: How I became a HAPPY WORKAHOLIC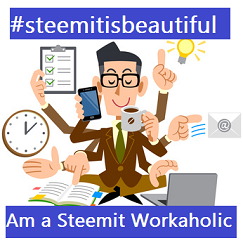 If you do your job well, you will work for a ruler and never be a slave (Proverbs 22: 29 (CEV)
To me, being a workaholic in its positive terms (as construed in this post) can also be linked with a behaviour of people who wish to express their devotion to their choice career or work which may may be a pay-inclined or a leisure activity such as sports, philanthropy, tourism, writing, music and art, etc.
On the contrary, there is a general view of a workaholic as a negative behaviour characterized by excessive usage/spending of time at/on a choice work, thereby, neglecting family and other social relationships.
Wikipedia's definition:
A workaholic is a person who works compulsively. While the term generally implies that the person enjoys their work, it can also alternately imply that they simply feel compelled to do it.


Taking a keen look at wikipedia.org's definition of a workaholic as a person who works compulsively and enjoys their work, thereby, feeling compelled to do it; I see passion as a drive to the life of a workaholic. The workaholic derives pleasure in getting his/her work done and is always challenged by the level of success he attained the last time with a view of building on it towards an improved outcome. We can therefore say that workaholics have an inner drive to work hard.
According to popular views,
there is no generally accepted medical definition of a workaholic condition, although some forms of stress, impulse control disorder, obsessive-compulsive personality disorder, and obsessive-compulsive disorder can be work-related to it.
Having a got a glimpse of what people and researchers have to say about workaholics, I will now share with you how I turned into a happy workaholic.
My steemit account was confirmed in January 2018, yet I found no reason to be serious with my blogging here. However, on March 1, @liltom cam visiting to my Creativity Hub where encouraged me to start blogging so I can share my rich database of real-time research experiences and also motivate people. I finally decided to start committing my time to stemit.
Today, counting 57 days on my active steemit journey, I can loudly profess that I have no regrets so far save one thing which is:
I HAVE BECOME A HAPPY STEEMIT WORKAHOLIC
As each day goes by, there is this pressure of taking up a full-time job in steemit. This is because I have come to see a community for humanity, where fairness is practiced and the voice of the least person is heard. Beyond being a social platform, steemit has proved to be a "humanware". There are feelings, challenges, pains, tears and joys as you canvass through creative stories, artworks, messages, felicitations, testimonies and projects of great steemians. I would not fail to mention the "giveback projects" of individuals and communities within the platform to our society at large.
Please endure the long read as this will be my first ever 8-minute post on the blockchain and I hope to have it on the records and in my journal. I am inspired to pen this post after I read @surpassinggoogle's If You Know How To Spot Signs, Then You Will See And Foresee The True Expanse Of Steemit's Beauty. "Steemit Is Beautiful", See link: https://steemit.com/steemit/@surpassinggoogle/if-you-know-how-to-spot-signs-then-you-will-see-and-foresee-the-true-expanse-of-steemit-s-beauty-steemit-is-beautiful
I see joy in his eyes as the wish he penned down about a year ago is becoming a reality.
See the posts here:
Just Say "Steemit Is Beautiful" And Believe It And It Is Yours; "50 Steem Bounty" In Not More Than 4 Seconds!!!
IDEAS: Speeding Up NEWBIES To #steemitisbeautiful And Strengthening Our Existing Steemit Community With "Steemit's Beauty"!
IDEAS: A Short And Concise Follow-up Post On The Steemit Growth Idea Called: "#steemitisbeautiful"
You see, after one year, @surpassinggoogle can look back saying his dreams of making steemit a beautiful place with his quota of contributions has become a reality. He has become a figure of love and a face of humanity on the steemit platform. This testimony has not been without his hardwork. How do I know? His creation of @steemgigs @teardrops @steem-untalented are a great force of rewards and blessing to many in the steemit. The celebration of him during the @steemsummit at Cebu, Philippines is a true expression of love and appreciation to him for being a blessing to humanity via the blockchain.
What then is my message?
Write down your visions.
In Habakkuk 2: 2-3 (CEV), scripture says:
Then the Lord told me: "I will give you my message in the form of a vision. Write it clearly enough
to be read at a glance. At the time I have decided, my words will come true. You can trust what I say about the future. It may take a long time, but keep on waiting— it will happen!
When what you see (on the imaginary eye like the @teardrops Smart Media Token (SMT) the future, write it down. Keep it where it can be seen on a daily basis and then start doing something about it. It may take as long as a year or more, don't give up, it will come true.
Back to my workaholic life
I have it well printed in my memory, daily todo list and on my journal one of my biggest Expected Achievement in 2018, to become a unique and positive contributor to the steemit community. I ensure to delegate six (6) hours of my everyday to contribute to the steemit world through posts, comments and upvotes. This is what makes me a #steemitworkaholic. Never should a day pass, that I would not contribute. Some days are just dedicated to drafting my posts for the days ahead. Everyone around have started testifying that I am addicted to steemit. Addiction or whatever they tend to call it - I don't care. What matters to me is that I am contributing in my little way to impact humanity.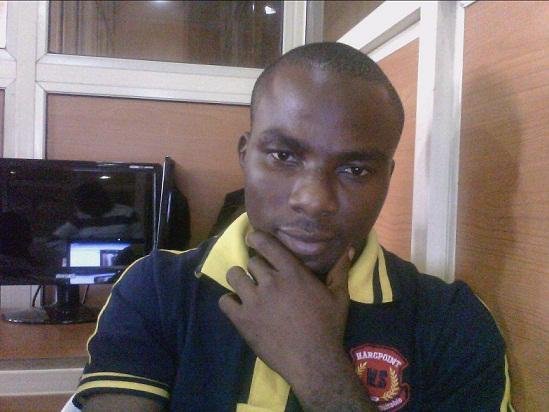 I had made some helpful posts here which I have used personally to my benefit to grow on this platform:
5 SBD DAILY FOR JUST 3 HOURS: New steemians MUST grow
EARN 3 SBDs DAILY WITH GOOD COMMENTS
10 RULES OF THUMB FOR NEW STEEMIANS - Part 1
Hence, trying my possible best to also spend quality time on steemit to prepare quality posts and comments is what makes me a STEEMIT WORKAHOLIC. Am glad I am, because it pays off. I am still pushing further to becoming a Steemit and Blockchain Consultant soonest. It is a vision penned, it will become a reality. This post was not for the blessings of steemit. It will be coming soon. But let me quickly say that joining steemit has stirred up greatness in me. #steemitisbeautiful
---
I hope that someday in the future, I will also share and remind everyone of this post written this 26th day of April, 2018. You can journal it too.
---
Steemit is a movement
As I approach the conclusion of this post, I want to say here that beyond creating creating jobs for many, steemit has brought succor to the oppressed, hurting and the tearful. It is a world of compensation and I call it a "movement".
---
Appreciation
Please permit me to make a brief mention of some out of the many persons and groups that have encouraged me to this level: @candyman @stach @air-clinic @mustard @hr1 @scripture-union @busy
---
Recommendations
I hope it's time to rekindle the #steemitisbeautiful tag to share our testimonies in order to encourage others and cause another surge of trending posts like @teardrops
I hope it's time to rekindle the #steemitisbeautiful tag to share our testimonies as @surpassinggoogle mentioned HERE and HERE. Posterity will not forget him.
You can join the Steemit is Beautiful Community
Please remember to vote for @surpassinggoogle as witness by simply visiting https://steemit.com/~witnesses and type in "steemgigs" into the first search box for witnesses.
If you want @surpassinggoogle to make witness voting decisions on your behalf, simply visit https://steemit.com/~witnesses and type in "surpassinggoogle" in the second box for proxy.
You can offer a service under hashtag "steemgigs".
Attempt out-of-the-boxness on hashtag (untalented).
Join the Steemgigs Community on discord: https://discord.gg/CGuPyyT
Everyone has something to offer.
---
What more can I say?
STEEMIT IS BEAUTIFUL
Stay blessed and motivated today.
Am your brother - @uyobong
---
Image source: www.providesupport.com