Today our witch has made herself into a stoic bronze statue to guard her little niece.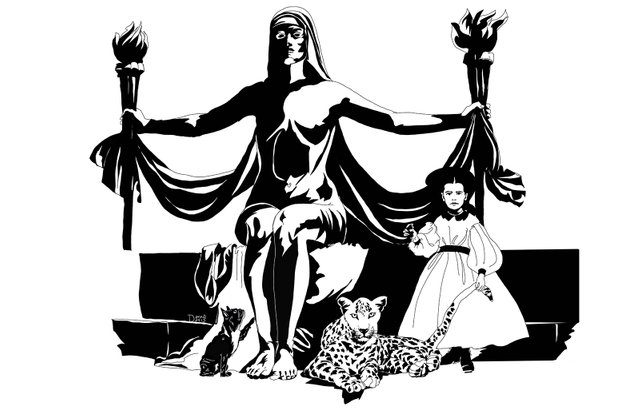 ---
Ursula had done the noble thing and transformed herself into a statue of bronze to protect her little niece, Gillian.
Gillian felt a bit left out, being made to remain soft flesh whilst auntie had all the fun.
Well, at least she's made Puss far more jolly. I love Grimalkin far more as a leopard than an old Tabby
Dander, on the other hand, has had to stay a funny old bulldog
Dander was not amused by any of it.
---
Today's #inktober was inspired not only by the prompt word 'guarded' but a bit by the #drawlloween word "grave" as I felt a statue had a bit of a mausoleum feel as well as being a good guard for the supernatural.
I also wanted, perhaps even needed, to make today's piece work two-fold. I've my monthly assingment due soon for #sndbox and it is a collab piece with a fellow Steemian (who is a musician) also in #sndbox and we are meant to share it first with them. However, I was listening to the piece when I first imagined up this piece and this drawing is being used and built upon for the final piece of that collaberation.
When one is so busy, as I find myself this month, doing double duty is just a necessity.
Today's statue image was inspired by a real life statue "Naked Truth" which exists in St. Louis.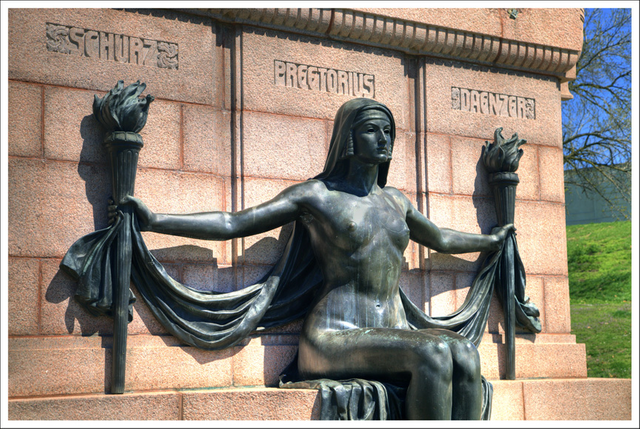 The statue was designed by German sculptor Wilhem Wandschneider. The sculptures nudity was a source of controversy that ultimately led to the decision of using bronze as its primary material in hopes of deemphasizing the figure. The statue was dedicated in 1914. It was moved in 1969 when the construction of I-44 took portions of Reservoir Park. It became a City Landmark in 1969 and is located at 1938 South Grand.
This statue to me just looks like a trasnformed person and so with the term 'guarded' and 'grave' I couldn't help but use it as inspiration.
It is also going to receive a certain treatment for my final piece for the collab. I am not allowed to share that here, yet, as it if first goes to #sndbox and they will publish it in their own time.
I hope all are still enjoying #inktober thus far. I am working to keep up, but know when the later part of this month arrives, I will be doubling up days. It still is such a good practice I hope if you have not joined in, you will do so now.
Today's share of another Steemian #inktober piece is @steevc who isn't a traditonal 2-d artist but a wonderful musician. That is not stopping him from joining in on #inktober and I think that great and a great motivator for you others who aren't sure if you want to give it a go. Go check out his latest inktober here.
I think I should find a new way to link all my inktobers ,as my list here is getting a bit long. I'll have to look back at one of @princessmewmew amazing tutorials to see how to link images smaller.
And check out my other #inktober posts thus far:
Copyright @donnadavisart - All Rights Reserved

---