Today's #inktober see's our witch and her familiar being a tad "cruel"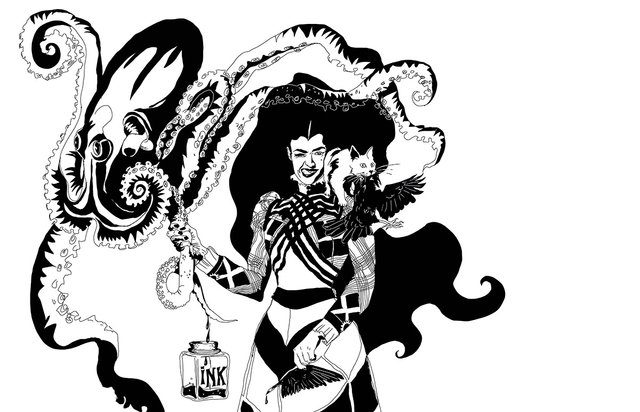 And the entire piece: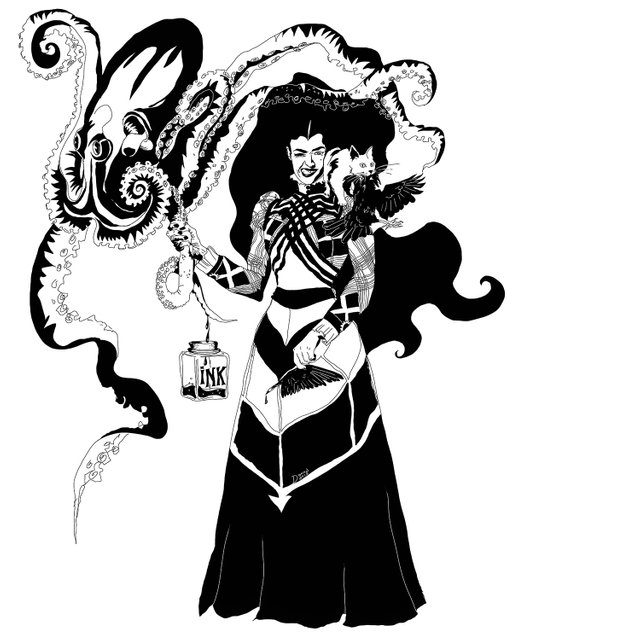 Cassandra could be thought cruel, but really how was she and Balthasar meant to find ink and quills at this hour?
"I've got the ink handled", Cassandra sneered
Balthasar meant to agree, but his mouth was currently full of potential quills.
All is fair in the world of Ink and Quills it seems.
I was sad to not be able to ink yesterday, but having the dentist in the morning and then a list of things to get to, it was just not possible. So, last night, I sat down and sketched out today's ink. I know @katharsisdrill daughter has told him it is 'cheating' to start the day before, but I knew if I was to get today's done, it'd have to be started last night. And as I had not inked for day 10 I really wanted to make this one more detailed.
I have to admit when I looked at the prompt word for today, I was not thrilled at first. Yet, I was on my way to the dentist when I was thinking about it, as I knew I'd be doing tomorrow's word. Having arrived at my third week in a row to the dentist chair, I thought how cruel this surely is and how cruel it was to take away my day of inking. That I love my inking in the mornings to soothe me for the day. And then I thought, what is a cruel way my witch would extract ink?
I had also imagined her needing a new quill and who else, but a trusty hunter like a cat, to snatch down a supply of quills for her needs. I even felt, in a way, that this image also included the day 10 word "Flowing" with the tentacles of the octupus.
I have another busy day ahead of me ( I Know I am rather sounding like a broken record, but alas, what can one do). So, this shall be a short (for me) post. But, I do hope you like what our witch and her familiar are up to today and do forgive her, you can't blame the scorpion when it stings you, it's what it was built to do.
In the tradition of community with our #inktober I'll share another fellow inker today. We have @jungwatercolor and her amazing day 9 why not check that out right here.
In fact it was @jungwatercolor that reminded me I wanted to enter one of my #inktober's into @kommienezuspadt amazing trial by comics. I have not yet entered and as he has opened it up to any of our inktober drawings, I think I will choose this one. Good luck to all who enter that, he is an amazing artist as well as one of my favourite photographers, I'd say on Steemit, but I think just in life.
I hope all of you find the time to ink or at least peruse some of the hard work happening for #inktober and give a good vote and comment, we love that, we artists.
And check out my other #inktober posts thus far:
Copyright @donnadavisart - All Rights Reserved

---