Could you win some steem just by eating? Perhaps, but it is not that simple.

By now, many of you have probably at least seen some of the video entries for my #hotpepperchallenge that I put out some time ago. We have had some excellent entries, but I'm giving everyone one last chance to be foolish enough to enter before I crown a winner.

I'm quadrupling the Prize Payout up to 20 STEEM and giving all steemians one last opportunity to participate.
WHY SUCH A CHALLENGE?
The purpose of this challenge is to get us interacting on a whole new level, and I think it is working. I've ran a few contests in my time here and have given away many free seeds to other steemians, and the whole purpose of these things is to build up our community and encourage interaction on another level.
Plus, it's a great chance for me to share some of the incredible harvest from my garden!

Here are the entries so far:

Once he saw some of the other entries pour in, he also entered this video where he eats a whole Ghost pepper. Post link here.

Some of the Eden Knights stepped up to enter the challenge too. Post link here.
They "enjoyed" some of the Ghost cross peppers, and got some points for group effort.

This is where the contest got stepped up another notch. @matthewtiii ate a Ghost cross, then a Ghost, and finally the Carolina Reaper! He posted a total of 5 videos, I have only included the Carolina Reaper one here. To check out all the videos from him, check the post linked here.
Not only did he eat all three kinds of peppers, the post paid out at an incredible $224.10 so far, with the next payout coming in 4 days.

@pulpably joined in and ate a Ghost pepper for her entry. Post link here. If you like her video, please upvote her original post, because it only got 2 cents originally and still has 5 days until the final payout.

In the same foolish style as @matthewtiii, @merej99 decided to eat three peppers, the Ghost, Chocolate Ghost, and Carolina Reaper. She did quite well, and even got a first payout of $87.38 for the post. Post link here.

The official rules are as follows:
Direct message me your valid US shipping address in https://steemit.chat - I'm papa-pepper there as well. (Due to various import and customs laws, I am currently only shipping inside the US.)
I will ship you some Ghost cross, Ghost, Chocolate Ghost, and Carolina Reaper peppers.
Once you get your peppers, pick you poison... er, I mean pepper and record yourself eating it.
Once the pepper is eaten, keep recording for an additional 2 minutes for maximum effect.
Include your video in a post and tag it in #hotpepperchallenge and whatever other tags you feel may be appropriate. (i.e. "stupid", "humor", "foolish", etc.)
Once all the entries are in, I'll do an official Winners Announcement and reward the winner with 20 STEEM.
By submitting an entry you are giving me permission to use that entry in posts like this one, and the Winners Announcement.
My Official Super-Hot Pepper Challenge Post is Linked Here
Please contact me within the next week if you are interested, as the window of opportunity to be included in this contest is closing.

HERE TO BRING YOU SOME FURTHER THOUGHT ABOUT WHETHER OR NOT TO ENTER IS @matthewtiii:
The video is hilarious, but to some it up, he says, "Don't eat this pepper. Milk doesn't help. Ice cream doesn't help. It's burning my ear canal. Don't eat the pepper man. Thanks @papa-pepper. Don't eat that pepper!"

The choice is yours of course, and you may want to consider that perhaps @matthewtiii was just using that last video as a clever ploy to potentially eliminate any further competition.
As I said when I first posted the contest idea, "Are you foolish enough to do something dumb for a chance to win STEEM? If so, you're just the person that I'm looking for."
---
REMEMBER, PEPPERS AREN'T JUST HOT - THEY MAKE YOU FEEL GOOD.
If you don't believe me, check out THIS POST from @cloh76!

FOLLOW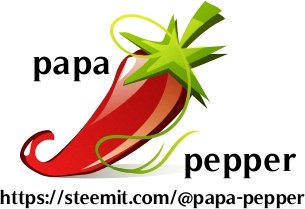 ---
Awesome Handcrafted @papa-pepper logo kindly donated by @vlad - Thank you!!
---
(click link above for more info on Operation Translation.)