OPERATION TRANSLATION : Now Under Construction – What it is, and How You Can Help
Steemit is growing fast, constantly knocking down barriers and racing around obstacles. The language barrier is just another one of these temporary inconveniences that will soon be removed in our community, and Operation Translation may play a key role.
In an attempt to continue building up our global community, I recently made this post:
---
It started a process and got a little attention, most notably from @stellabelle, who has made the same offer that I did in her post.
---
To sum up the proposal:
Any user who desires to translate any of our articles from English into another language is free to do so for the purpose of reposting it on steemit.
The translator is free to post their translated version under their own username and keep all the payout rewards for their efforts.
---
More details are included in each of our posts, but that is the general offer that we have made.
---
WHY THIS IS IMPORTANT
It gives those who are bilingual or skilled in languages an opportunity to take excellent articles posted by other users and make them accessible to non-English speaking users.
The translator has the opportunity to risk work required vs. potential payout with their efforts just like the original authors did when they posted the original article in English.
By using this method, members of this community can work together to continue to diversify the content of this community and make the information provided by steemit more accessible.
---
WHAT YOU CAN DO
Consider making this offer yourself, as a steemit author
Find and upvote translated articles in this project to inspire additional interest from authors and translators
Consider promoting or resteeming posts like this to increase awareness
Let your friends who are capable of translating know about this opportunity
---
UNDER CONSTRUCITION?
Yes, this is still just an idea in its infancy. @stellabelle and @papa-pepper are considering some sort of official guidelines and a logo or image to include at the end of posts from authors on board with this effort. Your input in these areas is crucial.
Read our posts about the matter and let us know:
What have we overlooked?
How can this effort be improved?
Do you have a better name suggestion than "Operation Translation"?
Do you have an idea for an official image that authors could use for this project?
---
Many members of our community are already hard at work on this effort. Several offers have already been made to translate our articles into a variety of languages. Here are some examples:
---
---
---
---
---
These are just some of the articles getting translated by this group effort.
Please consider upvoting those posts linked above and help us go FULL STEEM AHEAD by joining in the OPERATION TRANSLATION brainstorm!
This is a group effort in so many ways and we can choose whether or not this will work. Without upvotes on translations, no one will continue their effort, so please keep an eye on what is going on and encourage these hard working talented individuals in our community.
---
FOLLOW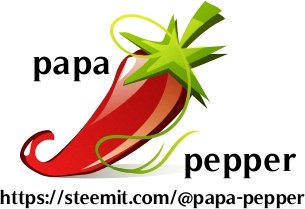 ---
Awesome Handcrafted @papa-pepper logo kindly donated by @vlad - Thank you!!


OFFICIAL OFFER FROM PAPA-PEPPER