Great Chicken Breed: Barbu d'Uccle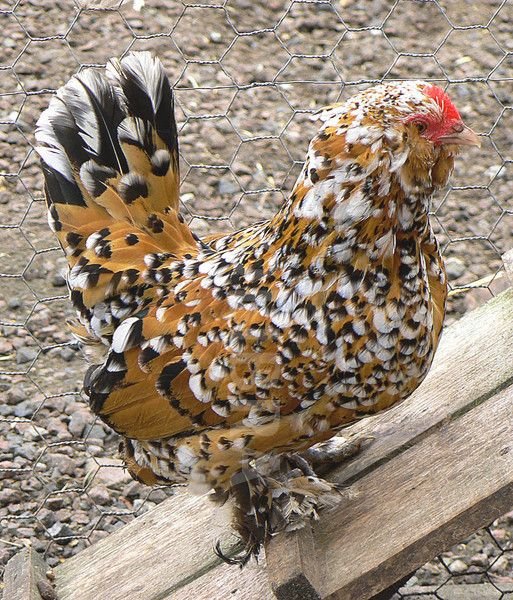 (Image source))
The Barbu d'Uccle or Belgian d'Uccle is a breed of bantam chicken with a beard and muff. It was developed in the town of Uccle in central Belgium.
The Barbu d'Uccle chicken breed was created by Michael Van Gelder of Uccle, Belgium, in the early 1900's. It was assumed without certainty that he cross-bred the existing Sabelpoot and Barbu d'Anvers bantam breeds at that time. The Barbu d'Uccle was first shown in 1905.
This chicken breed are known for having low posture, full beard and a muff, a short full neck, with the back very broad, almost hidden by a large neck hackle. Breast is very broad, the upper part fully developed and carried forward, the lower part looking like a breastplate. Tail is well furnished, close and carried almost perpendicularly to the line of the back. Legs are strong, short and well apart. It has a single comb.
The known colour varieties of the Barbu d'Uccle include blue, cuckoo, mille fleur, porcelain, lavender, black, mottled, silver, self blue, quail, and white.
The Barbu d'Uccle is a calm, friendly bird which cope well with confinement. They don't usually wander off too far making them suitable for smaller gardens. It is broody and can lay 100 tinted or cream colored eggs per year.
Video upload by HenDaisy



Sources: https://en.wikipedia.org/wiki/Barbu_d%27Uccle
https://www.omlet.co.uk/breeds/chickens/barbu_d'uccle
---
Check out my older, other "Great Chicken Breed" posts.
Great Chicken Breed: Frizzle
Great Chicken Breed: New Hampshire
Great Chicken Breed: Naked Neck
Great Chicken Breed: Leghorn
Great Chicken Breed: ISA Brown
Great Chicken Breed: Barnevelder
Great Chicken Breed: Orpington
Great Chicken Breed: Sussex Chicken
Great Chicken Breed: Easter Egger
Great Chicken Breed: Wyandotte Chicken
Great Chicken Breed: The Plymouth Rock
Great Chicken Breed: Rhode Island Red
Great Chicken Breed: Australorp
Great and Weird Chicken Breed: The Silkie
---
---
Follow me as @darthnava: "The will to post is stronger than Steem"