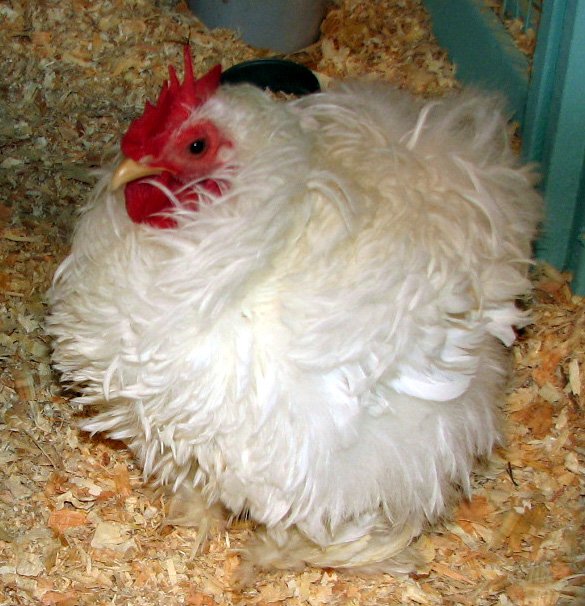 (Image source)
The Frizzle is a chicken breed with the distinct curled or frizzled plumage. While the gene that gives the frizzle look can be found in many breeds, such as the Pekin and Polish, the Frizzle is recognised as a distinct breed in 9 countries in Europe and Australia. Frizzled chickens are not accepted as a breed in the U.S.A, and at shows are judged by the standards of the breed they came from.
The origin of the this strange chicken breed is not known. The frizzle gene is thought to have origins in Asia and frizzled chickens have been recorded in the Far East since the 1700s. The Frizzle breed is the result of poultry breeders' selection for exhibitions. This breed is recognised in Belgium, Czech Republic, France, Germany, Ireland, Italy, Poland, Slovakia and the U.K.
The Frizzle chicken has a single comb and is clean-legged – meaning without feathers on the shanks.
Four colours are recognised in the European standard: black, blue, cuckoo and white. The Poultry Club of Great Britain recognises 13 different colours for both standard and bantam sizes; not all of them are currently bred. The Australian Poultry Standards recognise black, blue, buff, white, red and "any recognised colour".
The Frizzle is mostly raised for exhibition. It is a good layer of 120 to 150 cream or tinted eggs per year, and frequently gets broody.
This chicken breed is hardy and they are happy to free range or be confined in runs and are not known as good fliers. They are docile and gentle, calm birds.
Video upload by YANG Edwin



Sources: https://en.wikipedia.org/wiki/Frizzle(chickenbreed)
https://www.backyardchickencoops.com.au/breed-profile-frizzle/
---
Check out my older, other "Great Chicken Breed" posts.
Great Chicken Breed: New Hampshire
Great Chicken Breed: Naked Neck
Great Chicken Breed: Leghorn
Great Chicken Breed: ISA Brown
Great Chicken Breed: Barnevelder
Great Chicken Breed: Orpington
Great Chicken Breed: Sussex Chicken
Great Chicken Breed: Easter Egger
Great Chicken Breed: Wyandotte Chicken
Great Chicken Breed: The Plymouth Rock
Great Chicken Breed: Rhode Island Red
Great Chicken Breed: Australorp
Great and Weird Chicken Breed: The Silkie
---
---
Follow me as @darthnava: "The will to post is stronger than a million Steem"