SteemAlive Presents: ProWritersHub (W5) - rewarding a team of dedicated contest writers. Prize: 25 Steem (+booming +trail + NGN1000)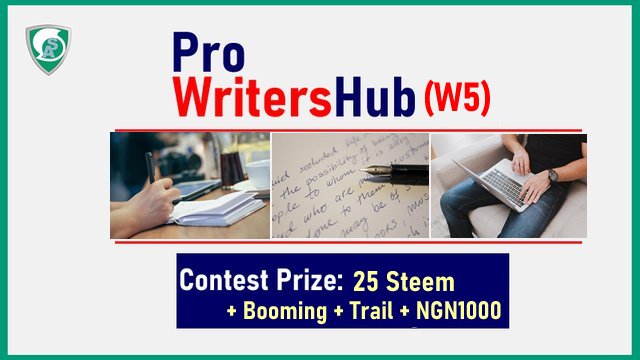 Introduction
We are delighted to welcome you to yet another week of contest. This is week 5. As usual, we will provide you with topics that you may want to choose from and write about. Try and do your best so that you will have a big chance to win top prizes. Our contest result for last week will soon be ready. Before then, lets get to work.
Note: Please always add sources to images that are not yours. Preferably, use images from free sources such as the following to avoid being labelled a plagiarist:
NEVER USE IMAGES from istock, shutterstock, dreamstime,Pinterest, etc as that is considered plagiarism even if you put the source.

Rewarding ProWritersHub
The ProWritersHub are dedicated users that participate consistently in our contests. So to join this group, each user must always participate in our contest at least for the 4 weeks in month. In addition to the weekly contest prizes, we will reward them in additional ways as follows:
1. Label: In addition to the Verified label which all our community members have, members of this hub will be given an additional label - ProWriter. So their entire label will be Verified ProWriter
2. Monthly Prizes: At the end of the month, we will add up the total points gained from the rating of each person's contest entry. We will also count the engagement. We will then add the engagement count and total rating count, to arrive at a number. The top 3 persons with the highest total number of engagement and posts rating would be our winners for the Month. We are starting this July. We will give out either a cash prize or a Gift to the top 3 month winners.
3. Other Incentives: We will print a ProWritersHub membership T-shirt and we will also make sure to give special support to posts published by members of this hub.

How to Join ProWritersHub
1. Make sure you are a verified member of SteemAlive and at least in club5050.
2. Make sure you support all4one weekly. If you can do 2 each week, SteemAlive will see you as a very special person
3. Make sure you fully participate in our contests for each week starting from this week.

This Week's Contest: ProWritersHub (W5)
This week, we have increased the contest price, as well as an additional cahs prize. As usual, there are 10 topics to write on. Try to write as much as possible. Its best to write on the 10 topics. Lets look at them without delay.
Topic 1: My bucket list - 5 things I want to achieve before kicking the bucket
What you need to do: Write about 5 or more things you want to achieve before you kick the bucket (die). Why is each of them important to you. At what age do you wish to get these things? Why is it a challenge right now to achieve each of the 5 bucket list? Do you think you can actually achieve your 5 bucket list? Tell us any other interesting things about your bucket list. Be detailed.
tags to use: lifestyle prowrit-w5 steemexclusive club5050/75/100 nigeria

Topic 2: Local business Review: Write in detail about a business in your city
What you need to do: We want you to review a local business in your city. Tell us their address (What3words coordinates needed). Review at least 4 product they sell. Details should include the price, and some features of the products. Rate the business using any 4 criteria like Location, Customer care, Pricing, Environment, etc. Click here to see a sample.
tags to include: business prowrit-w5 steemexclusive club5050/75/100 nigeria

Topic 3: Learn how these 3 inventions changed our lives forever (Electricity, Camera, The Internet)!
What you need to do: Describe what life was like before the invention of electricity, camera and the internet? How did 3 of them changed our lives? What negative things (if any) came as a result of each invention. What improvements have happened over the years to each invention? Feel free to tell us any other thing about electricity, Camera and the Internet. Be detailed!
tags to include: technology prowrit-w5 steemexclusive club5050/75/100 nigeria

Topic 4: Here are 5 meals that I enjoyed within the week
What you need to do: Show us at least 5 meals that you enjoyed recently. Who prepared the meals? What are the ingredients? What is the estimated value of the meal in Naira and Steem? Is this your breakfast, lunch or dinner? Be detailed.
tags to include: food prowrit-w5 steemexclusive club5050/75/100 nigeria

Topic 5: Personal Hygiene - how it has helped me live a healthy life
What you need to do: What is Hygiene? What are some things you do in a day as part of your personal hygiene routine? In what ways do people neglect hygiene? What can happen as a result of poor personal hygiene? How many times do you bath and brush your mouth in a day? Any other thing you want to write about hygiene? Be detailed.
tags to include: health prowrit-w5 steemexclusive club5050/75/100 nigeria

Topic 6: My Town in 10 Pictures
What you need to do: Capture a total of 10 pictures of different shops, businesses, markets, houses or other locations in your city. Clear original images are needed. Include location corrdinates.
tags to include: mytownin10pics prowrit-w5 steemexclusive club5050/75/100 nigeria

Topic 7: Bribery and corruption - how they affect our society today
What you need to do: What is bribery and corruption. Why is it common? Explain how bribery and corruption happens in your city, state or country (please do not call names). Why is it wrong for public office holders to get involved in bribery and corruption. What should be done to public office holders that get involved in bribery and corruption? Be detailed
tags to include: lifestyle prowrit-w5 steemexclusive club5050/75/100 nigeria

Topic 8: Steemgrowth - Recruit a new user and help them write their introduction post
What you need to do: Promote Steem and try to sign up a new user. What are your promotion methods. What materials and branding did you use? What are the challenges you faced in promotion? How can we make Steemit more attractive to new users. How did you convince the newbie to join? Be detailed
tags to include: steemgrowth prowrit-w5 steemexclusive club5050/75/100 nigeria

Topic 9: Technology in our lives - how mobile phones changed how we communicate
What you need to do: In what ways did people communicate before the invention of telephone? How has mobile phones enhanced communication? What type of mobile phone do you use (include picture of your phone)? What are its features and its estimated value in Steem? If you have the chance to upgrade, what type of mobile phone will you choose? What negative things do people do with mobile phones? Be detailed and include other things you want us to know.
tags to include: technology prowrit-w5 steemexclusive club5050/75/100 nigeria

Topic 10: Music in my country - let me take you on a tour
What you need to do: How popular is music in your country? Who are the top music artists in your country and what are some of their songs? What type of music do you enjoy most? Tell us briefly about your favorite music artist and song?
tags to include: art music prowrit-w5 steemexclusive nigeria

The rules
You must be at least in club5050.
Drop the link of each entry on this post. That is how to submit your entries
Subscribed to our community.
One of your entries must be all4one (set 100% to @steemalive to support us).
Vote and resteem this contest post.
Your article should be at least 300 words.
#prowrit-w5 MUST be among your first two tags

How winners are selected
The number of posts you make and the number of engagements will determine the top winners. Also:
Quality is King: 400 words is the minimum. But you should write more so that you will score more.
Number of quality Comments: Try to make at least 20 comments.
Formatting: Justify alignment and centered headings make your work neat.
all4one: Make sure you donate one or more of your posts to steemalive by setting it 100% to @steemalive.

The Contest Prize - 25 Steem + Booming + Trail!
Here is how we will distribute the prizes:
1st Position: 7 Steem
2nd Position: 4 Steem
3rd Position: 3 Steem
4th-6th Position: 2 Steem each
7th - 10th: 1 Steem each (consolation prize)
Additional Prize
We have a cash prize of NGN1000 for the participant with the highest number of entries. This particpant should alos have 2 all4one posts. If a non-Nigerian wins it, we will send the Steem equivalent.
Contest Date: Sunday 7th - Sunday 14th August, 2022

Support this contest.
You can help us increase the contest prize by sending us any cryptos used here on Steemit. Send Steem or SBD to @steemalive.
c: @disconnect

Delegate to SteemAlive


Subscribe::Discord
::join trail