SteemAlive presents: Our newbie tracker for effective and ongoing support of new recruits. (8/11 - 14/11, 2021.)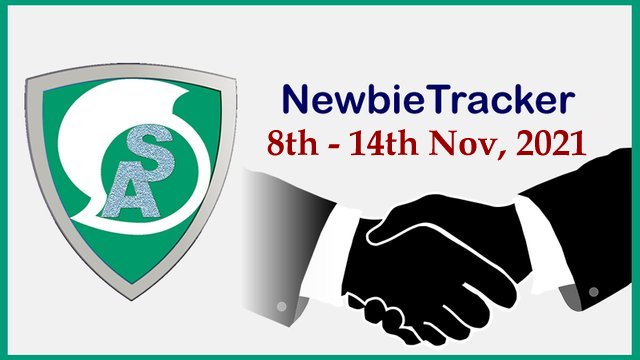 Introduction
Welcome to our newbie tracking post for the week. As a community that is full-time into recruitment and promotions, a lot of new users are brought in by various teams. Without immediate support, these new ones will not survive for long on the platform. So we want to have a way to track newbies that are coming in through our ranks. This will ensure that they are properly supported and mentored so that they kick off their journey on Steemit on a bright note. There are still other reasons to have this tracker post.

Important Reasons to Track Newbies
To Welcome them Officially: As the new people arrive, we welcome them officially. We announce them in our Telegram and other group chats so that they understand how the community is run. When new people are welcomed in this way, they have a sense of belonging and they are eager to do more as new people.

Organized way for Admins to support Newbies: Instead of filling admin direct messages with links of new people that join, we will be better organized by dropping the links in this place. In that way, they are able to support the newbies properly.

Record Keeping: We want to publish how many new people that join us each week. We will not be able to do that if there is no way to keep recrods. So at the end of the week, we will come back to this post and pick the links dropped. In that way, we are better able to have a way to keep records..

How To do it
This tracker will be used strictly by SteemAlive Promoters club volunteers, state representatives and team coordinators. The links will be dropped in the comment section of this post by verified promoters. We will not attend to any random links dropped by other people. When dropping a link, the Promoter must include this two vital information:
Recruiter username
Date of achievement 1 post
Link of achievement 1 post
Other achievement posts by steemalive verified users: We have created a discord channel called achievements 2-6. This server will be given access to only State Representatives and Team Coordinators. Promoters will submit links of other achievement posts done by their people to the team coordinator or State representative. These will drop the links in the discord channel for verification. How ever, they need to make sure that such new people are already verified in SteemAlive community.
Admin will always come to check this post for updates. We will try to support our new members.
Note: After making an introduction post, Promoters should insure that their recruits should make a diary post in the next few days and publish it in our community. They need to join our curation trail as well so that we can verify the newbies. In this way, we are able to support them to grow.

Conclusion
We are really eager to help new people get a foothold right away on Steemit. That is why we do not want to delay their achievement posts or other posts. We hope all promoters, Team coordinators and State representatives



Subscribe:::Discord.
:::Telegram :::join trail