Strange Eats: Recipe: Summer in Winter Chicken
This isn't the most pretty dish I've made so far but I guarantee that it still tastes amazing! This is a dish I made a long time ago successfully. So, I wanted to recapture that dish. However, I wanted to make it extra rich so I threw in a bunch of extra cheese and called it a day.
The idea behind this dish is that it is meant to heat you up on a cooling day. It was a bit redundant to have that purpose in a tropical country but I guess it is the thought that counts.

Ingredients
2 Chicken Breast
2 Chicken Thigh
3 tbsp Pesto (Pine Nuts, Basil, Parmesan, Garlic, Olive Oil. Blended together)
2 tbsp Mascarpone
A sprinkle of Mozarella Cheese
3 tbsp of Creme Fraiche
Butter/Olive Oil
200g Cherry Tomatoes
Basil Leaves
Instructions
Heat the olive oil/butter in a large pan. Marinate your chicken with salt and pepper. Halve your cherry tomatoes.
Place your chicken in the pan and cook thoroughly. This should take 10-15 minutes for each side depending on how cooked you like your chicken. To test how cooked your chicken is, make a small incision where the meat is at its deepest. White means it is cooked, pink or red means it is not cooked yet. You wouldn't want to overcook it as the texture would be terrible and you wouldn't want to undercook it because... salmonella.
Throw in the cherry tomatoes and stir. Let it cook until softened.
Reduce the heat. Add the pesto, mascarpone, creme fraiche and mozzarella. Stir until it becomes a sauce.
Sprinkle in some basil leaves and stir.
Serve with rice, garlic bread or mashed potatoes.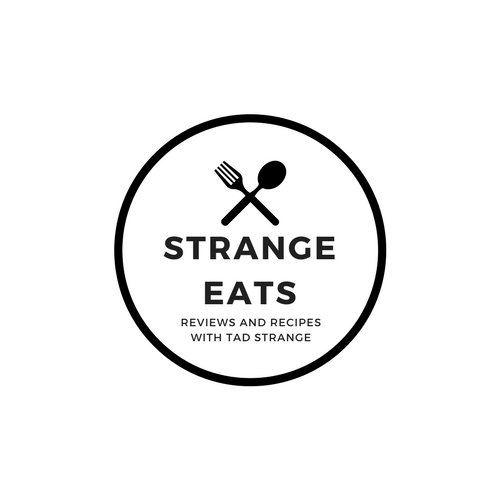 This is part of the Strange Eats series where I share recipes and food reviews! Feel free to check out my other recipes in this series:
Apple Risotto
Beef Wellington by Gordon Ramsay
Braciola di Maiale con Pasta Aglio Olio
British Scrambled Eggs
Cauliflower Cheese
Family "Flavourite" Lasagna
Fisherman's Pie
Grandmum's Honey Baked Salmon
Honey Glazed Pork Chop
Pasta Carbonara
The Perfect Steak
Shepherd's Pie
Stout Beef and Cheese Pie by Jamie Oliver
Honey Glazed Lamb Rack