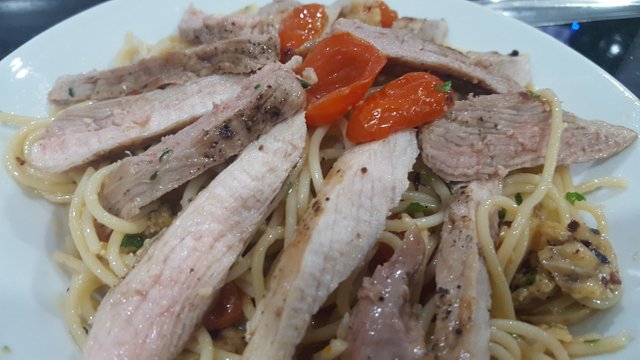 When my mum was vegetarian all those years ago, I remember she enjoyed having Aglio Olio pasta. Thus, I tried to recapture that in today's dish as she has been told to reduce her red meat intake. However, I couldn't leave the dish completely meatless so I tossed some pan-fried pork chops on top. Thus, this is a dish I'd like to call Braciola di Maiale con Pasta Aglio Olio.
Aglio Olio means garlic oil while Braciola di Maiale means pork chop! Then again, I could really be butchering the language here. Anyway, let's get right onto it!

Ingredients
For Pork Chop
2 Pork Chops
Butter
Salt
Pepper
Sprigs of Thyme
For Aglio Olio
200g Spaghetti (Any other pasta will do)
4 cloves of Garlic, thinly sliced
Generous amounts of Olive Oil
Chilli Flakes (I used leftovers from Domino's Pizza)
White Wine
Parmesan
Parsley
Instructions
We will start with preparation of the Aglio Olio first! Boil a pot of water and mix in some olive oil and salt. Then, stick your pasta in.
Let the pasta cook until it becomes limp but not brittle.
Drain the pasta but keep half a cup of Pasta water.
Heat some olive oil over medium heat on a pan that can hold your pasta.
Add your sliced garlic cloves in. Let them cook until lightly browned on the outside. This should take around 2 minutes.
Add in your chilli flakes and cook for 30 seconds more.
Add your reserved pasta water and bring it to boil.
Add some salt and some white wine. Simmer for about 5 minutes, reducing it by a third.
Add the pasta to the sauce and toss. Make sure to get the oil all over the pasta.
Take the pan off the heat and add in your parmesan and parsley.
Let the pasta rest for about 5 minutes to fully absorb the sauce.
While the pasta is resting, it is time to start preparing the pork chop! Start by seasoning it with salt and pepper.
You can use the same pan to pan fry this pork chop so the garlic sauce residue can help add to the pork chop's flavour. Heat it up and add a few globs of butter.
Throw in the pork chop and sear it.
Throw in some more butter and your thyme to make the pork chop extra juicy.
Cook the pork chop until it becomes lightly browned. To check if it is cooked, make a small incision to check the redness of the center.
Let the pork chop rest. Then, slice and serve on top of the Aglio Olio.
You can serve the Aglio Olio with some grilled cherry tomatoes for extra flavour! Enjoy!

In the end, the Aglio Olio came out to be very delicious, garlicky and oily. The pork chop wasn't the most spectacular but it helped to add some much-needed variance in texture and taste to the dish. Overall, I would say that this dish was a successful experiment!
Alternatively, instead of Pork Chop, you could also try adding some Salmon to the recipe as salmon fat is both healthy and tasty!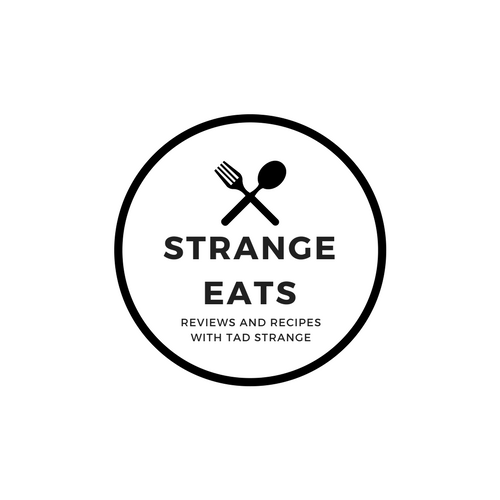 This is part of the Strange Eats series where I share recipes and food reviews! Feel free to check out my other recipes in this series:
Apple Risotto
Beef Wellington by Gordon Ramsay
Cauliflower Cheese
Family "Flavourite" Lasagna
Fisherman's Pie
Grandmum's Honey Baked Salmon
The Perfect Steak
Shepherd's Pie
Stout Beef and Cheese Pie by Jamie Oliver
Honey Glazed Lamb Rack