"I Do What I Want": 2 Way Cupcakes for "Not" Breakfast! (Vegan/Gluten Free/Keto/Low Carb)
Rules are made for breaking anyway so buh-bye normal! Hellllooo outside of the box!
You choose:
---
A)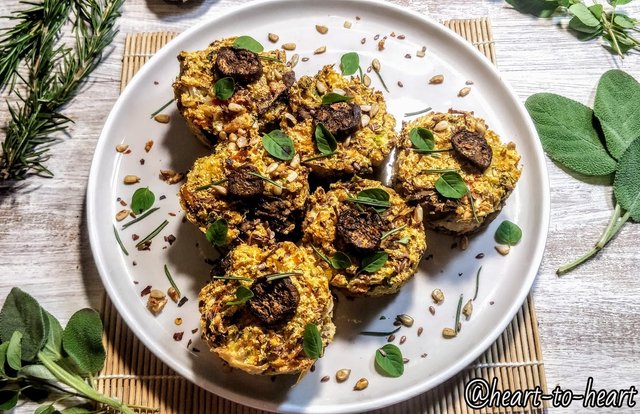 ---
B)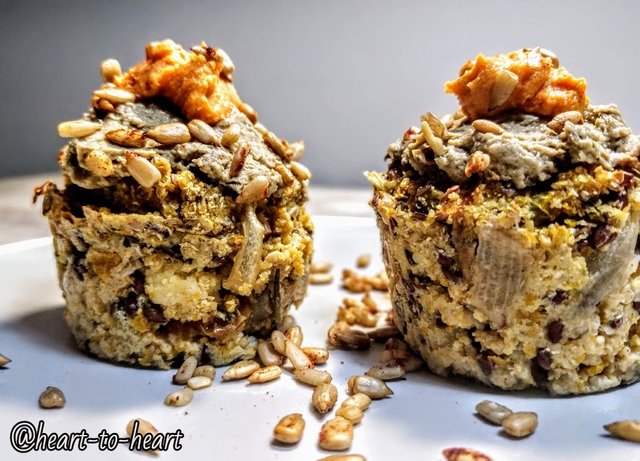 ---
---
Have you ever had to play that annoying vision game with your eye doctor where he/she asks you to pick A or B, 1 or 2 etc? (Which is better?)
I don't like having to choose one or the other-- why not choose both?
There's a few things at hand here that I'm ready to admit about rules I break on the reg':
I don't eat "breakfast" (I intermittent fast until mid afternoon) and it's pretty great despite what one might think!I have so much more energy, more time and overall feel better than I ever did before. Therefore these are "not breakfast, breakfast cakes", OK?
I go against the grain 😉 (see what I did there) and am gluten free/refined sugar free and on a yeast/candida free protocol right so basically I just say noooo thank you to the sugars, toxins and poisons in so much of our food today.
OK so do you ever just drift off into space dreaming about the food you want to make or is that just a food blogger/me thing?
I was drooling about my coveted asparagus wrapped up safely in a banana leaf in my fridge (it's kind of expensive here) and I wanted to make something extra delicious with it!
...
Now wait a minute! I know what you're thinking!
...
Did she just say "dreaming about asparagus?"
Yeah, 10-year-old me would not believe it either I can assure you but what I invite everyone with their faces scrunched up right now ready to click away from this page to do is...
TRY IT!
I know the movies tell us to hate it so all the more reason to eat extra of it!
Look, aside from everything I could tell you about the weird little green sticks... Did you know that asparagus is super low in carbs and has a bunch of iron in it?
Actually check this info from Nutritionvalue.org out:
100 grams of asparagus Comes equipped with:
Calcium 2 %DV
Copper 21 %DV
Iron 12 %DV
Magnesium 4 %DV
Manganese 7 %DV
Phosphorus 7 %DV
Potassium 4 %DV
Selenium 4 %DV
Zinc 5 %DV
You've also got:
Niacin
Riboflavin
Thiamin
Vitamin A
Vitamin B12
Vitamin B6
Vitamin C
Vitamin E
Vitamin K
That's a pretty great ingredient to add to your meal if you ask me!
OK but a lot of people don't like asparagus and don't wanna try it... so what then?
Actually, inside these little babes, the greens are merely an accent as the dough and herbs carry it beautifully so it's not as strong as it would be on its own!
Give it a try! You just might fall in love or at least become friends with benefits!
---
Savory Breakfast Cupcakes
---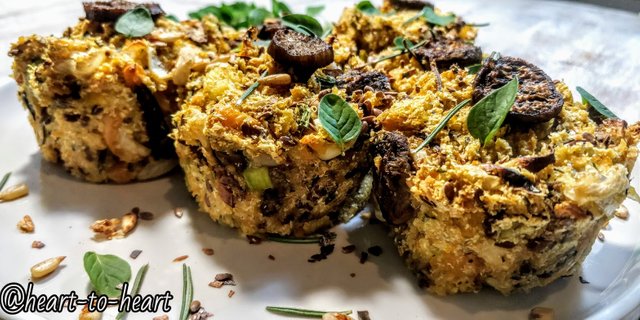 ---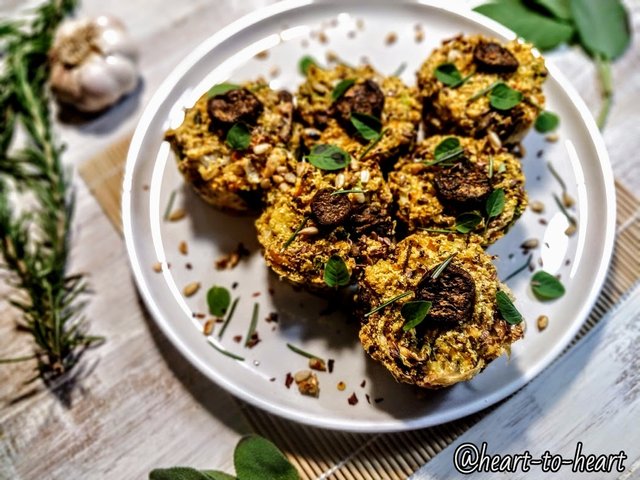 ---
What You Need:
---
1 ½ cup chickpea flour
1 ½ cup coconut flour
1 cup cherry tomato (quartered)
1/2 yellow bell pepper (diced)
½ cup soaked flax seeds
½ yellow onion (diced)
½ cup asparagus (cut into small pieces)
½ cup roasted sunflower seeds
3-4 garlic cloves
1 twig of rosemary
2-3 twigs of oregano
5-6 leaves of sage
1 tsp pepper
1 tsp pink Himalayan sea salt
½ cup eggplant "bakon" (see below)
Eggplant "Bakon"
1 eggplant (peeled and coined)
1 tsp liquid smoke
1 tsp mesquite powder
1 tbsp Bragg's Liquid Aminos
1 tsp pink Himalayan sea salt
---
What To Do:
---
To make eggplant bakon:
Slice the eggplant into long, thin pieces
In a big bowl, mix together all of the ingredients
Toss the eggplant slices in the "sauce"
Bake at 350'C for about 15 mins, turning half way through
For the "cupcakes":
Preheat the oven to 350'C
In a food processor, combine the chickpea flour, coconut flour, flax seeds, garlic, rosemary, oregano, sage, pepper and salt and pulse together.
Pour the batter into a bowl and stir in the cherry tomatoes, bell peppers, onion, asparagus, sunflower seeds and eggplant bakon together
Oil a baking tray (I used a cupcake tray)
Pour the batter into whatever tray you're using
Bake for about 20 minutes or until a toothpick comes out clean
Dip it if you're a dipper! I actually dipped mine in some homemade tzatziki that I had in the fridge but hummus is also a delicious choice (as seen below)!
---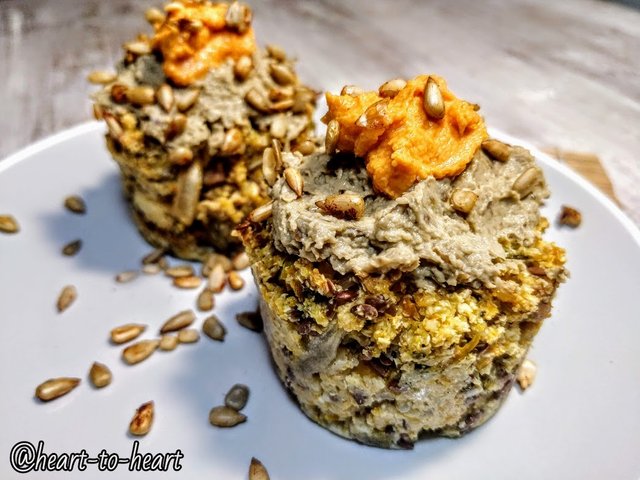 ---
So what will it be? Hummus? Garlic sauce? On their own? Salsa? These cuties rock versatility! Have a party and try them all! Enjoy!
Love and Light ✨
Cece 😘🧙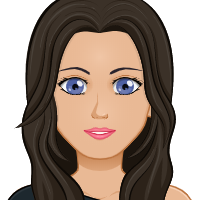 What did you miss from me? Here's what I've been up to lately:
Communication 101 For Grumpy Lions
I-N-D-E-P-E-N-D-E-N-T Bread
Spaghetti Vibes Salad
Rainbow Rice
Mas-A-Better-Man-Curry
Unsuspecting Veggie Drool Inducer
Thai Squoodles
Handheld Avos
Pumpkin Spice "Latte" Nibbles
Jicama Hash Mash Bash
Rad Rainbow Coleslaw! (Rainbows are ALWAYS DELICIOUS!)
Something Like Ratatouille
Not Your Plain Ol' Veggie Tray
Feel Good Crispy Kale Chips
"Meaty Lasagna"
Make Me Strong Super Spinach Salad
Stuffed Avocado Boats
Sugarless Super Snacks for Super Bowl Sunday
Mind Mapping Yourself Out of Limiting Beliefs
Game Time Greens
Winner Walnut Wraps
Cleansing Coconut Curry
Easy Veggie Zoodles
Triple Bakon Vegan, GF Burgers
Plantain Bakon