🍅Something Deliciously Like Ratatouille (Vegan Gluten Free Low Carb)💚
Have you ever seen the movie about the little French, chef rat named Ratatouille?
Well, this isn't like the movie at all except that I love that flick, I love Paris and I dabble in French but these things aside, the dish I made was inspired by the dish whose name is the name of the rat in the movie (see where I'm going with this?!)
According to Wiki"ratatouille is a French Provençal stewed vegetable dish, originating in Nice, and sometimes referred to as ratatouille niçoise" and this dish is kind of like that but in my true fashion, not exactly!
---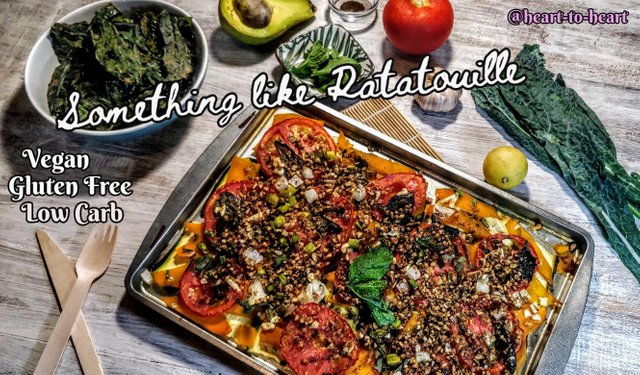 ---
So now you have a cutie-pants movie to go watch and a new French inspired dish to admire and we haven't even begun!
I love traveling and if you're familiar with my blog, you know I explore all over the place but what I am doing most of my time is eating! That said, I get all kinds of inspiration when I'm on my journeys, interacting with different cultures and trying unique ingredients and dishes to the regions and communities!
I first had original Ratatouille in Paris and the way they present it is like a wheel of rainbow colors! It's not only delicious but it looks like a work of art so it stuck with me ever since.
This recipe isn't Ratatouille bit it's close and I hope you're going to love it!
---
What You Need:
---
1 zucchini
⅓ small acorn squash (steamed)
1 large beefsteak tomato
½ yellow onion (diced)
3 garlic cloves (sliced or minced, up to you)
2 sprigs of mint (leaves only)
½ cup chives (minced)
1 tbsp olive oil
½ tsp black pepper
½ tsp pink Himalayan sea salt
3 tbsp spicy "meat"see how to make it here (optional)
---
What To Do:
---
Note:
My oven living in the tropics is not very powerful so I steam my harder veggies beforehand like the squash in this recipe (it also helps to have it cook faster!)
Pre-heat oven to 350'C
With a sharp knife (or mandolin) cut the zucchini into 3 parts, cut each section into thin slices
Oil a baking tray with olive oil
Place one layer of zucchini slices evenly on the tray
Cut acorn squash into thin slices, steam for 3-4 minutes
Place each slice over top of the zucchini creating a second layer
Slice tomato thinly width wise
Place the slices on top of the squash, making your third layer
Sprinkle the layers with chives, onion, mint leaves, salt, pepper and olive oil
Optionally add on the "spicy meat"
Bake until the tomatoes start to tenderize (about 20 minutes)
---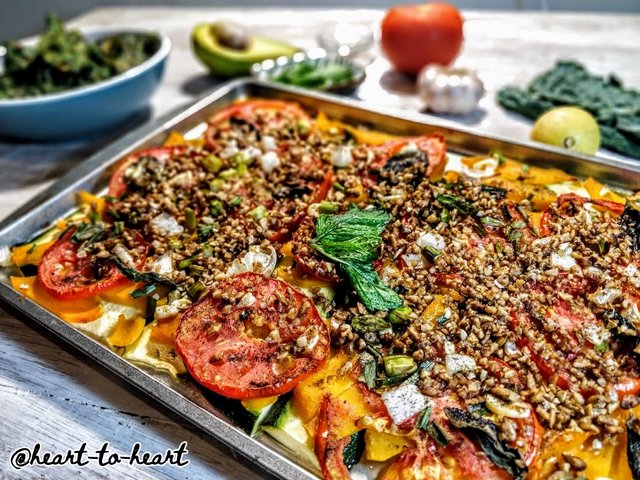 ---
Serve warm or cold! Makes 4 servings

Love,
Cece 😘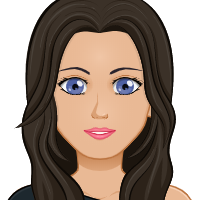 What did you miss from me? Here's what I've been up to lately:
Not Your Plain Ol' Veggie Tray
Feel Good Crispy Kale Chips
"Meaty Lasagna"
Make Me Strong Super Spinach Salad
Stuffed Avocado Boats
Sugarless Super Snacks for Super Bowl Sunday
Mind Mapping Yourself Out of Limiting Beliefs
Game Time Greens
Winner Walnut Wraps
Cleansing Coconut Curry
Easy Veggie Zoodles
Triple Bakon Vegan, GF Burgers
Plantain Bakon