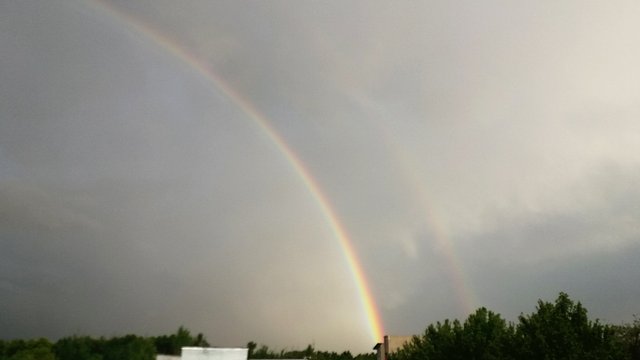 we have a poem by Andrea Dietrich:

At the End of the Rainbow

At the end of the rainbow, dreams unfold.
And some people say there is a pot of gold.

How well I recall a rainbow one day
that shone in the sky when a storm went away.

Rain pelted my car; I felt so afraid.
But as I neared home, it started to fade.

The sky, once so dark, grew more and more blue.
I thrilled next to see a rainbow arch through!

It bent toward the mountains, so beautiful,
a peace and great joy welled up in my soul.

No pot of gold at its end did I see,
but still there was gold and it beckoned to me.

The mountains were gilded with a bright gleam.
This is the magic that makes poets dream!

When I got home, I took paper and pen
and wrote of that beauty, God's promise to men.

Again I recall how my soul lifted.
At the rainbow's end, God's love is gifted.

★★★★★★★★★★★★★★★
you can check some of my previous posts here:

(https://steemit.com/photography/@zpzn/you-can-never-plan-the-future-by-the-past-by-edmund-burke-jveqgqre)
hope..
Green...
Some quotes about God ❤️
Clouds..
My Garden at work ... 🌼🌻🌸🍃
My painting with colored pencils...
The Course Of Life, Time, And Events And The Process Of Change by Merlin Archivilla
video of my nephew's artwork ... Rubik's cube 💡
Grow..🍀
an old video of my artwork 😊😉
Green plants.. 🍀
A prayer in Spring
The true meaning of life.. 🌹🍃
Video of my artwork ❤️🙌
Special true friend..





THANK YOU for your attention..
leave me a comment and tell me what is your opinion about my artwork!
It will make me happy to see your comments... :)
Enjoy your Life and Be Happy..