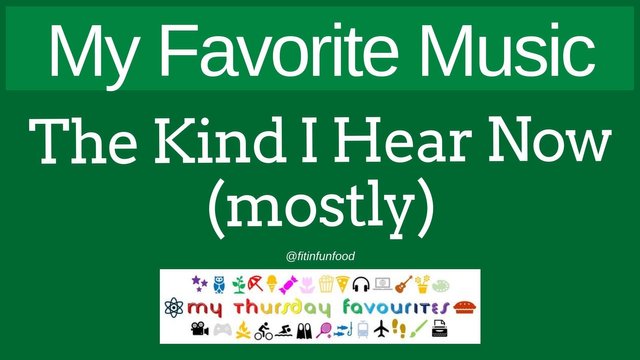 Music is not too much a part of my life, and I like any of it that does not bother me. Most of the time I am awake, I am working, and normally play no music of my own. I get distracted and listen to it if music is playing, and I do not need any additional distractions in my life.
Now I am in Malaysia, and close to a mosque, so I hear the call to prayer when it goes off 5 times a day. Each call is different and beautifully sung. I generally use that time to get up and stretch, and I can sing along with the chants pretty well if I feel like it. I like the 5 am and 1:15 chants the best, but none of them bother me.
I also go to a charismatic church here; for the first time in my life. Previously all my church experience has been in very formal places with traditional hymns being sung by choirs. But now I get a band playing raucous songs in a loud rock-and-roll type vibe.
Everyone sings along while dancing (even me!) and it is very different from what I have ever experienced. Everyone playing and singing up front are highly talented musicians, and those of us in the audience have great enthusiasm.
The "prayer worship" portion of the service goes on for about the first hour, and the pastor's sermon comes after that. All that singing and dancing gets you in a very receptive mood for the sermon, and I really enjoy this new-to-me Sunday event.
Finally, (not that the question was asked) my least favorite music these days comes from one of the other tenants in my condo. This is a very nice and very quiet girl who cooks a couple times a week in our shared kitchen near me. She brings her phone blaring music I can only describe as something from manic video games. I think tone-deaf mice are singing, but I cannot be sure.
Since she is so quiet and plays this awful and strange music so loud, I am always surprised to hear it. If it is not raining, I go out to get food or water, and then she will be gone by the time I get back. I can hear it a bit from upstairs if she is playing it in her room if I am coming or going. But the only time I hear it in my room is when she is cooking. I am so thankful I do not live on the same floor as she does :)
My post today is for the weekly Thursday Favorites Contest by @marbley for ccc. Tell us about your favorite music, and you can enter too!
This is an Invitation to join #ccc for Guaranteed 👍 Daily Income 💵 and Payout 💸 for Newbies (2.0) 🐟 🐜 🐛 in #ccc 👣 and Follow 👣 the Honor Code 🏅 - the Creed (Conditions and Limits Inside)
AND
the latest update <<< please click to read.
= =
Minnow Tips!
My Newest Minnow Tips Updates:
General Ideas of how to do better on STEEM
Places to comment for Upvotes and More Goodies
Who will upvote my posts when I am new on STEEM?
How Can I Solve My Low RC Problem on STEEM?
Using @dustsweeper on STEEM
Enter contests on STEEM and win!
Do your replies fast with with SteemReply
You should be freewriting if you are a blogger
Here is my last big minnow tips post before the update if you struggle here at steem.
These tips can help you even if you are not new.
Monday Minnow Tips for Everyone from @fitinfun
Contents of the Above Post
What should I do EACH DAY on STEEM with low power?
What to do with your STEEM
Are you shooting blanks with your votes?
Should you use an autovoter?
Join qurator
Do not post to nowhere
Why bother to comment?
How and Why to use kryptonia
How to get Upvotes
For Twitter Users
How and Why to lease delegated sp
Curation Trails
Using Discord
= =
dApp Reviews
All recommended!
ginabot
esteem
Share2Steem with Twitter Tips
Tasteem Restaurant Reviews dApp before I used it
Tasteem Restaurant Reviews dApp with tips to do better
And here is an update on @fitinfunfood. I just started this blog in Jan 2019, so you can find out what I am doing to grow my new baby here:
fitinfunfood Update Post
More about using SBI:
https://steemit.com/esteem/@fitinfun/my-steembasicincome-update-spoiler-i-love-sbi
Great post from @brittandjosie, with all kinds of help for new people. Definitely worth clicking every link!
Please Help Me Keep Helping at STEEM
Please follow my blogs:
@fitinfun
@fitinfunfood
@bxlphabet is my son's blog, and I am so grateful he has returned.
We all post on Busy most days, where their upvote for us is based on the collective SP of our followers. We all follow back, because we love you. This is the power of STEEM.
Put my blogs on your curation trail
@fitinfun
@fitinfunfood
@bxlphabet
I login to magic-dice daily and roll one time. Is this giving me luck and good fortune? Join me and try for yourself!
https://magic-dice.com/?ref=fitinfunfood
= =
How is your journey to better health going?
Is your fitness equipment out handy? Are you on a "diet?" Soon we will be in Bathing Suit Season. Are you ready?
I lost "Half My Size" eight years ago by using natural methods. No tricks, just doing a bit better every day. I started on October 10 one year, and did not give up. Four years later, on October 5th, there I was - thin and healthy for the first time in my life. You can do it too!
This is Sharon @fitinfun. I am posting:
Please follow along or contact me directly if you would like some individual help with weight loss and health. Anyone can do this if I did.