I'm Boycotting Dtube... And Here's Why
Why I've Decided to Part Ways with Dtube... For Now
You've probably made it to this post because you asked me why I use YouTube to host my videos for Steemit. In fact, that's exactly why I made this video because I know it's inevitable that I'll get the question. So in today's video (which is freely hosted by YouTube) I will explain why I've decided to boycott @dtube until some changes have been made. I eagerly invite @heimindanger (Dtube Creator) to share his thoughts if he happens to see this. I would be extremely gracious for your feedback.
Learn How Dtube and other applications on the Steem blockchain collect your rewards to fund the growth of their platforms, and see how much each one takes by reading this article.
---
Two Changes I Would Like to See Happen:
Dtube drop it's fee from 25% to 15% by using other methods to raise funds. I've left a couple of suggestions in the video above but there are numerous ideas to crowdfund your project... especially here on Steemit. Simply posting a weekly @dtube stats report would draw many upvotes from the Dtube community. You could also have a monthly expense report that lists where all of the reward funds are going. I'm sure we would all be happy to see the expenditures and would gladly upvote the report.

Add some notice or TOS to your platform (or even on the about.d.tube page) so that users of Dtube are aware that you're taking a portion of their rewards to fund the platform. Transparency goes a long way.. probably even more here on a blockchain. Users should not find out 3 months down the road from some blog article here on Steemit.
---
UPDATE 3/15/18 - I reached out to @heimindanger on discord but couldn't get a response for why there is no notice on the website about this fee. I'm really not sure why that question was avoided... twice. But he did mention that they're wanting to create an SMT (ICO) for Dtube which will fund the platform's growth from that point on.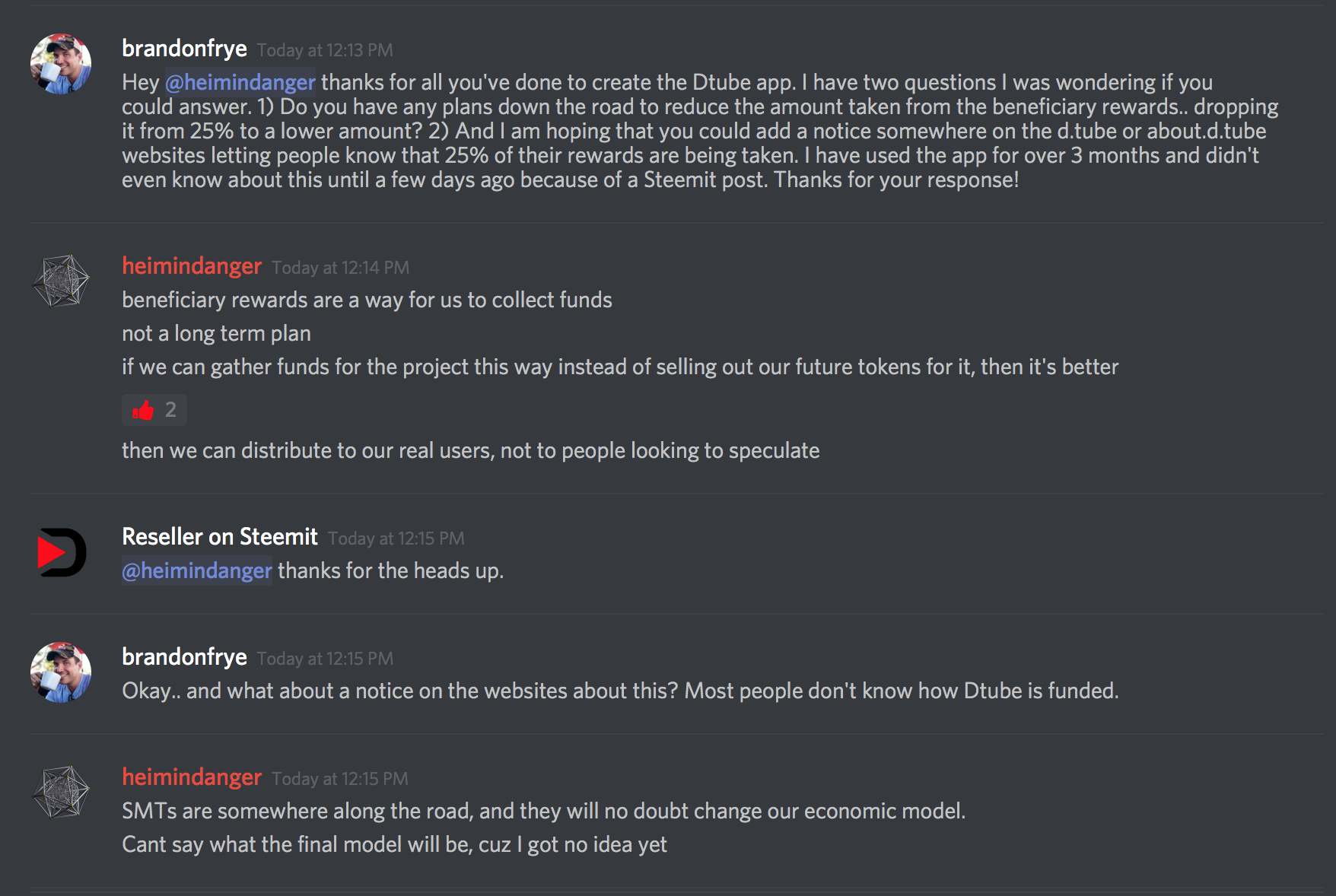 UPDATE 3/16/18 - A big thanks to @movievigilante for bringing up this question again on the Dtube Discord chat. And also a thank you to @heimindanger for his response. Not only did both questions get answered, but they're now both listed in the Dtube FAQ as seen below...

---
If you're interested in more videos, tutorials, and how-tos, I encourage you to follow my channel and leave me replies of things you would like to learn about. If I don't know the answer, we'll learn together! :)

Recent Posts
Enjoy Travel and Photography? Check out my travel channel at @travelpreneur for incredible pictures and travel suggestions!
---
- Daily Comment Reward -
Upvote this post
Leave a unique comment (not just a "great video!" or "follow me")
And you could win $20 USD worth of SBD!
That's it! It's also a great idea to go ahead and follow my channel so that you don't miss any upcoming posts. You can do that here: https://steemit.com/@brandonfrye