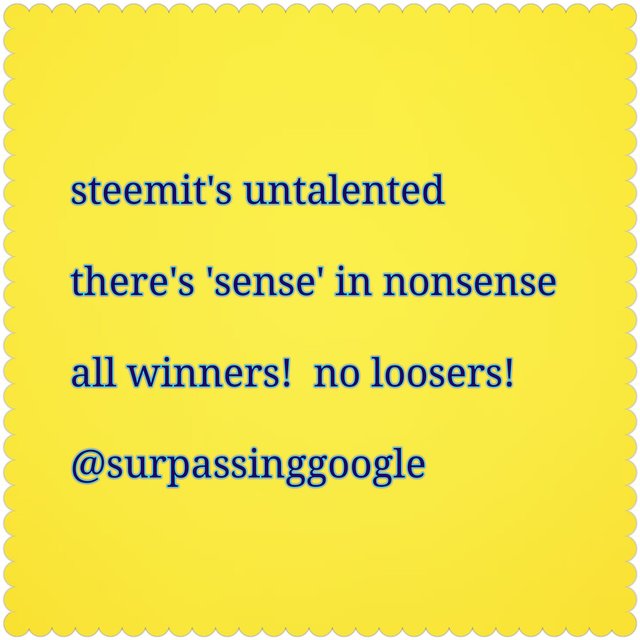 Hi Steemians,
In our giant strides towards creating confidence in all and specially treating each human as "celebrity", we visited a lot of posts round steemit and gave them our tinnie-winnie upvotes, to strengthen and encourage them. It is our 'utmostest' desire that all would see themselves as geniuses as we have been able to 'sift' sense out of nonsense.We curated posts which met the criteria of 'untalented'. They were all the awesomest versions of "untalented" humans, heartfeltly humans who had something to offer.#untalented abolishes the connected IQ tests eg smart, dull, bum and suddenly gives every human the chance to shine! Now, I am not saying standards or human standards are wrong. All I am saying is: You can do it, so do not let these standards prevent you from starting out-of-the-boxness altogether. Finding out, who you truly are or attaining the awesomemest version of yourself, is essential to greatness and is a gift to humanity, every time! Thus, #untalented is a home for all forms of levels of talent. With #untalented flaws are allowed.
There is sense in nonsense. All winners! No loosers!
And
Dirt is good, "ask the soapmaker
FEATURED POSTS :
@iyanpol12's - song of the day battle symphony by linkin park!
@phantum's - 60 days work-out challenge day 1!
@jemmanuel's - libuacan cold spring tagbina surigao del sur or a travel guide!
@kahawenz's - teardrops illustration golden tears!
@dcrealyn's -colourfulphotography photo contest, there are dark shadows on the earth but it's lights are stronger in the contrast!
@yennarido's - paglalakbay sa dako paroon araw ng miyerkules pagaaral ang importante SD lahat!
@loraine's - upfundme please help me build a yarn shop end of 30 days posting!
@natz04's - ulogs post day 007 illustration of my paper jetski!
@junebride's - buwakan ni Alejandra flowers!
@skyphotographer's - being a father gives me the strength and positivity in life!
@cassyjanine's - my macro photography of the day!
@catietan's - friday streetphotography photocontests by juliank photocontests!
@fherdz's - creation is filled with stunning variety!
@pmerryllimsic's -a selfie as a token of being grateful!
@aaronkp's - ulog 11 ice cream for everyone!
@smyle's - break away from what stands between you and your happiness!
@smyle's - why do some people live a double standard life!
@dwightjaden's - my foodphotography superfood sea grape or sea carvian called aroroset in my country!
@serenity08's - fudgy chocolate crinkle cookies!
@dayonos' - sunset photography!
@phoenixlady's - street photo!
@dcrealyn's - vehiclephotography photo contest parade of the pot pot transportation!
@jonabeth's - the one that caught my day wednesday col!
@steemcontes' grandparents and grandchildren!
@shezzag32's - just wanna say hello!
@cjsean's - lemon buttered garlic brocolli with tofu!
@cassyjanine's - let me end my day with my butterfly drawing!
@ckadie1324's - ulog day 20 July 3 happy birthday to me myself and i ckadie1324 !
@catietan's - thursday colourfulphotography photocontests by juliank photocontests!
@shirleynpenalosa's - this is my entry for today's photocontests under macro photography category by juliank!
@lorner's - while I'm resting my son do capture in my cellphone!
@benotbuday's - my entry for the sunsetphotocontest by flamingirl day 2 !
@mrnightmare89's - fisherman in a boat mypictureday submission!
@mrnightmare89's - beach wednesday!
@jejes'- i killed an innocent chicken!
@greatwarrior79's my ulog 27 a blessed day!
@greatwarrior79's - how to prepare white chocolate mousse on chocolate cups!
@blessedsteemer's - word poetry challenge 9 maskara my entry!
@mers' - our crazy humid weather and my hair drama!
@maquemali's - the petals contest yellowflowerday!
@maquemali's - food blog 2 typical pinoy's breakfast!
@dizzyapple's - ulog 7 celebrating nutrition month!
@purpledaisy57's -10th discord show with surpassinggoogle, purpledaisy57 even gecko loves steemgigs!
@princessliz's - tpot contest no 24 strawberry picking at city of pines!
@hania21's - b and w photo contest barasoain church malolos bulacan philippines!
@pororo21's - Saint augustine parish church!
@edith4angelseu's - it's a wild world!
@euronation's - struggling with insomnia, no need to worry!
@johnrel's - birth of a new angel!
@reyarobo's - mayana with orange flower in colorchallenge photography tuesday orange!
@rafaelpadilla's when casper when plasma ethereum third anniversary meetup!
@sgbonus' - bgc taguig manila!
@clauxklein's - randomphotography!
@allyson19's - minimalist drawing contest eleven lines!
@jhoevhee's - weird wednesday weird angle!
@pmerryllimsic's - food photography surahan unicorn fish by pmerryllimsic !
@superjongky's - dailyfoodphotography, siomai is love!
@cassyjanine's - paintings of celebrities or well known people!
@img-financial's - do you want to travel to korea!
@nasrul71's - opening uloggers contest weekly singing with my friends to celebrate surpassinggoogle in ulog week 01 !
untalented is a branch of the #steemgigscommunity. Join the steemgigs community on discordhttps://discord.gg/CGuPyyT. If you would like to offer your service in building the dreams of other steemians, you can do so under #steemgigs .However, if you want to experience full blown freedom and grow in confidence about your gifts and talents, share under #untalented .We aim to create historical moments in the genre of touching lives and you can support us if desired, by voting on steemgigs for witness. Simply click here https://steemit.com/~witnessesand type steemgigs in the first search box.
See this URL for more info :
https://steemit.com/steemit/@surpassinggoogle/steemit-s-untalented-is-in-beta-participate-freely-because-every-participant-in-this-contest-will-win-something-no-losers Just incase you find any level or form of gifts, talents, attempts at out-of-the-boxness, or any steemian confidence about their abilities, worth, etc; please do not let it slip emptily by.Kindly call on me! Simply reply to any such post and add @ steem-untalented or #untalented to your reply and i will be there to upvote, acknowledge, strengthen and encourage them.
un(dis)talented/ untalented is just one of the many Steemit Projects by @surpassinggoogle in celebrating the Human. Get to know about others
Read about Steemgigs.org here : https://steemit.com/steemgigs/@surpassinggoogle/the-grand-picture-the-detailed-faq-s-for-https-steemgigs-org-and-all-the-answers-please-bookmark-this
Read about Teardrops here : https://steemit.com/smt/@surpassinggoogle/the-teardrops-smart-media-tokens-won-t-have-a-whitepaper-it-will-have-a-drafty-simplest-to-understand-colorlesspaper
Read about Steemsecrets here : https://steemgigs.org/surpassinggoogle/steem-secrets
SUBSCRIBE TO HIS CHANNEL FOR MORE UPDATES ON THE DIFFERENT PROJECTS HE HAS FOR STEEMIANS HERE :
https://www.youtube.com/channel/UCAcaiNmH-izfjbcaC6br53w