New 50-Word Short Story CONTEST + Announcements!
Welcome to the 50-Word Short Story challenge (soon to be contest). Each week participants write short stories that are exactly 50-words long. Be sure to read the entries, and if you're so inclined, give it a try.

In this post
In this post you will find:
Announcements!
Links to all 50-word stories from the previous week's challenge.
A few story highlights of the week.
A new prompt, along with some important rules for proper use of images.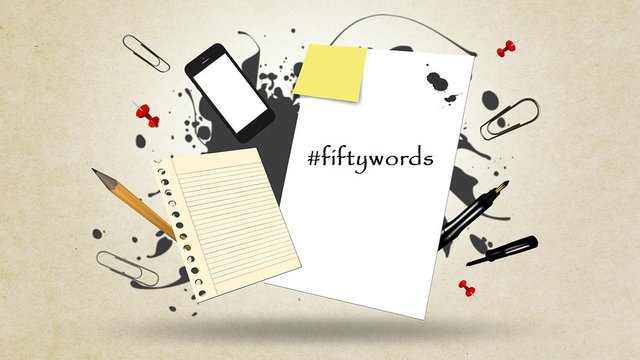 Announcements!
Would you believe I have been running this challenge on Steemit for
40 weeks
? It's true! And it has been a
blast
. Each week I've been absolutely amazed by the beautiful writing that comes in the form of 50-word micro-fiction stories.
But it's time for change.
Change is good. It freshens us up. We get out of ruts and get inspired and rejuvenated.
The changes I'm announcing today are to achieve the following:
Improve participation
Shorten the length of this weekly post (because wow it's long)
Reduce the time I spend writing it each week
The last thing is not the biggest reason, but it is important. I love this challenge, and I love the community of people who contribute. I actually don't mind spending the typical 3 hours/week to write it. However, not only am I super busy in real life with a more-than-full-time job, but additionally I am increasing the amount of time I spend on my own fiction writing, and I need to buy back some hours
somewhere
.
So. Here's what's changing. Starting this coming week (meaning, the moment this post goes out, and going forward):
The 50-Word Short Story Challenge will become a contest. For now, there will be one winner who receives 1 SBD as the winner for the week.
I will not be listing all of the short stories that were submitted the previous week. To find them, you can go to the prompt post for the week or click the #fiftywords tag.
I will not include a list of past participants. People come and go in this little community, which is sad but expected. I will list each of the participants for the previous week as a thank you for taking part that week.
I will not include story highlights of the previous week. I know this has been a really nice aspect of this weekly post, but on my part it is somewhat painful. There are so many great stories, and choosing just a few to highlight is very difficult. This is also one of the most time-consuming aspects of running this challenge. (I may reconsider. We'll see. I reserve the right to change any of these proclamations!)
I will include tips on how to increase your chances of winning the contest. Also, I will continue to upvote and comment on every single participating post. And I hope that everyone in the #fiftywords community will continue to support each other with upvotes and comments. (To me, the opportunity to test your skills, along with engagement with the community, should be the biggest motivators for participation.)
And finally, the mini writing workshop I have been including in this post each week will be moving to a separate post.
The one remaining issue is that I have always participated in the weekly 50-word short story challenge. In fact, that was the original reason I took it on. The previous challenge owner was done with it, and I was really enjoying writing a 50-word story each week, so I continued the challenge.
So, my plan is to continue to write a 50-word short story each week based on the prompt. Maybe I'll use it as an example in the mini workshop post of the week, or I'll just do it for fun. We shall see!
Okay, one last time, let's survey the 50-word stories from last week!

Last week's story collection
I'd like to welcome our newest contributors,
@missladybug
and
@raj808
. Thanks for joining the Fifty Worders!
Here is the complete list of stories inspired by last week's "snowflake" prompt. I hope you will read them all:
Highlights of the week

Historically, I have chosen a few well-told stories from the previous week's entries to share as inspiration. As I mentioned in the Announcements above, this will be the last time I feature highlights in the post.

Last week authors explored concepts around the word "snowflake."

If you read last week's 50-word prompt post, then you know that these stories can sometimes get very dark. This week, our writers let a bit of light in!



This story is just sweet. Plain and simple.

The fluffy creature curls up on her owner's lap. Gentle purring, familiar soothing vibrations.

A hand reaches out and strokes from head to tail. The soft white fur moults and collects on black jeans.

The yawning cat stretches, paws dangling, back uneven. She's comfortable and warm.

"I love you snowflake."

This story, by one of our newest #fiftywords participants, ties the state of cryptocurrency together metaphorically with the things people are experiencing in their lives. And it's beautifully written.

Tiny fingers tremble. A child watches crystals form infinite patterns on the window. An eye expands in a magnifying glass.

The gas fire dies.

Mascara streaks her face. "How did it come to this?"

He looks away. "Money for old rope. Winter will end though, I promise."

Snowflake's settle.

This is one of those stories that carries far more meaning and depth than its 50 words can convey. My take-away is the notion that we must check off the things on our bucket list, as never know how much time we have to do so.

Thirty Christmases rescheduling freedom. "Glioblastoma, stage 4…" and "Merry Christmas," in identical envelopes, one containing 10,000 bucks. The other, today's news. She clings to her old dream, determined to get it on that plane. Eyes closed, deep breath, rainbow-colored snowflakes. Time to go see real snow. "Two months will do."

This story, for me, captures the wonder of snow and the Christmas holiday.

The girl with a scarf protected her face.

Up in the sky suddenly a brief storm began, with soft snowflakes that announced the upcoming celebration of Christmas.

Waking up from her thoughts, she remembered the promises of her mother when she gave her the delicate gifts of the child God.

I think everyone must have felt this way at least once.

I too fell into this world, or so it feels. Drifting in the wind, clashing, colliding, combining and hardening. Like those snowflakes I see falling outside my window. Nearing earth, each individual; glimmering, intricate and exceptional. A miracle, every one unique, yet so many millions forming snow on the ground.

I love this quirky little story. I cannot remember seeing snow for the first time, but it must be magical.

Snowflake she said. But, I have never seen a snowfall. Maybe seeing it on the screen would count.

Here, I await my first.
I will have a walk in it.

Allow the snowflakes settle on my coat, taking in all details.
It's a first I want to remember.

Great work, everyone!

This week's 50-word story contest prompt

If you made it this far into this post and haven't caught on yet (maybe you skimmed!), the 50-Word Short Story Challenge is now a contest. Starting... now. There will be one winner who will receive 1 SBD. Please refer to the Announcements at the top of this post.

The prompt for this week is "bells." The deadline is Saturday, December 8th, with a grace period until the new prompt is published.


Increase your chances of winning


Here are some tips for you:
Include a conflict and a resolution in your story. (It's like this: A beautiful day is just a beautiful day. A beautiful day becomes interesting if the mail carrier brings a letter saying the main character's husband has been released from prison. Maybe she hates him, or fears he won't get work. That's conflict. Resolution is when we learn what she decides to do about it.)
Check your story for grammar and punctuation.
Have someone else read it and provide suggestions. You have multiple writing communities available to help you:
50-word short story contest rules
Write a story in exactly 50 words.
Use the #fiftywords tag, and post the link in the comments of this post.
Use only artwork that you have the right to use, and attribute it properly. See "Use of images" below.
Preferably, post your 50-word story in its own post. You can use any posting tool, e.g. Busy, Partiko, or Steampeak. Just please publish it on its own, not combined with any other contest.
Note that you are not required to upvote or resteem this post, nor are you required to support other participants. Entries will be judged on merit only. But active community participation is, of course, strongly encouraged.

Use of images
You are welcome to illustrate your story with an image, as long as you have the right to use it.
One of the following must be true
:
The image is public domain, or under creative commons licensing. See the resource links below.
It is your own image.
If it is not one of the above, you must have actual permission.
Be sure to properly attribute the image's source or mention that the image is yours. And if it's not public domain, under creative commons license, or your own image, be sure to state that you have permission.
Here are some creative commons and public domain image resources:
The 50-word story clan
I'm mentioning you here if have participated in the
#fiftywords
short story challenge in the past. This feature will go away after this week! (See the Announcements above.)
@ablaze, @agmoore, @ahmadmanga, @akdx, @aksounder, @aleli, @alheath, @amelin, @andersonrivas, @anikekirsten, @anixio, @anutu, @aresbon
@bex-dk, @bimjer, @blueteddy, @botefarm
@caleblailmusik, @calluna, @carn, @cheekah, @cizzo, @clacrax, @creatr
@damianjayclay, @dbzfan4awhile, @deigoam, @deirdyweirdy, @diebitch, @dirge
@eaglespirit, @elbrujo, @elementm, @emergehealthier, @erh.germany, @esttyb
@felixgarciap, @felt.buzz, @four20, @foxyspirit, @frankie-nero, @fromage, @frizzy
@gaby-crb, @galatichunter, @girlbeforemirror, @gmatthe2, @goastrighter
@hamg96, @hebrewhousewife, @henry-gant, @hlezama
@iamthegray, @intothewild, @isa93
@jadams2k18, @jasminearch, @jayna, @jewlzie, @joeylim, @jonknight,
@kaelci, @khadija14, @kimberlylane
@lahvista, @lightoj, @lucylin, @luiskrupaz
@manoldonchev, @marciabon, @marie-jay, @masyl @michaias, @mineopoly, @mizdais, @momzillanc, @mydivathings
@paintingangels, @papacrusher, @pizzachain, @poetrybyjeremy, @preparedwombat, @prydefoltz, @purpledaisy57, @pyrowngs
@ravencorinn, @rensoul17, @riottales, @roxy-cat, @rvag5
@shanedustin, @steemgiant, @steemitdiversify, @sue-stevenson, @swizzyl
@tanglebranch, @thatlovechild, @theironfelix, @therosepatch, @thinknzombie, @tristancarax, @tuwore, @tygertyger
@udbarflower, @vaitelavicius, @vdux, @wems, @yeceniacarolina, @zen-art
Thanks so much for reading! I hope you try the Fifty-Word Short Story Contest. It's so fun to see what can unfold in a mere 50 words!

---
Posted from my blog with SteemPress : https://jaynalocke.com/2018/12/02/new-50-word-short-story-contest-announcements/
---