Fifty Word Challenge for the Week + Mini Writing Workshop
Welcome to the 50-Word Short Story challenge. Each week participants write short stories that are exactly 50-words long. Be sure to read the entries, and if you're so inclined, give it a try.

In this post
In this post you will find:
A short micro-fiction writing workshop.
Links to all 50-word stories from the previous week's challenge.
A few story highlights of the week.
A new challenge prompt, along with some important rules for proper use of images.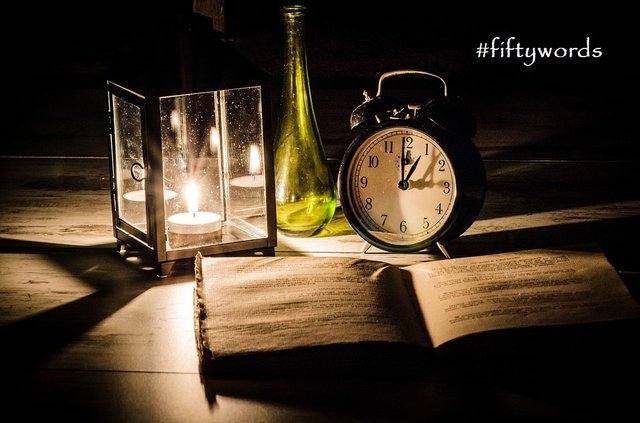 Source: Original Pixabay
image by Free-Photos
Mini writing workshop
This week's workshop is about
tense
. One thing we often see with new writers is a mix of tenses in a story. Some sentences may be in present tense, and some in past tense, like this:
Kayla looks across the water. She wanted to see her son's skiff round the point. He must come home.
The word "looks" is in present tense, but "wanted" is past tense, so this paragraph is an unfortunate mix of tenses. We can fix this very easily, like this:
Kayla looks across the water. She wants to see her son's skiff round the point. He must come home.
In fiction writing, you get to choose whether you want to write your story in present tense or in past tense. Whichever one you choose is fine, as long as you are consistent.
Let's say you would like to submit a short story to a mainstream publication. There are certain things that an editor will notice immediately that will send your manuscript to the slush pile without it even being read. Mixed up tenses are one of those things.
Note to Fifty Worders: Would you like feedback on your 50-word short story? Very often there are small things that make a big difference in the quality of a story. It can be the tense, a grammatical issue, or punctuation. I'm happy to provide suggestions during the week before the next post, for those who request it.
Okay, let's survey the 50-word stories from last week!

Last week's story collection
I'd like to welcome our newest contributors,
@udbarflower
,
@galatichunter
,
@joeylim
and
@shanedustin
. Thanks for joining the Fifty Worders!
Here is the complete list of stories inspired by last week's "feast" prompt. I hope you will read them all:
If I missed yours, please let me know and I will add it! I always try my best to list them all, but I do occasionally miss one.
Highlights of the week
Each week I choose a few well-told stories from the previous week's entries to share as inspiration. Last week authors explored concepts around the word "feast."
Our authors came up with some very touching and emotionally wrenching stories based on this prompt. I will not lie; it was a tough week in the #fiftywords world.
Literature comes in all shapes and sizes. It can be very challenging to read, and that is one of the things that makes it so invaluable. It can shake our foundation, make us stop, reflect, hurt, cry, laugh, wonder, and gain awareness of other people's perspectives. Even a 50-word story can be incredibly impactful. Read on.

The author describes a somber family feast in which the food supply has dwindled to meager portions.
María took the Brazilian corn flour his neighbor dumped and the leftover chicken from the restaurant's can. The pork skin provided the oil.

She tearfully fried 4 morsels and made sure everyone but herself had a ration.

Her mother, who was visiting, held her hand thankfully.

"It was a feast."
In this story the author shares the experience of one who is unwelcome at a celebration. A big thank you to
@calluna
for her willingness to make some edits after posting the story! The main change was to put the guest's thoughts in italics. Unfortunately, block quotes make the entire quote italicized, so I've added bold to those lines.
No one wants you here.

He sank into the drapes, touching his disheveled beard, cheap suit, with sudden awareness.

They thought you wouldn't come.

Her white dress swept the dance floor, eyes avoiding him.

She only invited you because she felt she had to.

The voices were right this time.
I enjoyed this little story, which starts with an off-beat opening line.
Imposing that night on the waters of the river reflected the palace.

The guests came to the party with their best clothes, where they received the soft notes of a violinist.

A table with the most varied dishes was ready for the feast.

But with everything ready the electricity failed.
New contributor
@joeylim
shares a poignant story of loss, and the inability to accept it.
The old lady sat at one end of the mahogany table, shifting her gaze between the plate of fried chicken and the basket of biscuits. He should be back anytime now.

She waited patiently, looking forward to supper with her husband whom she buried in the family graveyard this morning.
This touching and poetic story tells of our fundamental need for warmth, and how the warmth of fire, enjoyed by tired soldiers, diminishes as night wears on.
Hiding like a coward between logs, blazing like a warrior, flashing red, exhaling black smoke.

Winter is here, dependent bodies huddled around, it breathes warmth.

Tomorrow it will be gone, ashes for blazing embers that today sit majestically in the center.

The fire feasts on woods, soldiers on its warmth.
This story, by animal lover and vegan
@tygertyger
, shares the view from the side of the animals who are slaughtered for our feasts. Regardless of your views (and we all have them, and I do respect them all), this is a heart-wrenching theme.
I push myself as hard as I can into the corner of the crate, maybe the demons will not see me. The screams of the others, the pleas as they are slammed into the machine ripping off heads. Our souls will be long gone when the monsters feast on our bodies.
Great work, everyone!
This week's 50-word story prompt
The prompt for this week is "
snowflake
." Deadline for this week: Saturday, December 1st, with a grace period until the new prompt is published.
I look forward to reading your stories, Fifty Worders!

Challenge rules
Please review and follow the guidelines for the challenge and the rules for use of images.
Write a story in 50 words. (Try to hit 50 words exactly.)
Use the #fiftywords tag, and post the link in the comments of this post.
Be sure to read and upvote the work of the other participants. It's all about community!
Use only artwork that you have the right to use, and attribute it properly. See the following guidelines.
Image Rules
Please follow these important rules for use of images:
The image is public domain, or under creative commons licensing rules.
It is your own image.
If it is not one of the above, you must have actual permission.
Be sure to properly attribute the image's source or mention that the image is yours. And if it's not public domain, under creative commons license, or your own image, be sure to state that you have permission.
Here are some creative commons and public domain image resources:
The 50-word story clan
I'm mentioning you here if have participated in the
#fiftywords
short story challenge in the past. Please let me know if you would like your tag removed in this or future posts. (Note that I do trim the list. Those who have not participated for a long time or are not active on Steemit will eventually drop from the mentions.)
@ablaze, @agmoore, @ahmadmanga, @akdx, @aksounder, @aleli, @alheath, @amelin, @andersonrivas, @anikekirsten, @anixio, @anutu, @aresbon
@bex-dk, @bimjer, @blueteddy, @botefarm
@caleblailmusik, @calluna, @carn, @cheekah, @cizzo, @clacrax, @creatr
@damianjayclay, @dbzfan4awhile, @deigoam, @deirdyweirdy, @diebitch, @dirge
@eaglespirit, @elbrujo, @elementm, @emergehealthier, @erh.germany, @esttyb
@felixgarciap, @felt.buzz, @four20, @foxyspirit, @frankie-nero, @fromage, @frizzy
@gaby-crb, @galatichunter, @girlbeforemirror, @gmatthe2, @goastrighter
@hamg96, @hebrewhousewife, @henry-gant, @hlezama
@iamthegray, @intothewild, @isa93
@jadams2k18, @jasminearch, @jayna, @jewlzie, @joeylim, @jonknight,
@kaelci, @khadija14, @kimberlylane
@lahvista, @lightoj, @lucylin, @luiskrupaz
@manoldonchev, @marciabon, @marie-jay, @masyl @michaias, @mineopoly, @mizdais, @momzillanc, @mydivathings
@paintingangels, @papacrusher, @pizzachain, @poetrybyjeremy, @preparedwombat, @prydefoltz, @purpledaisy57, @pyrowngs
@ravencorinn, @rensoul17, @riottales, @roxy-cat, @rvag5
@shanedustin, @steemgiant, @steemitdiversify, @sue-stevenson, @swizzyl
@tanglebranch, @thatlovechild, @theironfelix, @therosepatch, @thinknzombie, @tristancarax, @tuwore, @tygertyger
@udbarflower, @vaitelavicius, @vdux, @wems, @yeceniacarolina, @zen-art
Thanks so much for reading! I hope you try the Fifty-Word Challenge. It's so fun to see what can unfold in a mere 50 words!

---
Posted from my blog with SteemPress : https://jaynalocke.com/2018/11/26/fifty-word-challenge-for-the-week-mini-writing-workshop/
---