Bitcoin (BTC) Morning Update: This Correction Too Shall Pass....!!

SUMMARY
We live in a world of impermanence and so the only constant is change. Overnight, price decided to finally give its direction and that puts the corrective mode more solidly in the a,b,c pathway. For those who have been following my blog since the beginning, we've seen these types of corrections before during the June and early Fall of 2017. As they had, this correction too shall pass, IMHO.
The below chart shows the updated Elliott Wave count for the a,b,c pathway. The subwaves of wave C can now be counted and projected. The first prospective landing zone could be at around $8,364. It is at this level during which I plan on casting my buy ladder. Yes, I see it as a buying oppotunity. For me, this is NOT the time to be selling, but plan on BUYING at projected correction bottoms. Most everyone will be panic selling but I will wade in with my piles of cash and fearlessly cast my buy ladders.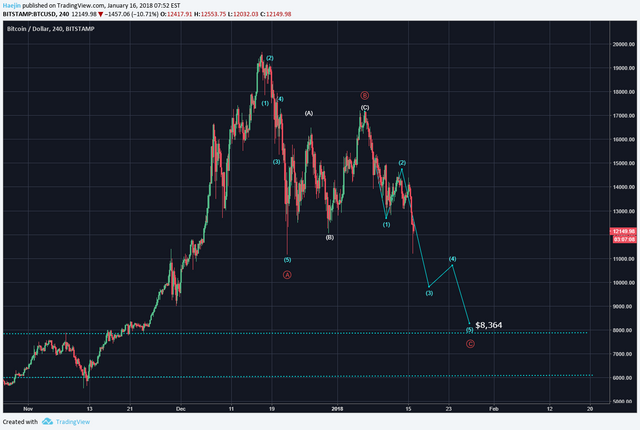 As the directional resolution is now clearer for Bitcoin, subwaves will be actively counted as new price data comes in. Subwave counting allows a good estimate of a "geo positioning" with regards to Elliott Waves. The below chart shows the subwaves of blue wave 3 of red C. Blue wave 3 could target $9,400 or so.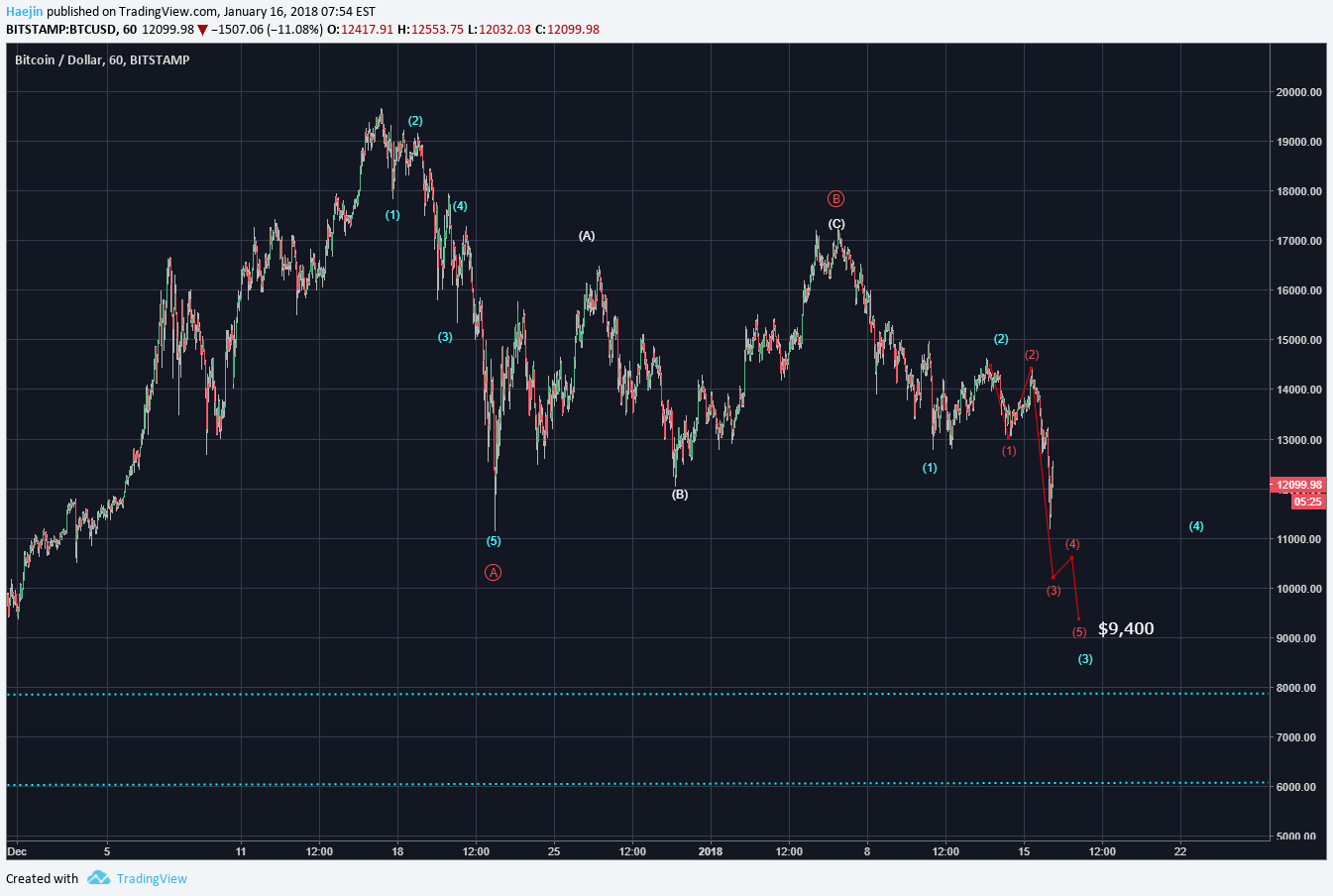 Here is the MACD with a fresh all time low reading of -369 and with additional Herculean effort, sellers could bring it lower. The bottom line is that as this rubber band streteches, sustainability becomes less likely.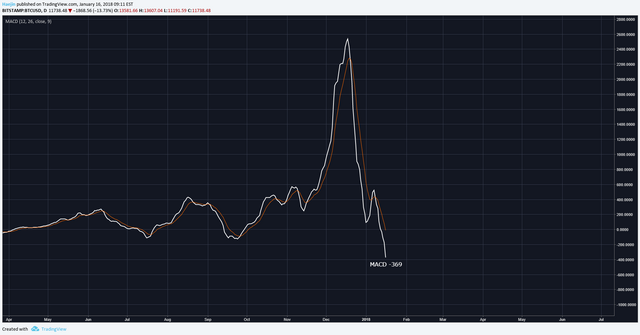 Legal Disclaimer: This is only my opinion, make of it what you wish. What does this mean? It means it's not advice nor recommendation to either buy or sell anything! It's only meant for use as informative or entertainment purposes.
Please consider reviewing these Tutorials on:
Elliott Wave Counting Tutorial #1
Elliott Wave Counting Tutorial #2
Elliott Wave Counting Tutorial #3
Laddering and Buy/Sell Setups.
Laddering Example with EOS
Tutorial on the use of Fibonacci & Elliott Waves
These Technical Analysis Books: Elliott Wave Priniciple & Technical Analysis of Stock Trends are highly recommended
@haejin's Trading Nuggets
Essay: Is Technical Analysis a Quantum Event?
Follow me on Twitter for Real Time Alerts!!
Follow me on StockTwits for UpDates!!
--
--


If this blog post has entertained or helped you to profit, please follow, upvote, resteem and/or consider buying me a beer:
BTS Wallet - haejin1970
BTC Wallet - 1HMFpq4tC7a2acpjD45hCT4WqPNHXcqpof
ETH Wallet - 0x1Ab87962dD59BBfFe33819772C950F0B38554030
LTC Wallet - LecCNCzkt4vjVq2i3bgYiebmr9GbYo6FQf