Hello everyone!
I hope you are all very well!
This is the third Visibility Report for the New Year 2019 and the 6th one created by me.
---
Time frame
---
This report is for contributions during the time frame 31 January until 7 February 2019.
---
Overview
---
We are having one contributor who is steadily posting about his promotions via facebook. He has expressed a great interest in promoting Open Source in his Country and I am happy to see the improvements to the ads created and promoted!
This week we witnessed an impressive increase to the score and there are plans for increasing the contributors for this category (please see below)
---
Ways of Contributing to the Category
---
If you have a Facebook page or twitter account, you can promote whitelisted open source projects via promoted/paid posts.
If you have social media pages with more than 10.000 followers, you can write about open source projects and promote them to your followers.
Paid search engine and display ads placement
Follow @utopian-io to be informed if there is a task request for promoting an open source product
If you would like to contribute or have any questions feel free to contact me directly at discord katerinaramm#7862 or on facebook
---
How to Contribute
---
If you are reading this report and would like to know more about Visibility Contributions, scroll to the end to read more about Utopian and about the Visibility Category!
The tags used are #social (or) #visibility (or) #task-social if you are posting about a task request (and) #utopian-io
---
Weekly Report for Week 6 2019
31 January 2019 - 7 February 2019
---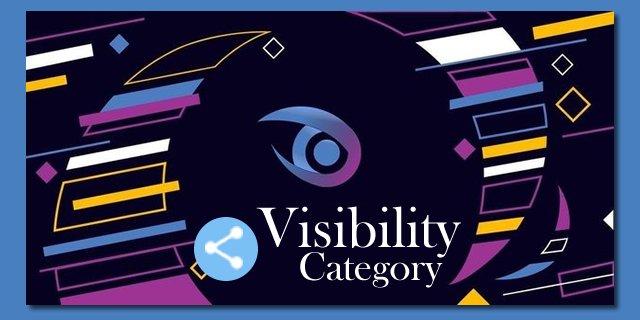 ---
Contributions' Specifics
---
During the previous week there were 3 contributions in total.
---
---
In all cases there was more than 10.000 reach to the promotions. No interaction was sent to the page, however brand awareness and exposure to the users is something that cannot be ignored.
This week it was evident that the user has devoted more time in investigating about the projects and in preparing the reports.
---
Previous Reports 2019
---
---
Previous Reports 2018
---
---
Number of Contributions Per Week
---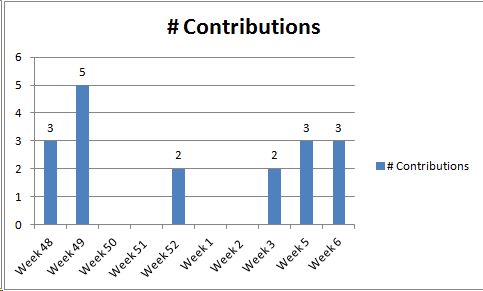 The week with most contributions (5) was week 49
---
---
Number of Contributions Per User
---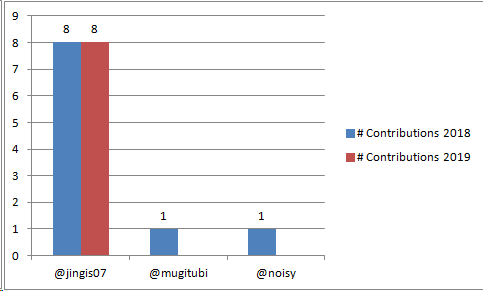 The Top (and only one) Contributor is @jingis07 with 8 contributions in 2019. He is about to surpass his 2018 contributions and I am very happy to see his progress in his reports (which results to better visibility for our open source projects)
---
Average Score of Contributions Per Week
---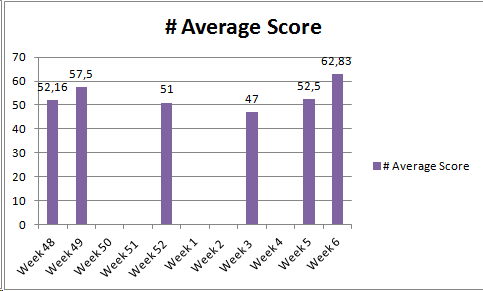 This is an exciting time because we have broken our records and have managed to increase the average score.
---
Some Useful Links
---
---
Next Moves for the Visibility Category
---
I have talked to some people about the Visibility Category and some of the replies were:
"I plan to start contributing when the steem price increases"
I do not wish to comment further on the above, however I wish to say that I plan to reach out to individuals and to companies who are already on steem and help them get on board.
How?
Either by helping them create a Facebook / twitter ad or by helping them choose a project and promote it via their social media networks. (there are users who have thousands of followers in a variety of social media channels.)
This will hopefully create interest to the Project Owners and help them see a fitting community with marketers and influencers all around. Then more task requests can be created!
I would love to know your thoughts on the above!
---
About Utopian & The Visibility Category
---
| What is Utopian? | What is the Visibility Category? |
| --- | --- |
| Utopian is a Social Platform, aiming to empower professionals for contributing to the Open Source Movement. | The Visibility Category aims to shed more light to the whitelisted Open Source Projects and to attract the general attention of end users around the world. |
| As stated at the website, Open Source is free, common property and developed by volunteers around the world and available for everyone. | Contributions in the visibility category are (1) paid search engine and display ads placement; (2) paid social media ads; (3) posts to social media accounts with at least 10,000 unique followers. |
| Open Source Software often runs in our computer, phone or tablet and its development relies on collective intelligence. All this work is done by the developers for free! Utopian educates, motivates and rewards everyone who contributes to Open Source Projects, provided that certain guidelines are being met. | You can click here and select Visibility to read the current guidelines (new ones are being worked upon as we speak). If you have a Facebook page or are very active with a large follow on social media platforms, feel free to take a look and contact me about how you could contribute! |
---
Click here to read more about Utopian!
---
You can also follow Utopian on facebook, twitter, steem
---
---
This is it for now!
Thank you very much for taking the time to read my post, stay tuned for more and please do feel free to share your thoughts, observations, questions on the above!