As most of you probably know, I am a proud member of the Utopian Team, as the new Visibility Manager. This wonderful opportunity has arrived at a time when there is a very 'serene' time for the block chain (to put it in a sweet way).
There have been a number of contributions for the Visibility Category in the last couple of weeks, however this week has been very quiet (meaning zero contributions).
Therefore, instead of a Weekly Report, I decided to post a few tips for Open Source Project Owners who wish to publish a Visibility Task Request.
For the previous Weekly Reports, please scroll down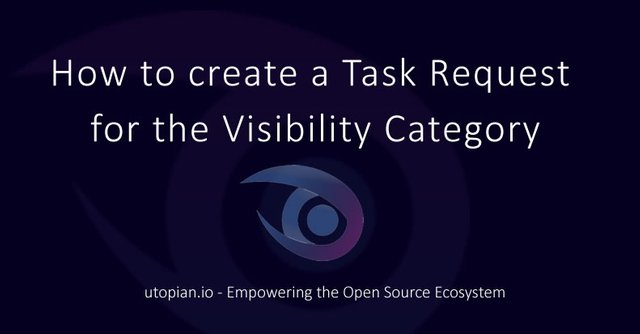 ---
What to Consider Prior to Creating your Visibility Task Request
---
Is your project open source? Does it have a github account?

How long has the project been operating? Is there a team behind it? Who can someone contact for more details?

Are there any actions taking place regarding Visibility & Promotion?

What is the project's state? Is it available for all? What questions does it answer or which problems does it solve? What is it utilized for?

Have you considered your goals? Both short term and long term ones?

Who would your audience be? Where do people interested in your project live, what do they do, what could their age be?
What is that you initially wish? To make your presence known? What do you wish people to do? To download an app? To visit a website? To send their feedback?

Please keep in mind:
A well defined task request should help marketers understand the project, help them research about it and help them design their marketing actions. This way the outcome is measurable and the results are identifiable.
---
Some Suggestions for Creating a Task Request for Social / Visibility Category
---
[1] Please include the github repository
[2] Please start with the name of the project and describe it in a few words. If possible, include a short roadmap and let the audience know about its current state
[3] Please state the goal and if possible define it in terms of numbers.
For instance:
Increase of Instagram followers
Increase of clicks to a specific link
Increase of downloads etc
[4] Please let the marketers know about your target audience, their demographics, possibly age range, their interests and anything else you will require to be significant and will help the marketer or Influencer target them.
[5] Please include Geo targeting and/or Language Specifics.
[6] Please refer to the website where the user can click for more information and target link for clicks (if applicable)
[7] Please provide adequate information about the message to be conveyed to the audience.
[8] Please include important features that the marketer needs to know (unique or specific points of interest of the project)
[9]The Deadline or Expected date of completion should be explicitly mentioned.
[10] Please include the Bounty and any Rules or Guidelines that should be communicated to the marketers.
---
Thank you for reading! Please feel free to reach out to me on discord katerinaramm#7862 for any questions, clarifications and to help you create your task request!
---
Please take some time to visit the below useful links:
---
Please visit the Task Template
---
Previous Weekly Reports
Week 48
Week 49
-----------👀------------
For any questions feel free to comment here or join the Utopian Discord Server here