As I am sure that most of you already know, open source "is a term denoting that a product includes permission to use its source code, design documents, or content."source
Open source projects rely greatly to the community for support & communication and many of the projects that are already on the steem blockchain use also the traditional social media platforms for shedding light about their activities to the world.
In an effort to bring open source projects closer to people who may (or may not) know much about blockchain based projects or about open source philosophy, I will be posting some useful information on how to present a project to the most popular social media platforms.
In a previous post of mine I wrote some useful guidelines for promoting open source projects via Instagram
In this post I will be sharing information about how to create an appealing twitter account.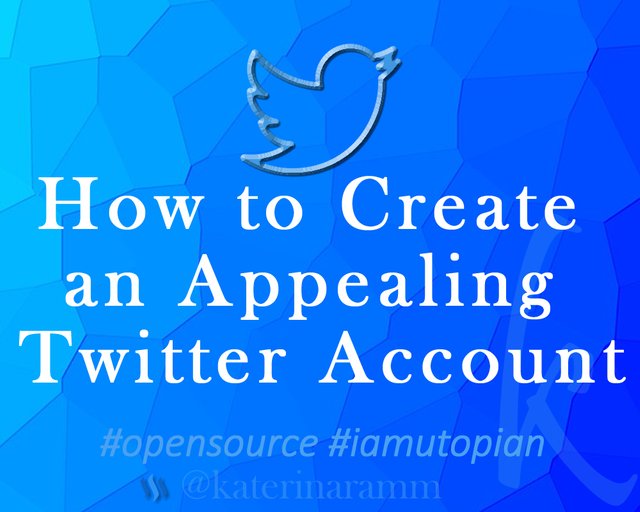 ---
1. Twitter Name
---
Ideally, your twitter name should be the same as your Instagram name. The reason? Sometimes users tend to post from Instagram to twitter and in case they mention your account on Instagram, it will be also mentioned on twitter.
A username cannot be longer than 15 characters and there are characters that you cannot use (such as dot .)
Twitter Username Guidelines - Official Support Site
Use this site to check the availability for a given username in more than 50 social media channels.
---
2. Your Profile Image
---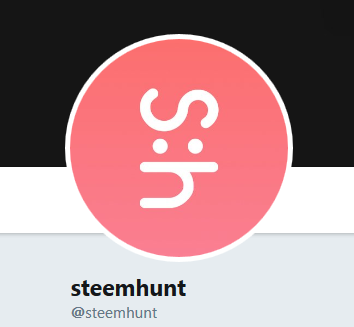 *screen shot of twitter
@steemhunt
*(
https://twitter.com/steemhunt
)
This would be your logo. The twitter profile is round, so make sure that the logo appears as a whole image and with a good analysis.
If you do not have a logo, you can use this template to create a Utopian Task Request!
---
3. Your Cover Image
---
Your header image needs to be clear, it needs to be smart, it needs to tell a story with a short, to-the-point caption. It will be the first impression of your project to someone who visits your twitter account.
You need to stand out and create interest to the visitor.
Dimensions: Twitter recommends 1500px x 500 px cover image. However top and bottom are cropped off so I found that an approximate size of 1660 x 461 will appear great.

Those are the dimensions used for the cover of @actifit Check it out here
Make sure you check out also the mobile version of your twitter. Many users use the mobile app to tweet and explore.
If you would like to know more about finding royalty free images, please read some useful instructions here
---
4. Your Bio
---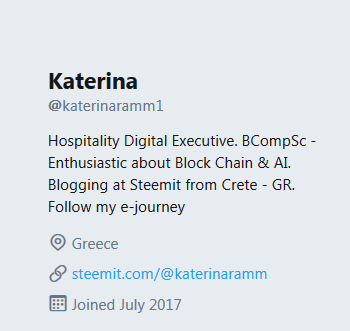 Keep it short, concise, to the point and ideally include your hashtag!
Twitter limits to 160 (!) the number of characters in your twitter bio. This means that you should find one or two short sentences to describe what your project is about. Ideally if there is enough space do include a short call to action and a hashtag.
*Remember to .. Include your website
*Remember to .. Include your Location
---
5. Be Current
---
When was the last time you checked your twitter appearance, changed your photo, included a contest / giveaway / news update at your cover image or bio?
If you do not often review your accounts, create a procedure for whoever manages your social media to check their appearance on a biweekly or monthly basis.
Review, Edit, Optimize, Repeat.
---
6. Remember to Include your Social Media Channels everywhere
---
Do you have a website? Even if not, you certainly have a github account.
Make sure you include your social media channels. I find myself often checking out a Facebook page or twitter account when I am interested in a project. That helps me to see their character, updates, news and activities in only a few seconds!

Screen shot from obyte.org 24 January 2019
---
7. Last But Not Least: Listen. Engage. Follow Back.
---
When you have a channel for your project, it is good to give it a voice. A voice to inform users of your existence, your message, your product. Your when, how and why.
If you are active at a channel people might reply, mention, or follow your account. My recommendation is to listen and engage with them. Interact and follow back at least some of the accounts following. This shows appreciation and interest.
Do not hesitate to use tools for unfollowing dead or inactive accounts.
Bonus Tip Visit https://analytics.twitter.com and turn them on to see the statistics of your tweets, the reach, engagement and more!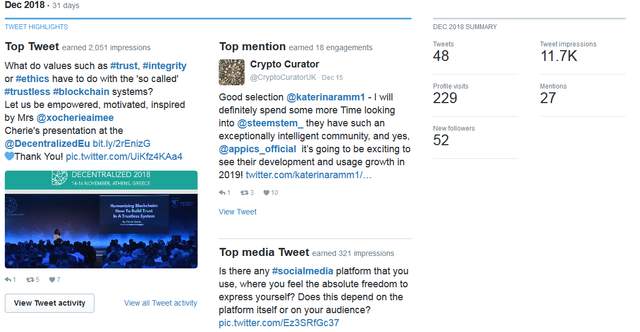 [source screen shot from my twitter analytics]
Some tools for hashtag research
You can use the below websites to check the popularity of certain hashtags.
[1]. https://hashtagify.me
Insert the hashtag and check out its popularity, top countries using it, etc. Most of this information can be obtained for free (paid options include more detailed reports)

[source - hashtagify.me - 22 Jan 2019]
[2]. https://tagdef.com/en/
By using this website you can check out the recent popular tags and their definition, add a definition or enter a tag to find out what it means.

[Source tagdef.com - 22 Jan 2019]
[3]. https://www.all-hashtag.com/
Visit this website to find similar tags, using specific keywords.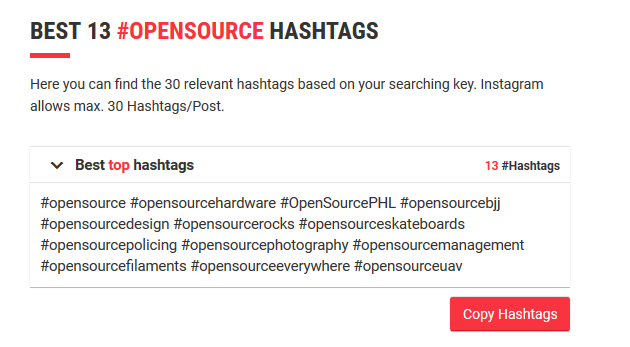 [Screen Shot 24 January]
---
Join our Utopian Community on Discord: https://discord.gg/azdmM3v
Learn More about Utopian: https://join.utopian.io/
For any questions feel free to contact me on discord: katerinaramm#7862
---
Previous Posts: