Table of Contents
Preface
About the Visibility Category in Utopian.io
How to Create a Successful Ad
Promoting an Open Source Project / Product
Set a Specific Goal
Think About: Who do you wish to Approach? (Targeted Audience)
Define and Refine your Caption
Make Sure to Select a Suitable Visual
What Makes a Successful Ad? (Metrics)
TakeAway
Useful Links
Preface
Utopian is a platform that empowers the open source community, bringing together specialists from a variety of fields! Graphic Designers, Developers, Copywriters, Bug Hunters, Marketers and more join, with a main goal in mind.
To bring open source closer to the real world.
Utopian plays a significant role in this, because it can unite projects with marketers into promoting their products through a variety of marketing channels.
One of Utopian's Categories is Visibility
To find out more about all the Categories, visit https://join.utopian.io/guidelines/ and then click on 'Contributions' to see the specifications for all categories
Ways of Contributing to the Visibility Category
If you have a Facebook page or twitter account, you can promote open source projects via promoted/paid posts.
If you have social media pages with more than 10.000 followers, you can write about open source projects and promote them to your followers.
Paid search engine and display ads placement
To be considered for potential reward, submissions to this category must be explicitly requested by the project owner via Influencer task request, or the project must be included in the Utopian Visibility Whitelist for the activities performed.Utopian.io
---
I have been a Manager for the Visibility Category for a couple of months, and I would like to help in creating more Visibility for my category :)
During the past few weeks, all of the contributions we have been seeing were facebook ads. I have posted a number of suggestions in my reviews, however I believe I should create a post just for this!
Remember! If you would like to contribute or have any questions feel free to contact me directly at discord katerinaramm#7862 or on facebook
How to Create a Successful Facebook Ad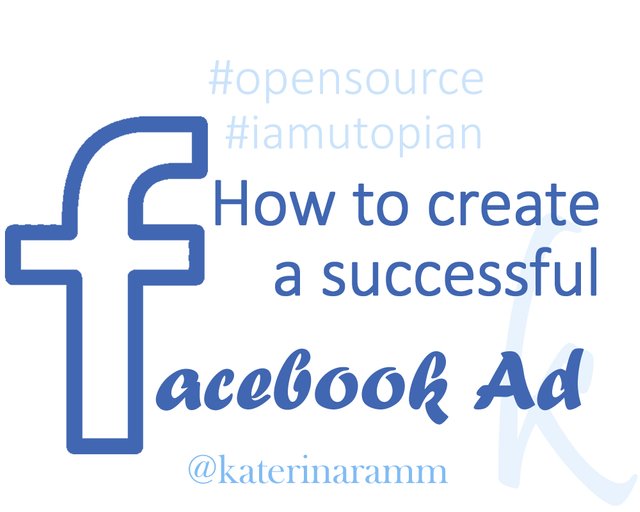 Prerequisites
You need to have a Facebook business page!
Your name, profile image, cover image should be your intellectual property and no intellectual rights should be infringed.
Promoting a Project / Product
Prerequisites
It is important that you know what it is you are promoting. What this project is about, what its features are, what problems it may solve or questions it can respond to. You should also understand who would be interested in knowing about it and using it.
Ideally
Do try out yourself the project
Understand how it functions
What should the message to the world be?
"Not everything that is seen is visible."
― Lailah Gifty Akita
You may have the best intentions, but there are certain things to take under consideration when creating an ad for someone else . (especially if you do not have their prior consent to do so)
Be Specific About Your Goal
Your goal is the most important starting point; it will define your (CTA) Call To Action and your ad creation.
Ideally, your ad will be able to spread awareness, create leads, create sales and create engagement, but it is not possible to have them all achieved by one and only ad. (Not unless you are the Marketing Guru - If you are reading this and you are, please contact me!)
This blog by hootsuite explains it perfectly.
Decide on one simple action you want people to take.
Awareness, affinity, and consumption: stick to first handshake CTAs such as boosting followers, reading other pieces of content, or subscribing to your email.
Conversation: focus on engagement metrics such as boosting shares, increasing comments and tagging, or generating positive mentions.
Intent: focus on next step CTAs such as "learn more" or driving content downloads.
Conversion: focus on actions that lead directly to revenue such as adding products to a cart, requesting a sales demo, downloading an app, or signing up for a subscription product.
Think About: Who do you wish to Approach?
Different people need different ads to interact. Before creating your ad think about your target group. What will the country be, will you be targeting both men and women? What about their ages and interests?
You need to keep this information in mind when you will be crafting your creative.
Useful Links: https://www.ironspringsdesign.com/how-to-find-the-right-audience-facebook-advertising/
https://www.wordstream.com/blog/ws/2015/01/28/facebook-ad-targeting
Define and Refine your Caption
Users have a very limited attention span on Facebook. Your message needs to be accurate, simple and very clear to be able to catch attention and engagement.
You can read here some advise about creating compelling ad copy.
Below you will find one of my favorite hotel brands. Smart, clear and concise messages, right to the point!
Copy 1
Sun soaking and poolside relaxation in Sochi is just what you need and deserve. Get the best price direct – up to 10% off

---
Copy 2
Experience the best of Amsterdam. Get the best price direct – up to 10% off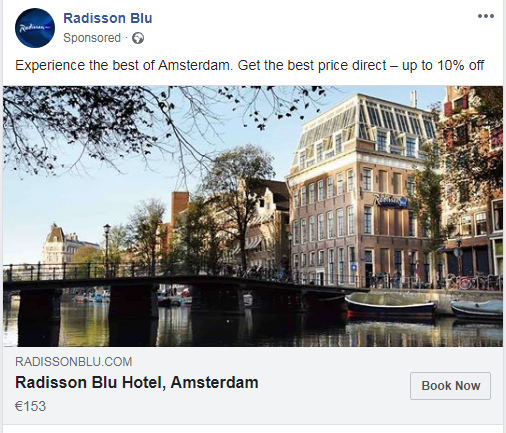 ---
Make Sure to Select a Suitable Visual
A Visual should match the ad copy, it should be appealing, remembered and relevant.
According to hubspot.com, the ideal dimension for the News Feed photo ads is 1200x628 pixels.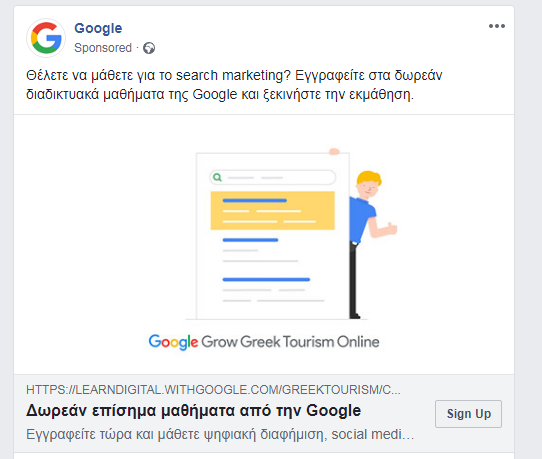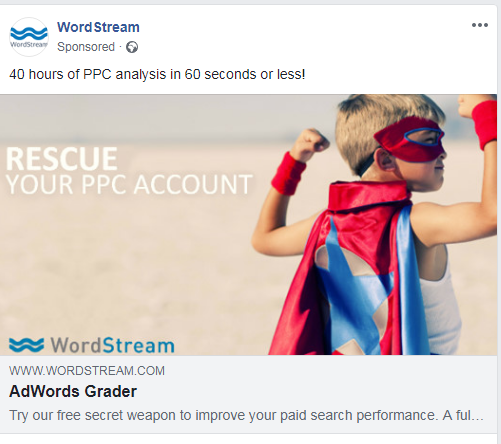 Some examples by the pros! Clean copy, expressive and relevant visual, clear call to action! These ads do 'talk' to the targets!
Note You can use the free version of tools such as canva or free image repositories such as pixabay, pexels etc.
What Makes a Successful Ad?
I used to work for a great manager who used to say..
"Plain Numbers do not mean anything if you cannot interpret them right"
Getting back to our subject: Facebook Ads and their statistics..
Reaching an impressive reach number of 10.000 and more may seem important, but without leads or engagement, 10.000 reach might mean little to the project.
A successful ad depends on the initial goal set and its outcome.
"Visibility without Value is Vanity"
― Bernard Kelvin Clive
Remember
Your ad needs to be remarkable, remembered, powerful!
Take some time to learn more about the project, find out what the users love about it and what problems it solves. Does the project concern users from a specific region? Where should it be targeted?
This will help you think of the best way to write the caption and select the visual to go with.
What did your previous ads (if any) for the same project taught you?
---
Thank you for taking the time to read, please find below some useful links and feel free to contact me with any questions!
---
Some Useful Links