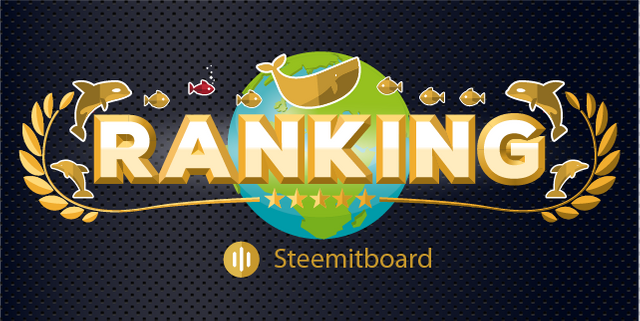 The steemwhales.com website and its data have not been updated for over a year now. Still, we have often seen many users refer to SteemWhales as a reference when it comes to ranking.
Even @themarkymark initiated a so called "steemwhales 2.0" project, even if this project is far from complete in terms of features, usability and amount of available data.
All this despite the fact that, a few months ago, @steemitboard introduced its new ranking tool which enable you to compare yourself to your fellow Stemians and provides all key indicators you need.
It looks like many too many people missed introduction post! Let's make some noise...
Introducing SteemWhales 3.0
We are proud to announce that steemwhales.com has officially moved to SteemitBoard's ranking website!
If you go to steemwhales.com, you will be automatically redirected to the SteemitBoard ranking.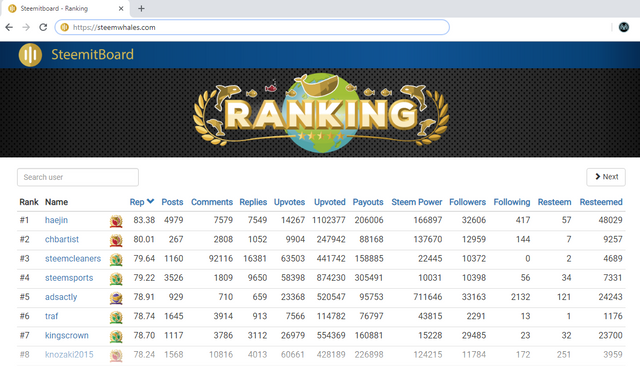 This will give more visibility to the existing tool and allow those who were not yet aware of its existence to discover it.
We would like to warmly thank @heimindanger (the creator of SteemWhales) for the trust he gives us by doing this. His work with the various projects he made for Steem has always been a source of inspiration for us. We will take care not to devalue what was done with SteemWhales and if possible to do even better..
Quick reminder of SteemitBoard Ranking features
With this tool, you will be be able to compare yourself to your fellow Stemians.
The ranking displays all the values you are used to view on SteemitBoard and on several Steem blockchain clients.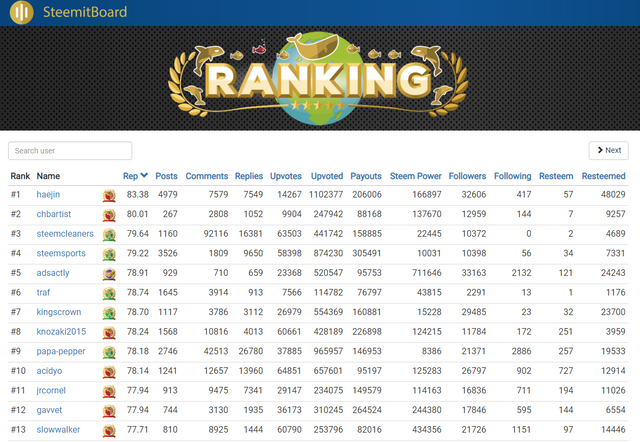 All columns are sortable
You can also sort the ranking by any value by clicking on the column heading.

Quick jump to user's page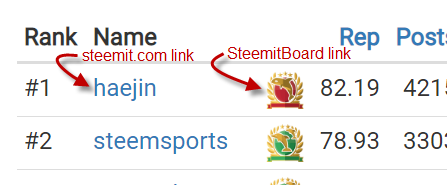 Each user's name is clickable and will open his/her blog on steemit.com in a new tab in your browser.
To the right of each name, you will see a small icon with the current level of the user. Clicking on it will open his/her board on SteemitBoard's website.
Searchable ranking
The SteemitBoard Ranking has a convenient search box to help you find yourself or any other user among the millions of users registered on Steem.

Type any name in the search box. Steemitboard will search the user in the ranking given the current sort order and highlight his/her data row.
For example, let's search for @blocktrades

If we click on another column to change the sort order, the page will update itself to display the selected user.

Double decimal reputation
SteemitBoard ranking displays your reputation with 2 decimals. This way you know more accurately how far you are from the next step.
Columns description
| Column | Description |
| --- | --- |
| Rep | User's reputation |
| Posts | Number of posts published |
| Comments | Number of comments written |
| Replies | Number of replies received on posts or comments |
| Upvotes | Number of upvotes made on posts or comments |
| Upvoted | Number of upvotes received on posts or comments |
| Payouts | Total of all the posts and comments rewards earned, expressed in SP even if it could have been split to 50% SP and 50% SBD at payout time |
| Steem Power | Vested STEEM. It does not include received/delegated SP |
| Followers1 | displays how many users are following an account |
| Following1 | displays how many accounts a user follow |
| Resteem1 | displays how many post have been resteemed by the account |
| Resteemed12 | displays how many times posts from the user have been resteemed |
1. These values are not updated in real time. They are recalculated approximately every hour, so it might differ from the value displayed on your Steem client (steemit.com, busy.org, partiko, eSteem, …)
2. This is a cumulative value for all posts and all resteems
Example:
Alice publish a first post. This post is resteemed by Bob and Charles
Alice publish a second post. This post is resteemed by Bob
The value in the Resteemed column will be 3
Future roadmap
Here are some features we plan to add to the ranking:
Display who is powering down
Display account UA
Split payouts to author and curator
and many more…
---
Support the SteemitBoard project: vote for its witness!
---
Steemitboard is a project created by @arcange