The IMF's SDR Role as the Preeminent Reserve Currency: De-Dollarization Policy Agreement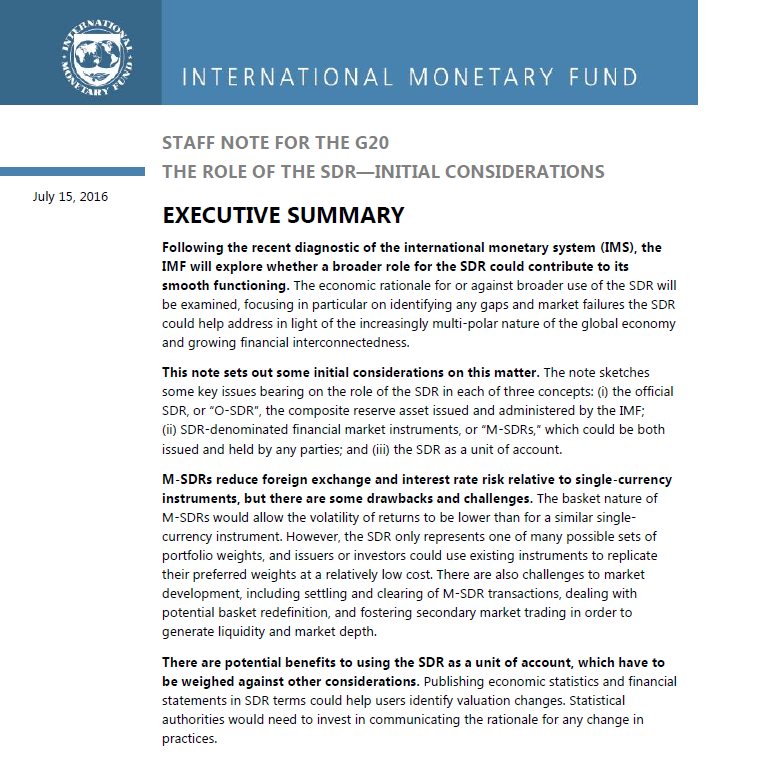 "M-SDRs reduce foreign exchange and interest rate risk relative to single-currency instruments, but there are some drawbacks and challenges. The basket nature of M-SDRs would allow the volatility of returns to be lower than for a similar single-currency instrument." -Excerpt from STAFF NOTE FOR THE G20 THE ROLE OF THE SDR—INITIAL CONSIDERATIONS EXECUTIVE SUMMARY July 15, 2016
Download pdf files:
Strengthening the International Monetary System: Taking Stock and Looking Ahead Prepared by the Strategy, Policy, and Review De partment, in consultation with the Finance, Legal, Monetary and Capital Mark ets, and Research Departments Approved by Reza Moghadam March 23, 2011

Enhancing International Monetary Stability—A Role for the SDR? Prepared by the Strategy, Policy, and Review Department In collaboration with the Finance, Legal, Monetary and Capital Markets Departments, and in consultation with the Research and Area Departments Approved by Reza Moghadam January 7, 2011
---
Listen to Lynette Zang discuss the IMF's plan for one world currency under the machinations of the IMF and the globalists' money cartel:
Video title: The Global Unit of Account from the USD to the SDR has started explains ITM Trading's Lynette Zang
Video posted 08 Aug 2017 by ITM Trading
"ITM Trading's Lynette Zang Talks about shift away from the US dollar to the SDR as the global unit of account began back in May 2017. This shift is being ushered in and supported by China as power also shifts from the West to the East. The tool being used is the ACC (Asset Collection Chain), which digitizes tangible asset ownership into a tradable SDR. I consider this the most important event to date."
Find out more on our website itmtrading.com or call us at 888-696-4653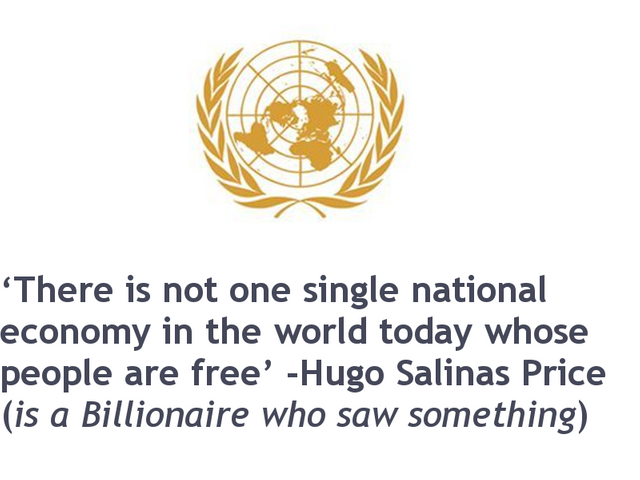 Related Posts:
Monopoly Money: The money cartel will not abandon their monetary empire voluntarily.
The Digital Kingdom: China Shows Us What The IMF Planned For The Blockchain, Called ACCHAIN.
"Banks and fintechs are also increasingly cooperating rather than competing."
More Evidence For The Coming Blockchain Regulations and New Policies To Enforce
With policies ratified and structural reforms underway, next comes armed enforcement!
The Decline of the U.S. Dollar is not an accident, it is Policy!
G20 Vowed All Citizens Be "Digitally Connected" By 2025
IMF's Special Drawing Rights Going On The Blockchain
Central Banks and VISA Pay Businesses To Go Cashless?
Evidence of The Globalists' Plans
You Should Feel The Forced Herding Down The Digital Economy
They have eyes to see but do not see and ears to hear but do not hear…
---
If you find this information useful or of value then please share it with others.
Re-steemit forward. Re-steemit so others can see this too.
If you like this post, do not forget to

upvote or follow me and resteem